As plant-based diets become more and more mainstream, it's easier than ever now to walk into any given café and order yourself a coffee made with plant-based milk. But frustratingly (at least in my experience), in many cafés in Hong Kong, the range of vegan-friendly food is still comparatively limited. In Starbucks for instance, it seems the closest one usually gets to it is an egg-white-and-spinach-wrap or a cheese-and-broccoli-pie. Two so-called plant-based choices, both containing animal products.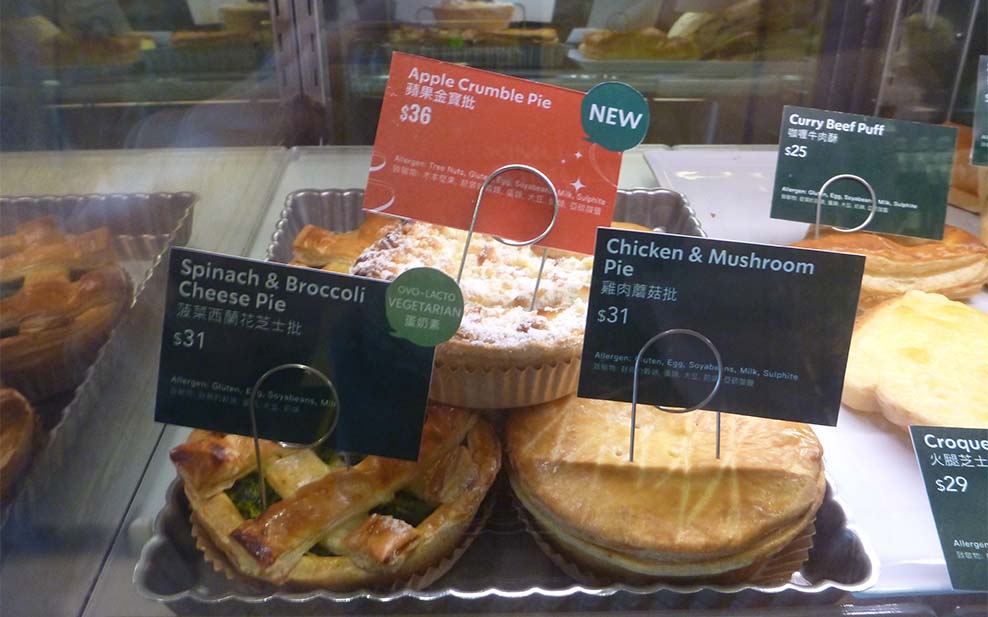 But whereas Starbucks, Pret and other big chains are largely failing Hong Kong's vegans, several smaller cafés in the city are stepping up to fill that void. In what are sometimes some of the most unexpected places, these places offer a whole variety of interesting, tasty and sometimes even inventive plant-based foods, catering both to local and Western tastes.
WELL, here are some of them for you to try.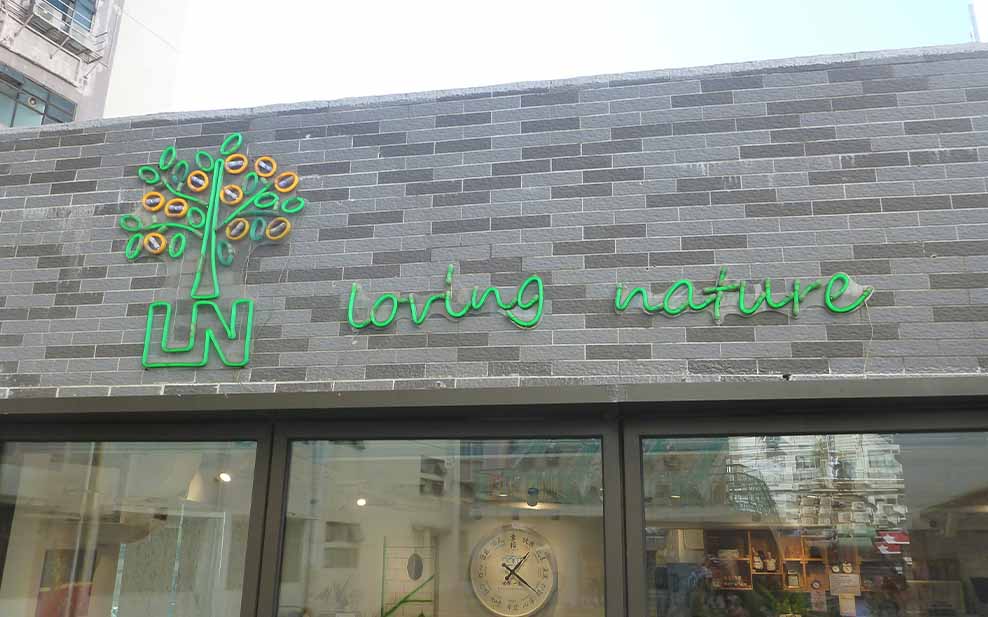 In the busy, noisy industrial district of Kwai Hing, this small, quiet, hidden-away café is a real gem to visit just to get a break from the sensory overload. But of course, the real attraction is not its zen serenity (helped by its minimalist décor and gentle piped music), but its food. Loving Nature provides a mix of Western dishes like vegan egg salad, Asian ones like fried rice, or sometimes a fusion of the two cuisines like tofu burgers. All with a very fresh, clean taste to them. And just so that things never get too standard, every few months the menu changes, allowing one to sample a whole new range of vegan dishes just before you can get bored of the old ones.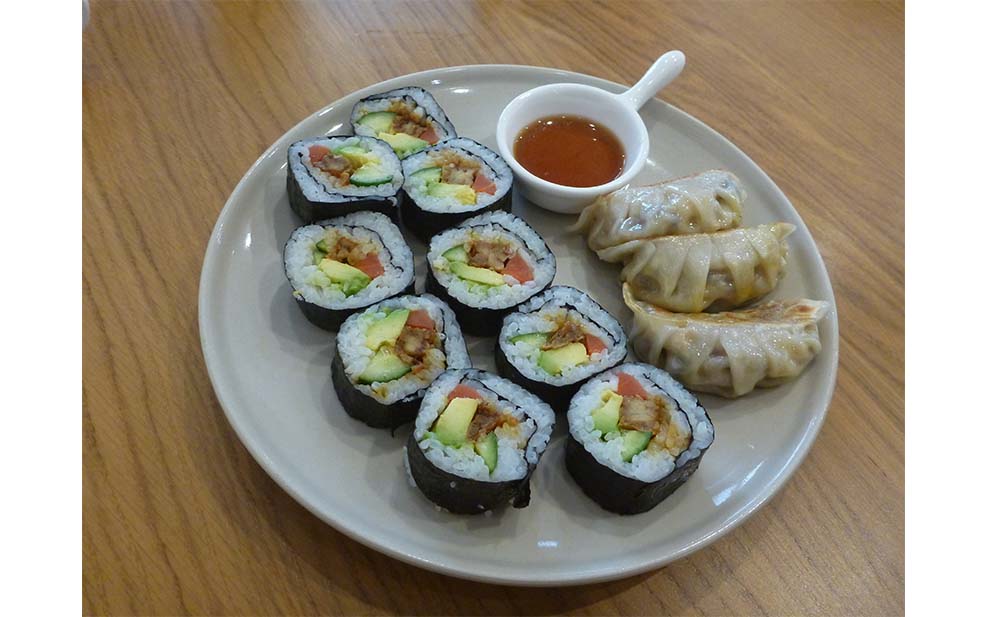 Best Dish: Avocado Tempeh Sushi with Pan-Fried Dumplings
Loving Nature may change its menu frequently, but this simple yet innovative dish is a constant staple no matter what. The dumplings –filled with shredded carrot, fungus and green vegetables– are fairly standard fare, but the real standout of this dish is the sushi. The rice and the seaweed wrapping have the same sweetness and saltiness as normal sushi, while the tempeh provides a crunchiness and a unique sweetness of its own. It's such a well-blended combination that you really don't miss the fish at all when you're eating it.
Address: Shop 107, 1/F, Edge, 30-34 Kwai Wing Road, Kwai Chung
Belonging to the same chain as Loving Nature, this café is located within easy walking distance of both Sai Ying Pun MTR and the University of Hong Kong, and is a welcome reprieve from the urban hum outside, with its soft lighting and soothing background music (including a few boozy saxophone tunes). It offers a more expansive menu than its Kwai Hing counterpart, including a variety of set breakfasts and lunches, as well as plant-based animal dishes like vegan chicken drumsticks and a very tasty mushroom burger, all for very reasonable prices. The most expensive option on the menu is HK$168 and most of the dishes don't even come close to costing that much.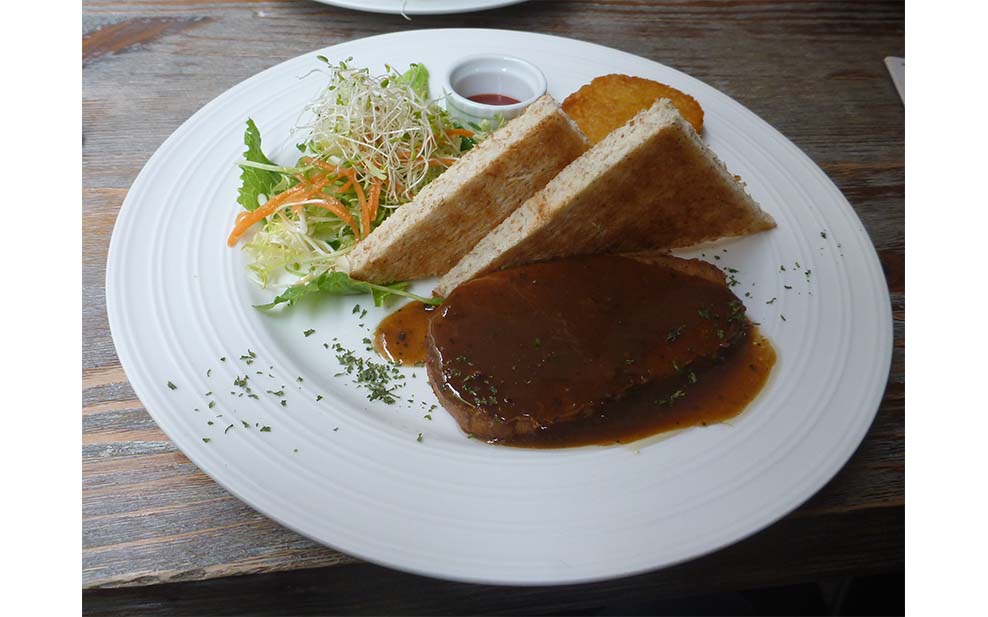 Best Dish: Vegan Steak with Black Pepper Sauce and Hash Brown
This dish probably won't please the most ardent steak aficionados, not least because of the texture of its plant-based version – which is more akin to sausage meat. But nonetheless, it is still surprisingly satisfying. The vegan steak has a pleasantly herby sausage-like taste as well as texture, which is well complemented by the rich, smooth black pepper sauce. Meanwhile, the toast and especially the hash brown provide a welcome crunchy contrast to it.
Address: G/F, 118 Second St, Sai Ying Pun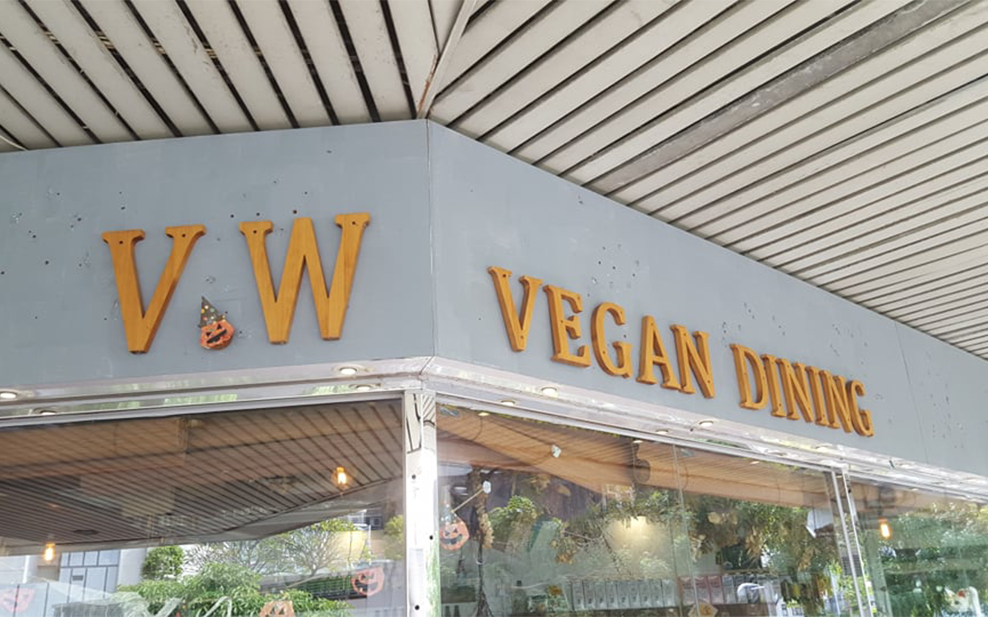 Of all the cafés on this list, this one might be the most inconspicuous, being very small and tucked away on the corner of the second floor of Plover Cove Garden in industrial Tai Po. It also is one of the more limited in terms of the range of foods offered – the lunch menu only has 5 items on it. Nevertheless, the food it does serve –vegetable curries, Impossible burgers and vegan nuggets among them– are still done very well and can be enjoyed with a cake-of-the-day or a cashew milk ice cream at the end.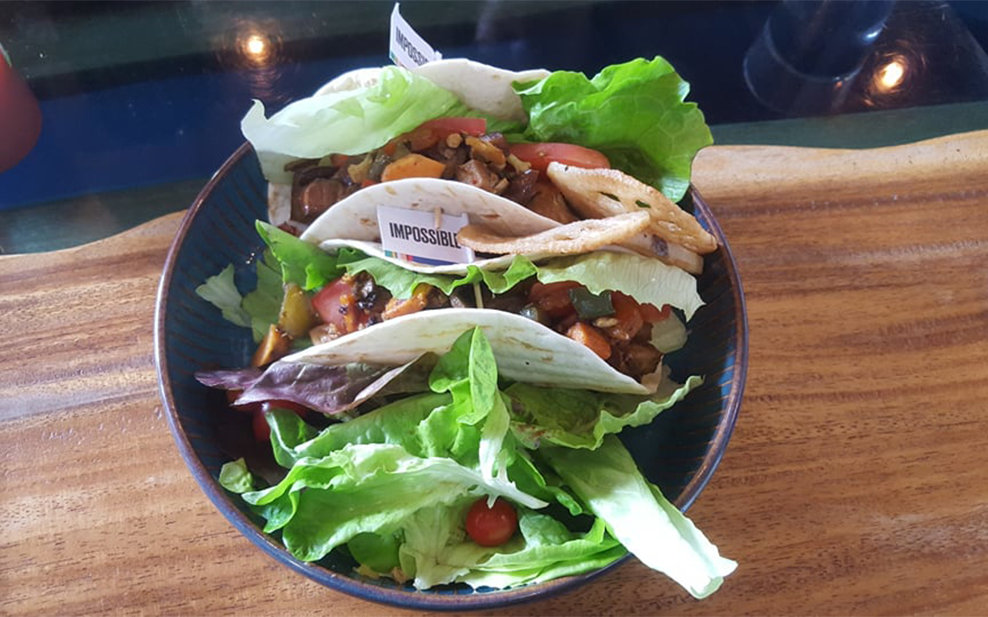 Best Dish: Spicy Taco with Lotus Chips
Despite the Impossible Meat flags pinning these tacos together, it doesn't take long to realise that their contents in fact consist largely of diced vegetables. Nevertheless, they deliver a nice mix of textures –from starchy sweet potatoes to squishy aubergines to juicy tomatoes– laced with all of the zest and spice of Mexican cuisine. Just as well, as the soggy, oily lotus chips they are served with really leave a lot to be desired.
Address: 2/F, Plover Cove Garden, Tai Po, New Territories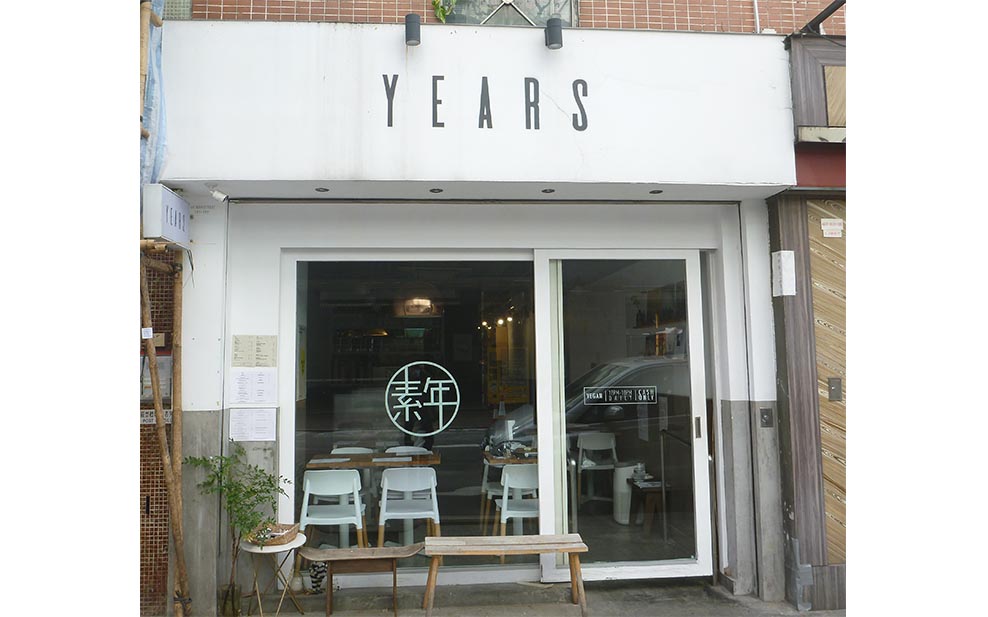 This café only went fully plant-based fairly recently. But it appears to have already gained significant popularity amongst the vegans of Sham Shui Po, if the extensive queue I saw forming shortly before opening time is anything to go by. It serves a mix of dishes including heavily Western ones (e.g. impossible meat bolognaise) and East-meets-West fusion ones, such as Thai style lemongrass spaghetti and charcoal tofu burger. Service can be slow however, so be prepared for a bit of a wait for your food if you eat here.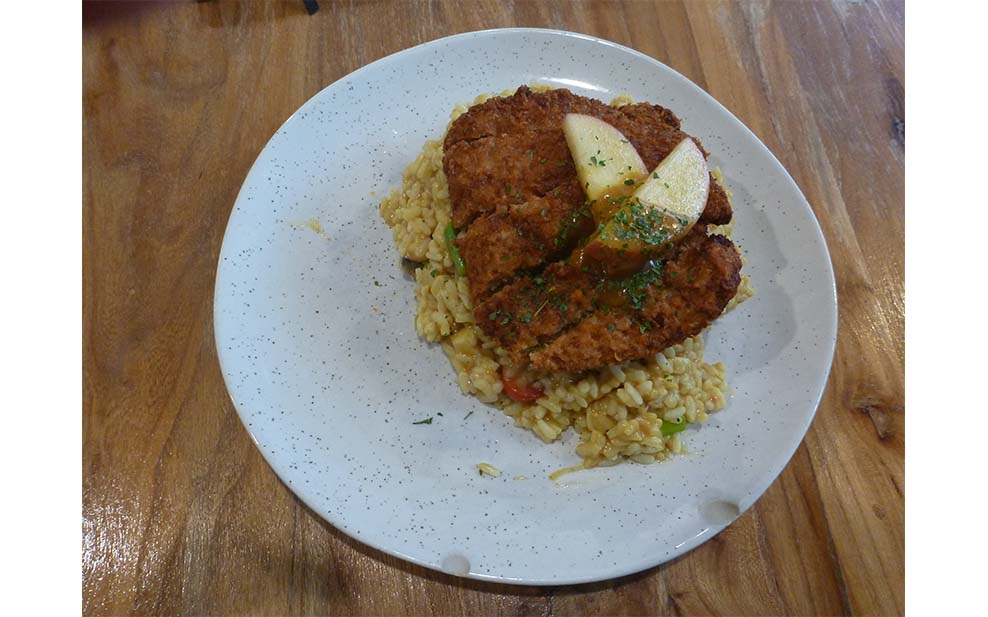 Best Dish: Kastu Curry Risotto
This Japanese-inspired fusion dish comes nicely presented: an omnipork cutlet on a bed of risotto with two apple slices on top like a bow on a present. While initially, you might expect the curry sauce to be served as a separate thing, in fact it is blended into the risotto rice and adds nicely to the creamy texture. Meanwhile the omnipork cutlet has a pleasantly crispy breadcrumb coating and a nice, moist interior that tastes very convincingly of meat, bringing to mind a piece of well-cooked Southern fried chicken.
Address: Shop 1, Fuk Lung Building, 191-199 Fuk Wa Street, Sham Shui Po
This café has an unusual setup in which the place in which you order your food is two doors down the street from where you eat it. As well as its vegan menu, it further embraces environmentalism by supplying paper plates and wooden cutlery, though falters somewhat by having plastic lids on its coffee cups. The ambience is also a mixed bag, as the sliding door window in the seating area –while a pleasant enough feature– does let in too much noise from the cars on Austin Street when open.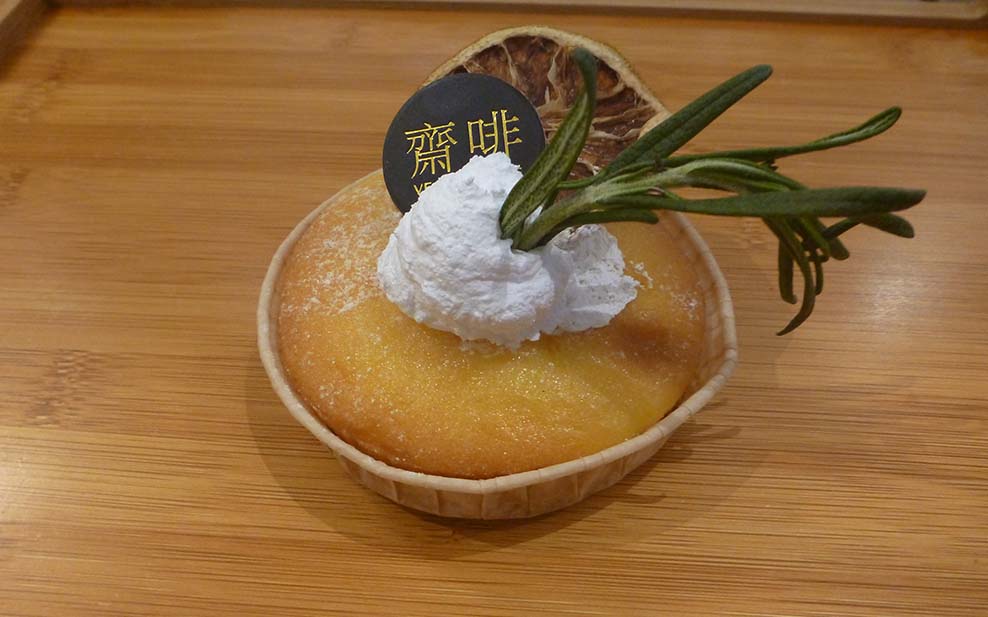 Best Dish: Gluten-free Lemon Cake
Available with the set lunch menu, this small cake comes beautifully adorned with a spring of rosemary, a slice of dried lemon and a deceptively large helping of convincingly dairy-like vegan cream. The cake itself, while light and fluffy inside, is also a little dry. But the upside to this is that the texture is also pleasantly crumbly and besides, the vegan cream complements it very nicely (so don't be tempted to eat it before the cake).
Address: Shop 7B, G/F, Garden Mansion, 154-156 Austin Road, Tsim Sha Tsui
Be sure to check out these articles on other vegan-friendly restaurants in Hong Kong.
Do you have tips or suggestions on other great vegan cafés in Hong Kong and where to find them? Shoot us a message at info@wellmagazineasia.com
Written exclusively for WELL, Magazine Asia by Thomas Gomersall
Thank you for reading this article from WELL, Magazine Asia. #LifeUnfiltered.
Connect with us on social for daily news, competitions, and more.