Standing in waterproof overalls, Gary Bencheghib scans the waterway as it rounds a bend in the lush forest. He is standing in what once was a rushing river, where locals would fish and occasionally jump in to cool off from the tropical heat. What Gary is standing in now, however, hardly counts as a river, more like a slow-moving mass of liquid sludge thick with plastic debris and natural waste. After taking a cautious step- moving in the muck is not easy- he looks down, picks up a waterlogged diaper and places it in his net. Looking back up, he catches glimpse of his team- a group of about 30 employees -cleaning up trash captured by a barrier stretching across the banks to stop its flow. Sorting through a polluted stream is not an activity most people would choose to partake in on the island oasis of Bali. But for Gary, and his team it's just another day in paradise…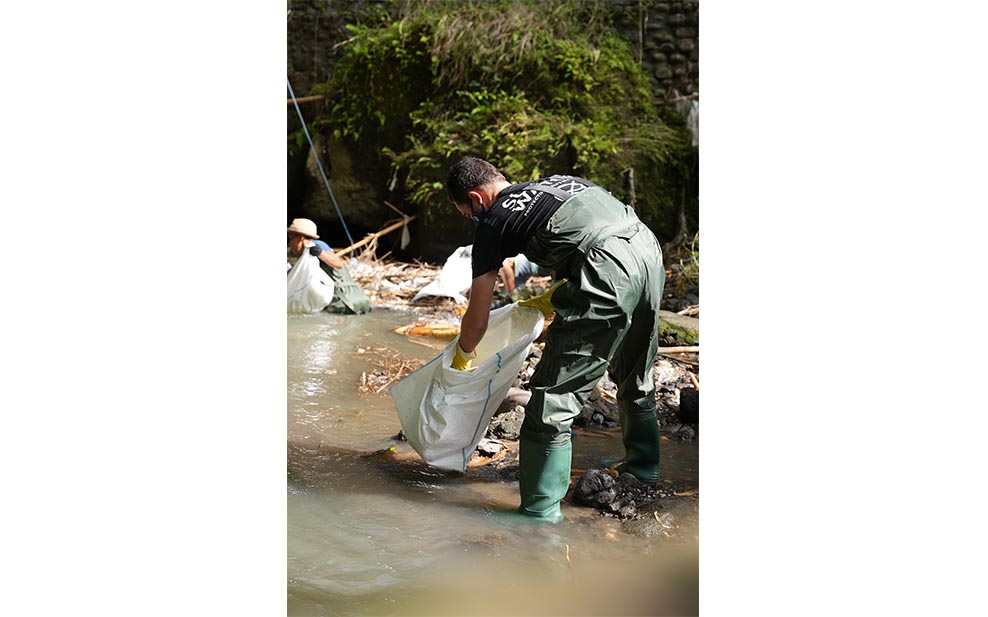 This scene is becoming a more common occurrence on Bali's riverways due to the support and direction of "Sungai Watch", the organization Gary co-founded in 2019 to tackle Indonesia's huge plastic pollution problem. The non-profit is just one of the impressive initiatives spearheaded by Gary and his industrious partners, who happen to also be his siblings, under the umbrella organization "Make a Change World." In addition to supporting "Sungai Watch" the group works to raise awareness about the plastic pollution crisis through media production and organizing of adventure expeditions.  Gary and his team have coordinated and participated in a host of stimulating quests, including floating down the Mississippi River in a Huckleberry Finn-inspired raft made of plastic bottles, kayaking down Indonesia's most polluted river, and paddle boarding down the most polluted waterways in New York City. Perhaps most impressive was a recent effort to "bring the ocean to middle America," in which Gary's brother, Sam, ran across the length of the United States in shoes made of ocean plastic.
Since 2019, Gary has been in Bali focusing on building Sungai Watch into an organization that can make a real impact to address the dire state of its once flourishing river systems. Progress has been swift. In a few short years, Gary's team has already placed 100 barriers to block ocean-bound river trash. A team of 50+ employees combined with local volunteers regularly maintain the barriers, pulling thousands of pounds of plastic trash out per clean-up. The trash is then moved to one of three local sorting facilities, where each piece of trash is sorted, its data collected, and moved on to be properly disposed of, or when possible, upcycled. The combination of ingenuity, strong community support and meticulous data management makes the work of "Sungai Watch" especially important, as the system they have developed could be replicated across the globe to help fight the plastic choking our rivers and ocean.
In this WELL, WHO exclusive we dive into Gary Bencheghib's story- from his childhood playing in Bali, his motivations for wanting to make a difference, to his current work shaping Make A Change World and Sungai Watch. What is revealed is a remarkable story capable of inspiring ourselves and others to think outside the box and asks ourselves, "Are we being proactive enough to make a difference? How can we contribute with action?" As Gary's organization proclaims, "No idea is crazy enough to change the world."
Concrete Jungle to Paradise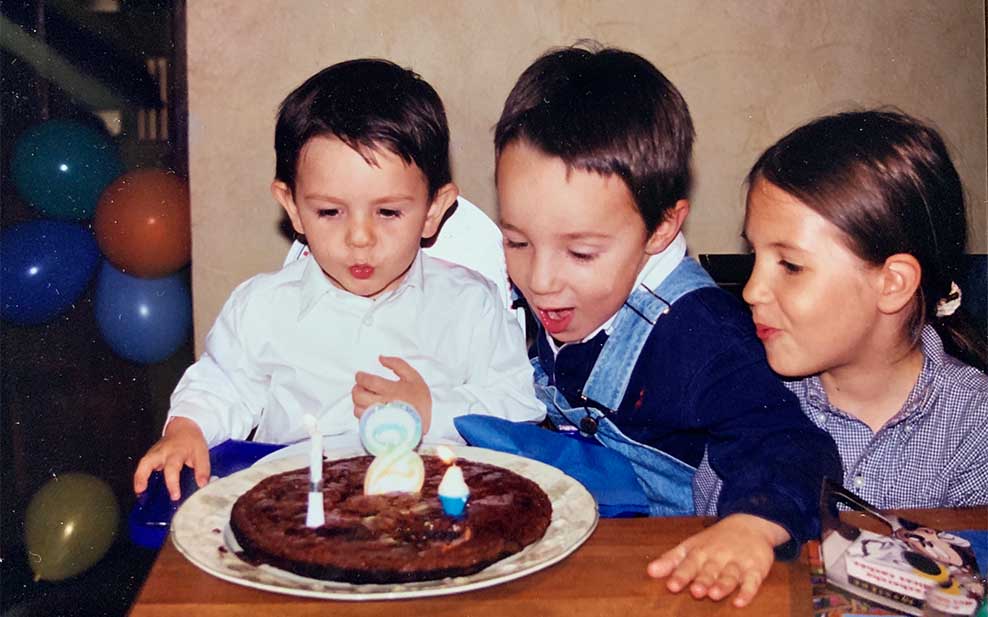 Gary Bencheghib was born in France to French parents. His mother, an artist by trade, and his father, a seasoned finance professional, were drawn to Bali after memorable family vacations. His family enjoyed the picturesque environment and warm local culture, enough so that it became their dream to move to the island when they could. As Gary remembers, "that dream became a reality very quickly." At the age of 9, Gary's family eschewed busy Parisian streets for the open vistas of Bali's coastline.
"It was lifechanging. We went from the concrete jungle that is Paris to paradise. Running, surfing, doing it all" Gary remembers. He spent his afternoons after school interacting with locals and learning how to play a traditional flute the Jabra. "I actually consider myself more Indonesian than I do French just because my heart is fully rooted here in the local community here in Bali… but the French accent has stayed" he chuckles.
Playing outside was a freeing experience, especially coming from a busy city life. But over the first few years of living in Bali, he and his siblings noticed a disturbing trend: he local beaches and countryside were becoming increasingly polluted. "Over the course of the first 5 years living on Bali, there was real big change, we could see the impact of plastics on the environment" Gary remembers. Gary and his playmates began to think twice before running barefoot in the sand or diving into the waves at their local beach.  
Some kids when faced with such a problem may simply adjust where they play or decide to stay away from the beach altogether, but not the Bencheghib siblings. At the age of 14, Gary and his brother Sam, 12, and his sister, Kelley, 16, decided to do something about it. They started with regular beach clean-ups with their friends every Saturday. "Every single week we would pick a different beach… it started as a small thing" Gary reminisces. As people became familiar with their routine, more people from the neighbourhood began to join in. When a local recording artist caught wind of the weekly clean-ups, he publicized the kid's impressive effort and drew more people to support their cause. Before they knew it, over 200 people were attending the weekly clean-up!
Noticing how public support transformed their small beach clean-ups into an effective movement led the Bencheghib's idea to try a new idea- organizing an event with increased promotion to raise more awareness. As such, together they chose Gary's 16th birthday to lead a hike up Bali's most known Volcano, Mount Agung. Everyone who supported him or joined his hike was encouraged to donate to support more beach clean-ups and raise awareness about the harmful effects of plastics on the local economy.
The success of the Volcano climb led the Bencheghibs to start an official organization to run more events and promote awareness of the plastic crisis, dubbing it "Make a Change World"- an organization and media outlet they continue to run to this day.
Nearing the end of his high school years, Gary knew he wanted to continue to work on "Make a Change World" with his siblings. But with his siblings set to enter school, he knew furthering his education would help him long-term. He thought perhaps with more training, he could use music as his platform for drawing attention to the causes he cared about. "Growing up I would spend hours and hours playing piano or guitar or Jamla…. Music has been an entrance to the creative world," Gary comments. "I definitely got it from my mother." So, with that goal in mind, Gary decided to apply to a music program offered by Fordham University in their Juilliard exchange program.
After being accepted to Fordham, Gary was excited to start his music studies and flew to New York to start school. Upon arrival, however, he learned that things were not as expected. The school announced a change in curriculum whereby it would not be offering the music program immediately. Not wanting to endure a semester of classes he did not want to take (he came to study music after all) he decided to pivot and look for another opportunity.
As oftentimes happens in a big city like New York, opportunities, especially for creatives, abound. Around the same time, by chance Gary learned about an 11-month documentary film making program. Inspired by films such as An Inconvenient Truth and The Cove, he realized that perhaps film could be the just the platform he desired to promote positive change. "At the time, I had never held a camera before. I lunged at the opportunity and overnight started studying film making" Gary remembers.
Gary dove into the art of film making and learning how to capture and edit film- a skill especially helpful in the era of YouTube and online video. Upon completing film school, Gary was able to secure a role with Vice Media on their video production team. After working at Vice, Gary then spent time working for National Geographic, getting the chance to meet one of his film-making Idols, Jimmy Chin, perhaps best known for his direction of the documentary film "Free Solo."
After speaking with his brother Sam, who was finishing University at Lehigh, the brothers decided it was time to set off on their own and use their experience and new skills to broaden the message and impact they had achieved with their beach-clean-ups and climb of Mount Agung. Together with the support of their sister, who was finishing up school in Europe at the time, Gary and Sam decided on a new direction for Make a Change World. As Gary explains, the brothers were intent on "making plastic pollution front page news through crazy ideas and short form videos."
Effective "adventure activism"
The first "crazy idea" they decided to execute was a journey down the Mississippi river on a junk raft made of 800 plastic bottles. Through Make a Change World "we wanted to redefine what expeditions mean. Instead of climbing the highest mountain or going down to the deepest ocean floor, we wanted to get out to make a statement… we also wanted to see first-hand pollution and the communities affected by it" Gary says. Beginning their tour way up in Minneapolis, Gary, Sam and a crew of other international adventurers made it all the way south to the mouth of the river in just one summer. While their journey on the Mississippi was an "amazing trip and campaign" the brothers felt the visuals of the film weren't eye catching enough to garner the attention they had hoped for.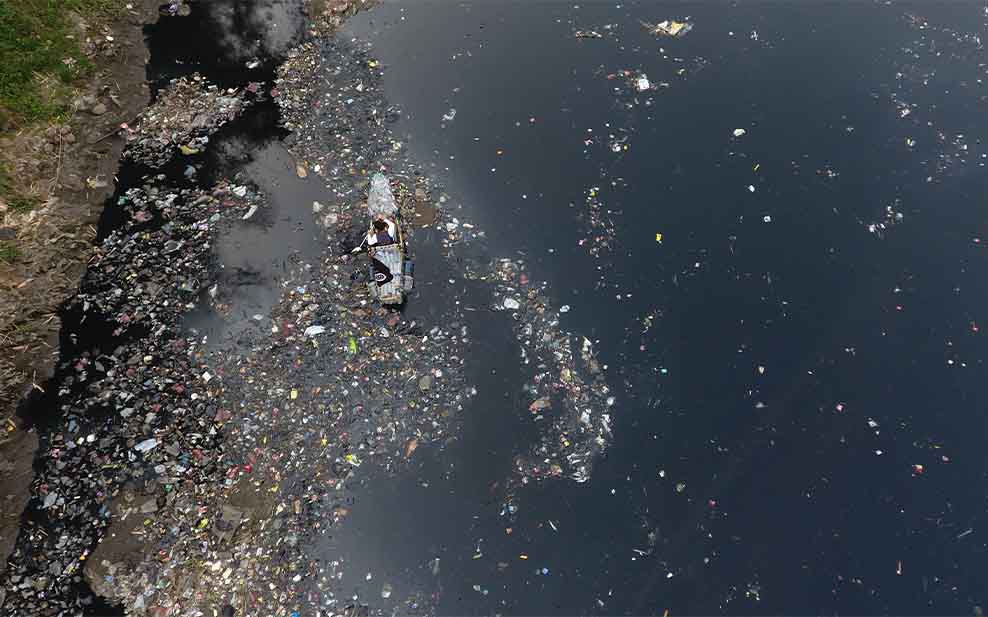 After googling the most polluted river in the world, Gary and Sam learned that it was actually not too far from home, in West Java, Indonesia. So the two made preparations and quickly set-off for the Citarum River in Indonesia. The Citarum is a prime example of a modern environmental disaster caused by human destruction. "It's the river where all the big Fast fashion companies manufacturing in Southeast Asia are. Gap, Zara and H&M all operate on the river" Gary explains. "In addition, it's estimated that somewhere between 17-27 million people live in connection with the river."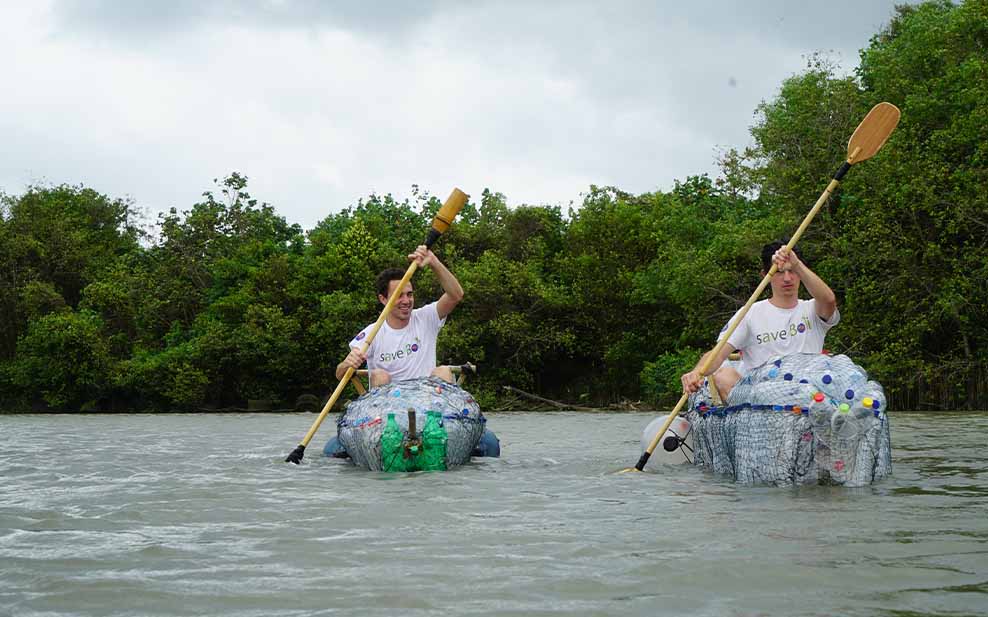 Compared to the Mississippi, which is polluted in its own right, one look at the Citarum makes it easy to see why environmentalists have been ringing alarm bells. The waterways are thick with debris, sometimes so thick that the river literally is on fire with burning trash. In kayaks made of bottles, Gary and Sam took off down the Citarum, with film equipment in hand to capture what they saw. As they journeyed, they captured the apocalyptic scenes, risking their own health to show the world the seriousness of the situation. "When I completed the trip I jumped in the Java Sea to celebrate and got a crazy infection from the dirty water" Gary explains.
The response to the journey received a huge public response as local and national media outlets picked it up. Before long, hundreds of thousands of people had seen images of their journey and were sharing on social media. "That was our break" Gary remembers. The news caused such a stir that the issue ended up on the President of Indonesia's desk. Gary and Sam were asked to fly to Jakarta and meet with President Jokowi, intent on building a plan to clean-up the river. "We went from 2 activists to all of a sudden being the inspiration for a massive clean-up" he explains. "We had no idea at first what we were going to talk with the government about." The result of the talks was the launching of an unprecedented clean-up effort supported by the Indonesian Government, who mobilized 7000 troops to assist in an emergency clean-up effort. The government laid out a continued plan to clean the river over a 7-year span, with the goal of making its water drinkable by 2025.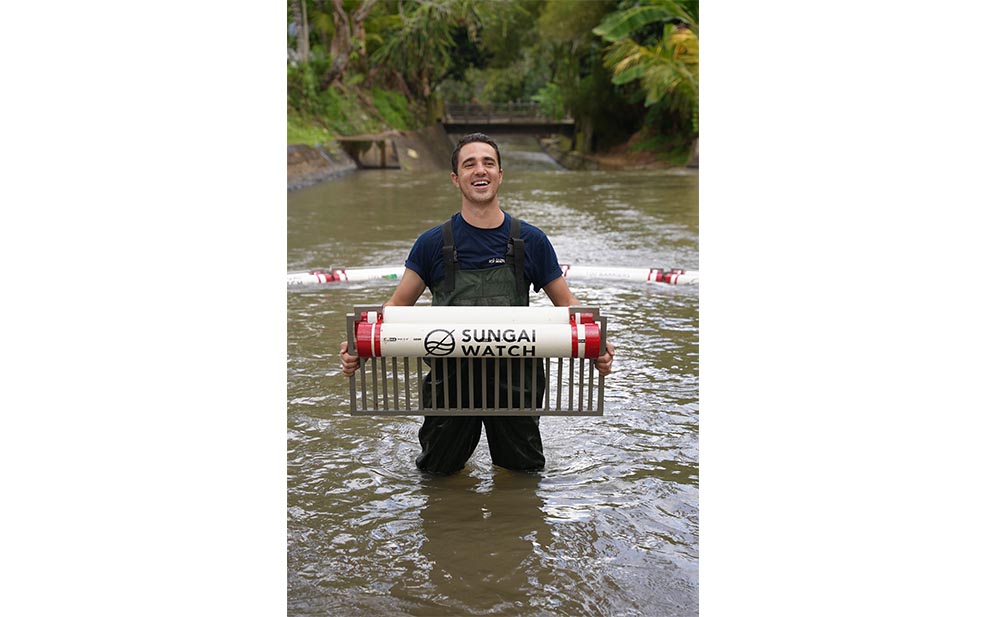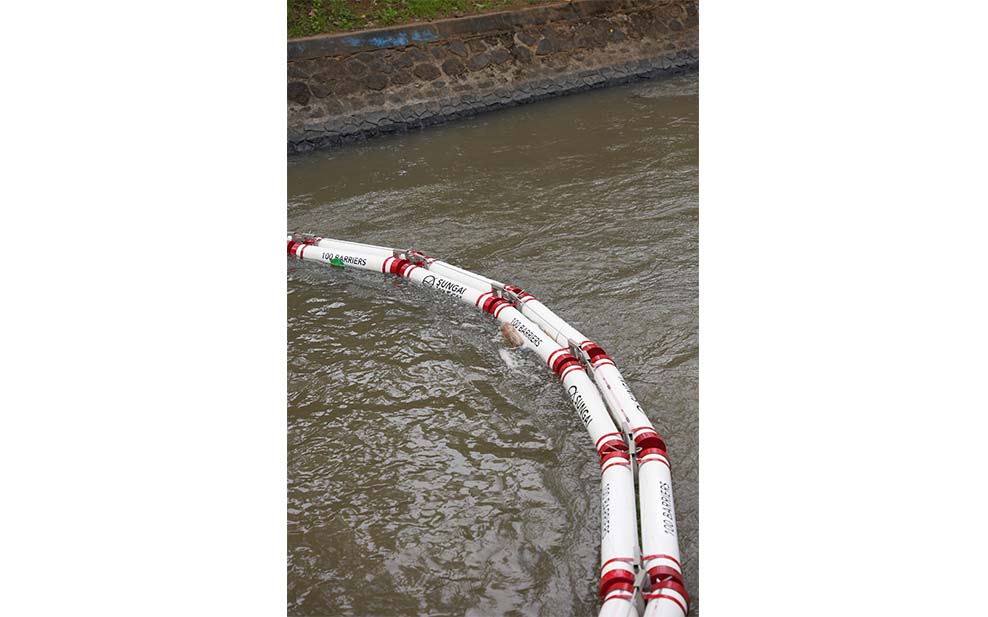 Thrust into becoming an organizer of major clean-up efforts, with little past experience, Gary dove into the details of river cleaning engineering and design. Thinking through the problems presented when cleaning a river, Gary focused on how to capture trash more efficiently and help the crews in the water. "I realized the need for simple solutions to aid clean-up efforts" he comments. With the help of others Gary set his focus on designing and deploying simple barriers to stop the flow of trash and provide collection points for crews to clear the river. Wasting no time, Gary started to fashion barriers, joining crews in the field to test the most effective designs for catching trash.
Gary's newfound mission to clean rivers led to his starting of the organization "Sungai Watch" to spread river cleaning barriers and maintenance models across Indonesia, starting with his home island of Bali. Gary and his team are also focusing on developing systems for sorting and recycling trash pulled from rivers. The team has designed warehouses where employees and community workers sort through trash by size, type and manufacturer. The data collected is stored in a database; a valuable tool to hold distributors of waste accountable. Once processed, trash is moved to a recycling partner and of course, when possible, sold upstream for reuse.
To Gary, the key to building effective solutions is simplicity. "Instead of multi-million-dollar technology, we believe in involving the local community" he explains. "Rather than some crazy expensive all-in-one machine to clean rivers, it's much more practical to have simple solutions with community involvement and support. This can make more people aware of the cause and passionate about making it a success" Gary explains. "It's about changing habits as well. Take for instance my parents… they are not environmentalists, but over the years we've changed their habits. We are now almost a zero-waste family."
Scaling to save the Ocean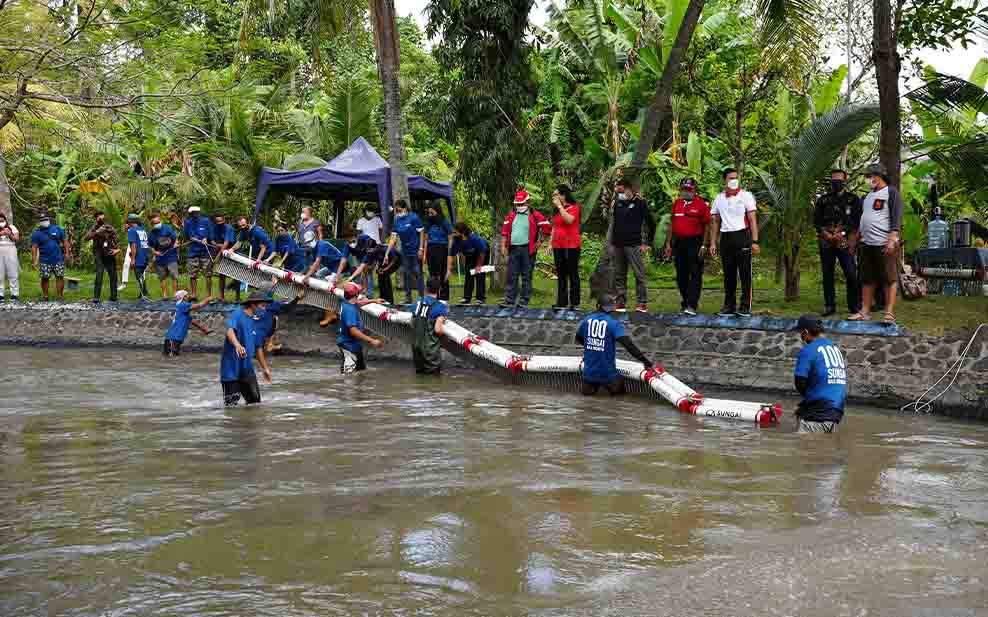 In just a few years' time, Sungai Watch has grown into an operation of 50 full-time employees, with crews focused on constantly patrolling and maintaining the barriers on a set schedule. At the same time there are crews sorting trash collected around the clock, while Gary and his partners work on R&D projects of how they can upcycle a larger percentage of the trash. Gary has his eyes set on making a bigger impact by scaling their solution across Indonesia. "We've installed 100 barriers across Bali's Rivers, the goal is to install 1000 by the end of this year" he says hopefully.
The work Sungai Watch is pioneering is gaining more attention due to the increasing number of studies being published linking river health to ocean health. It's now estimated that over 80% of marine plastic enters the ocean through rivers. Once plastic makes its way into the ocean, there is nothing that can be done to limit its movement. That's why trapping plastic in rivers is a crucial part of improving ocean health. "Ocean groups are now refocusing on rivers. The only way we are going to battle it is to turn off the tap first" Gary explains.
Given their success in Indonesia, Sungai Watch has been approached by a host of organizations looking for assistance in building out local barrier networks. Officials from multiple countries, including the Dominican Republic, Sri Lanka, and Columbia, have been in touch about working together. For Gary, his long-term ambition is to grow fast enough to meet the growing demand, however, he is insistent that the roll-out be scaled smartly and effective, rather than too quickly. "There is obviously a lot of need, it's just about time and scaling up properly" explains Gary. 
Gary and his team remain resolute that impactful change regarding plastic pollution is within humanity's grasp. While other aspects of climate change appear more challenging- take for instance, a quick move away from fossil fuels- managing plastic waste and better tending to our oceans and rivers is well within our reach. Gary hopes that "wins" gives the anti-plastic movement the momentum it needs to make a difference while we still have time.
"We're destroying the planet at such a rate that in order to solve plastic pollution – potentially one of the problems we can win- we need to go million percent and give it our everything. If we can have this one victory, it will then give us the inspiration to tackle the bigger mess which is a lot more complex- climate change."
Mindset and Action = Change
Gary emphasizes younger generations taking the reigns on climate change and encouraging others to not feel despondent. Giving up is not an option, and as the case with clean-ups, it takes community support and camaraderie to make change.
That starts with surrounding yourself with people doing things to make a difference and putting naysayers to the side. "Staying positive and moving forward is all about who you surround yourself with and having that ecosystem of people around you to push your boundaries" Gary says.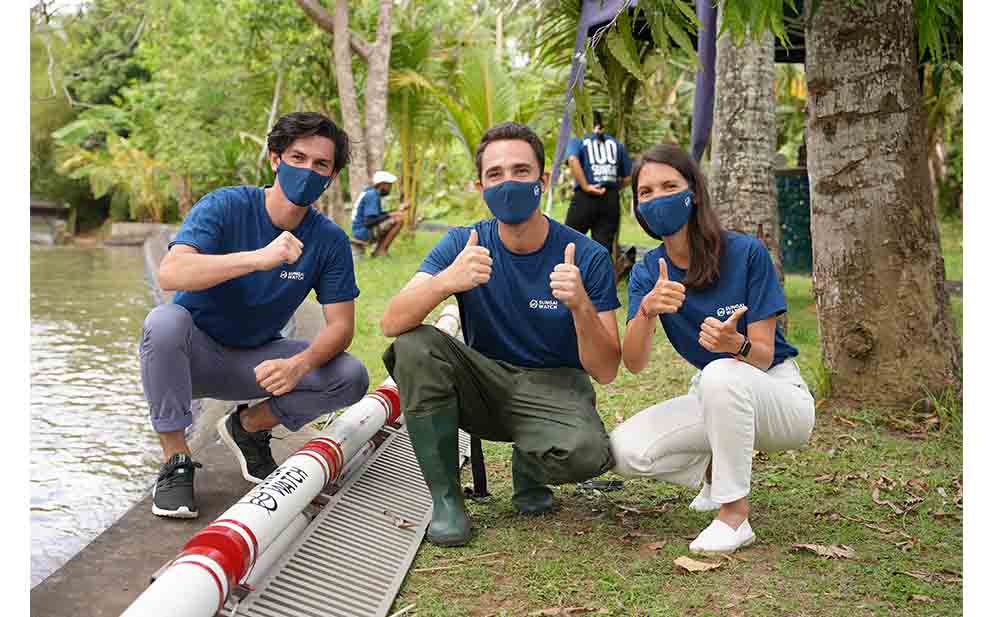 In addition to friends and co-workers, Gary is lucky to have his siblings by his side. Now that Sam has graduated school and completed his run across the United States, he has joined Gary full-time. Kelley, after completing business school in Boston, is also back together with her brothers. "They understand the chill Bali life, the people here and the environment here, and also the fast-paced world outside. We're back together to figure out the next steps of Sungai Watch and where we want to take it from here" Gary explains.
As their impressive track record shows, more creative and exciting projects are sure to come into fruition. The world should be rooting for people like Gary and his team.
As he explains, it's up to us to take action and think bigger than ourselves. "Nothing is impossible if you have the right heart, just keep on pushing."
Written exclusively for WELL, Magazine Asia by Jackson Kelleher.
Thank you for reading this article from WELL, Magazine Asia. #LifeUnfiltered.
Connect with us on social media for daily news, competitions, and more.