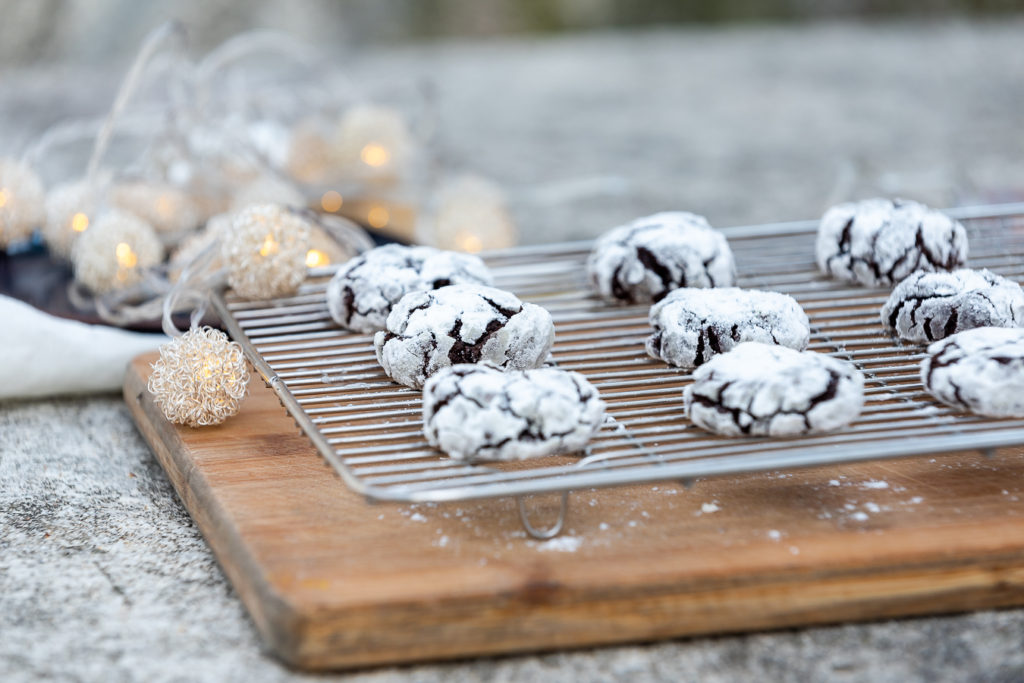 Dark Chocolate Crinkle Cookies
Prep: 30 min
Yield: 20 cookies
Rich, fudgy and loaded with chocolate flavour – these crinkle cookies are a perfectly indulgent treat for the holidays. Somewhere between a brownie and a cookie, the fluffy centre is coated by a crispy layer of crackled powdered sugar. This is also what gives these cookies their characteristic snowy crinkled surface. They can be made days ahead of baking and even frozen – a perfect bake for a day in with the family or addition to any holiday dessert table.
Ingredients
For the cookies:
6 tbsp vegetable oil (can be replaced with apple sauce or olive oil)
1/2 cup unrefined sugar
3 tbsp egg replacer (either from store bought mix, ground flaxseeds or aquafaba)*
1 teaspoons vanilla extract
 2 cups plus 2 tbsp unbleached all-purpose flour (can be replaced with gf flour eg chickpea flour)
1/2 cup unsweetened raw cacao powder
1 teaspoons baking powder
¼ tsp of salt
6 tablespoons water
For the coating:
1 cup icing sugar
*If you want to use aquafaba, whip 3tbsp of chickpea liquid until frothy. To make a 'flaxseed egg' grind 3 tbsp flaxseeds and combine with 6 tbsp water, let sit 15 min in the fridge.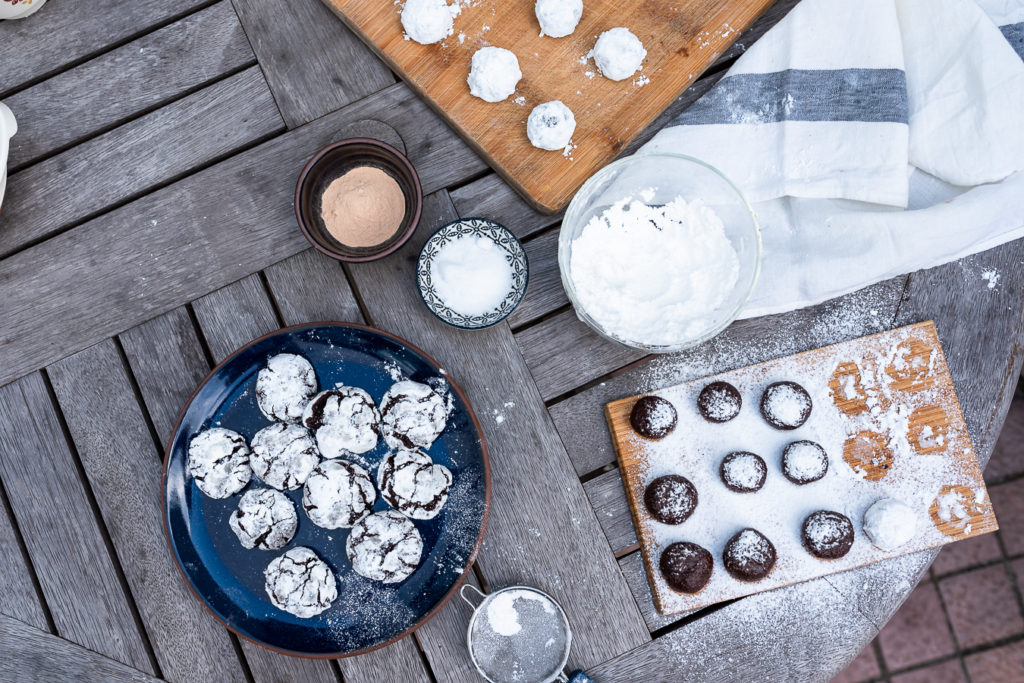 Method
Cream the sugar, egg-replacer, vanilla extract and your preferred choice of oil in a bowl until frothy and slightly lightened in colour.
In a separate bowl sift flour, spices, salt and cacao powder, combine until fully mixed.
Add the dry ingredients and water to the sugar and oil mixture, mix until just barely combined. The mixture should be on the dry side, keeping it's shape when pressed and crumbling slightly, be careful not to over-mix.
Shape into a ball, cover in a tea towel or beeswax wrap and place in the fridge to rest overnight.
Use a ½ tbsp measurement to scoop dough into balls, once rolled, place in a bowl with the powdered sugar and use a spoon or your fingers to coat the cookie balls. Do not lightly roll but rather pile the sugar on the balls without compressing it.
Place coated cookie balls onto a lined baking tray and bake for 10-12 min in a 175°C oven on the fan setting.
Enjoy hot out of the oven or to store – let cool completely and place in an airtight container, the cookies will keep for 4 days at room temperature.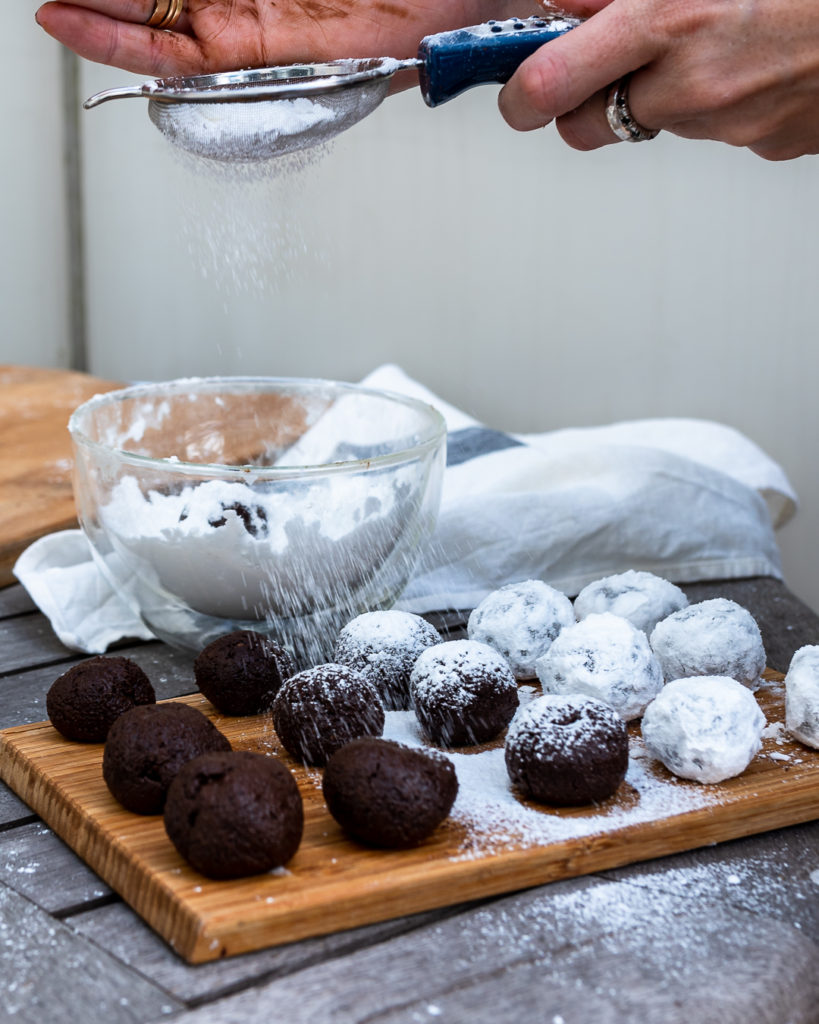 Tips:
– Letting the dough rest, either overnight or even for as little as 30 min, makes a huge difference to how cookies turn out. The cookies will keep their shape better and the resting time will bring out more complex flavours as well as deepen their colour.
– Avoid over-mixing cookie dough, the more you mix the more you are likely to develop gluten in the dough, giving the cookies a bread-like texture.
– Don't skip the salt, it may seem like an unnecessary addition but adding salt really helps bring out the chocolate flavour of the cocoa powder and contrast the sweetness of the sugar.
– This recipe can serve as a base for so many other cookies, skip the cocoa and add nutmeg, cinnamon, cardamom and clove for a pumpkin spiced crinkle cookie, or simply add nuts for extra texture.
Written exclusively for WELL, Magazine Asia by Xaviera Nordstrom
Watch out for more monthly recipes from Raw Bean Bites.

Thank you for reading this article from WELL, Magazine Asia. #LifeUnfiltered.
Connect with us on social for daily news, competitions, and more.