In this exclusive WELL, WHO? profile, we are excited to share the story of Dino Hira. You may know him from the hit reality show, Married at First Sight, Australia (Season 6). He is also the founder of The Modern Yogi Co., an online portal with a mission to help people make positive changes in their life through mindfulness, and spiritual connection. Author of the book, A Miner Who Wins Inner Peace, Dino has taken what he's learned from his own experience recovering from depression and created a resource for those looking to overcome similar struggles. His passion for sharing his experiences and teachings to his community has led Dino to many interesting places. In sharing his story, we hope to eliminate some of the stigma around men's mental health struggles and provide insights that we believe can be helpful on the road to recovery.
Hong Kong, born and raised
Growing up in Hong Kong, Dino speaks very fondly of his childhood and school years in the city. He was fortunate to be able to attend a Canadian international school with classmates from all over the world.
"Being surrounded by so much diversity opens you up to many different perspectives and cultures and lifestyles."
Dino's parents, originally from India with a Hindu background, helped influence Dino's initial introduction to spirituality. From an early age, Dino was enrolled in weekly meditation classes that he attended every Friday until he became a teenager.
"When I was 13, I lost touch with meditation because my friends weren't doing it and I didn't feel like it was cool."
After graduating high school in Hong Kong at 16, Dino took a leap of faith and set out to Perth, Australia to begin university at the age of 17.
"My Dad sent me overseas to learn how to stand on my own feet. At the time I didn't even know how to cook or make a sandwich!"
Dino admitted that when he first arrived in Perth, he was surprised to see so much open space and very few tall buildings. It was a stark contrast from the booming metropolis that he left behind in Hong Kong. After some transition time however, Dino quickly assimilated into Australian life and came to appreciate the change of pace.
After graduating with a bachelor's degree in information systems and business management, Dino found a job in Perth within the IT sector. That was quickly followed by an entry level position in the mining industry. Dino was quickly promoted to a managerial role in logistics.
As one can imagine life working on a mining compound wasn't easy. It involved early mornings and long days in the fields. Being a largely male dominated industry, the culture was grittier and more demanding your typical desk job. Leveraging his strong communication skills, Dino excelled in management- making sure that crew shifts were well timed and executed safely. And while Dino learned a lot on the job and was on a stable career path- something seemed to be missing. 
His feelings of unfulfillment started to take its toll and in late 2014 began to experience what he now realizes was a bout of depression.
"I was happy on the outside, wearing a mask to hide what I was going through."
Dino found it difficult to open at work and discuss his feelings with his peers. At a mining site, like most male dominated workplaces, such feelings would be laughed at being too "sissy." But whether it's talked about or not, men are affected by depression as well. Although women are more likely to be diagnosed with depression, men are 3x more likely to commit suicide because they are less likely to go and seek help.
"Depression doesn't discriminate… it doesn't matter who you are or where you're from, and if you don't do anything about it, things can turn very bad."
Making the situation worse, when Dino did seek help, his doctor insisted on prescribing medications without getting to the bottom of his issues.
"I thought the doctor would recommend something natural, and when he didn't, I said, "no thanks" and walked out."
Shortly after Dino reached his low point. He took a one week leave from work and checked into a hotel room by himself.
"I was having very dark thoughts, contemplating everything- even taking the next breath."
What happened next was nothing short of a miracle. Rather than taking his life that night, Dino had a dream that would change his life forever.
"It was such a vivid dream of hope and belief… I saw an image of the Indian God, Lord Shiva meditating on the top of a mountain- this was my awakening. I woke up with tears flowing everywhere."
Awaking from his dream, Dino experienced a seismic shift in his outlook on life. Rather than be stuck in mental drudgery of an unfulfilled existence, Dino decided it was time to make a positive change and focus on becoming a truer version of himself.
As the old phrase goes "When a student is ready the teacher will come", that's exactly what happened to Dino. Shortly after his hotel experience, and by chance, Dino met a new friend who would become a mentor, specialising in energy healing and meditation. Thanks to his new mentor's guidance, Dino started to practice meditation again. At first it was difficult. But, after some time, Dino started to see the benefits and began incorporating it into his daily routine.
"Nothing is a coincidence. It's destiny but it's your will and reaction that determine how far you will go."
Meditation offered a lens through which to view himself in a different way.
Passion for helping others
When Dino felt like he was on the other side of his battle with depression, he knew that it was time to share his story and insights with others.
He began by volunteering at a maximum-security prison, teaching meditation classes to inmates. He admitted that the night before he began teaching this class, he had trouble sleeping…
"It was my first-time teaching meditation, and the prison where I was going to teach was featured on a Netflix documentary about the world's toughest prisons."
At first, only a few participants joined his class and Dino was unsure his teachings were having his desired impact. But quickly, 2 participants turned into 4, and 4 turned into 6. Eventually, Dino's class was one of the most popular in the program and full of inmates eager to transform their mindset in prison through meditation.
"Teaching others is a chance to make a difference and really see how far you've come."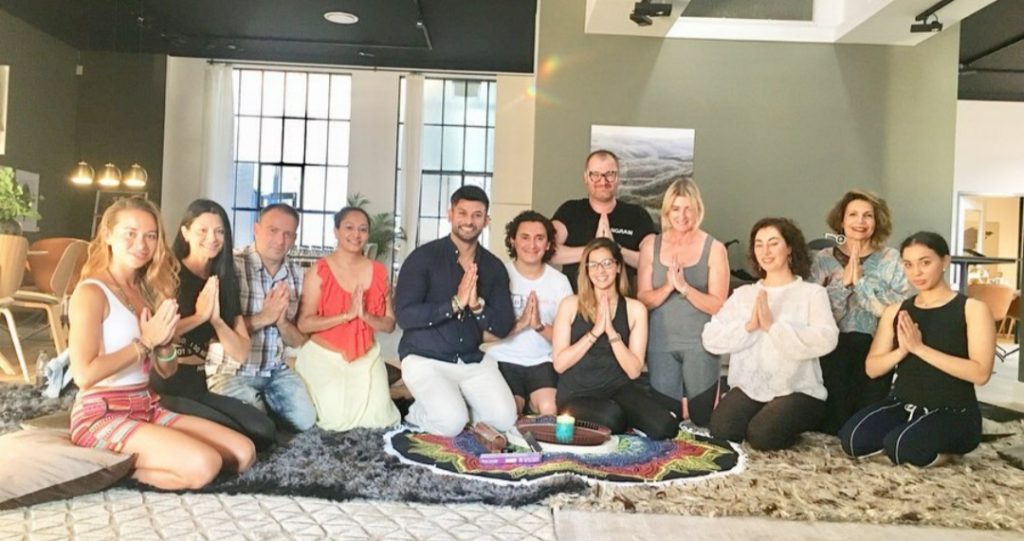 After his meaningful time spent volunteering, Dino was open to the idea of a change in his life and career. That opportunity came in the form of a TV show called "Married at Frist Sight Australia."
Out of the blue, a casting manager for the 6th season of the show reached out to him online and asked if he would apply to be a cast member. Dino saw the TV show as an opportunity to use the platform to spread his message about meditation and well-being. That being said, he did not initially get his hopes up at being selected. "Married at Frist Sight," after all was and still is one of the most watched dating shows on television in Australia.  
7 days later, Dino was selected from over 8000 applicants as one of the few cast members. As such, he would be matched by experts with a woman he did not know. The first time they met would be at their wedding ceremony.
Dino credits his use of visualization techniques for being a big reason he was cast in the show.
"I went home and hung up an old modelling photo of me dressed as a groom beside my bed on a visualization wall. I would visualize myself getting married before bed for ten minutes and do the same thing when I woke up in the morning- this is when your subconscious is at a deeper level, so it's easier to connect with your subconscious mind at this time."
Like most matches that happen on TV, Dino's relationship wasn't one for the long haul. Luckily for Dino and the other contestants in the show, the Australian version does not require cast members to be legally married.
"I spent so much time visualizing myself getting married, but I forgot to visualize the bride."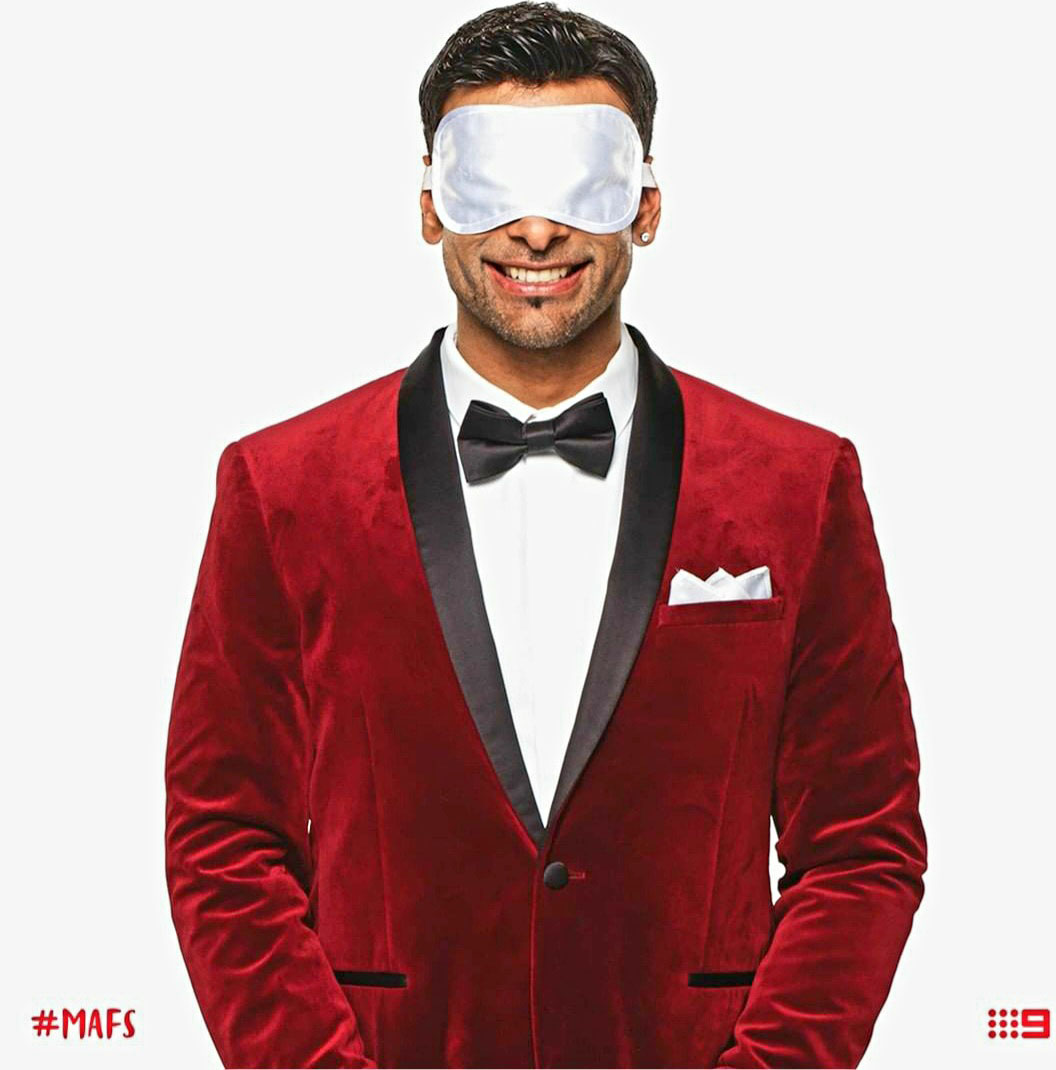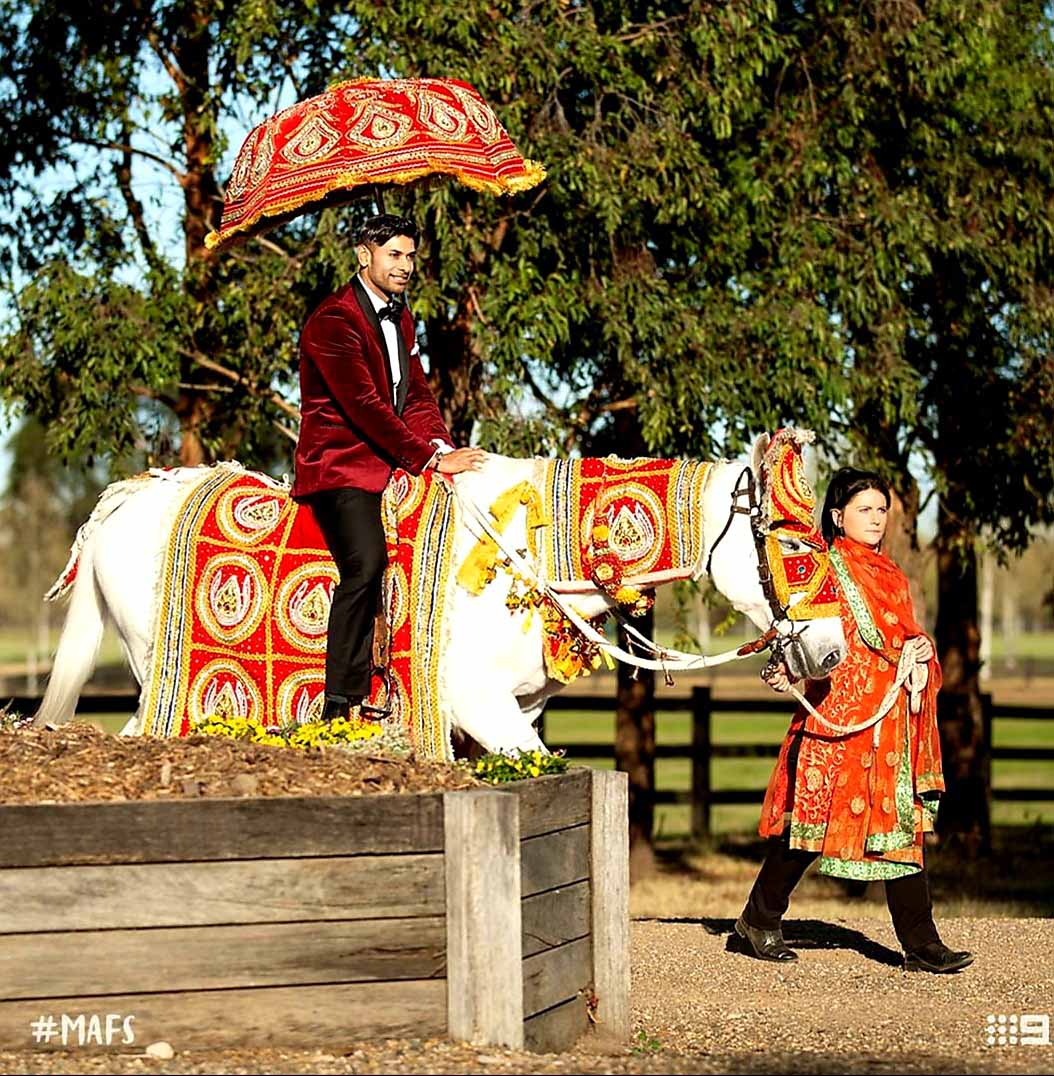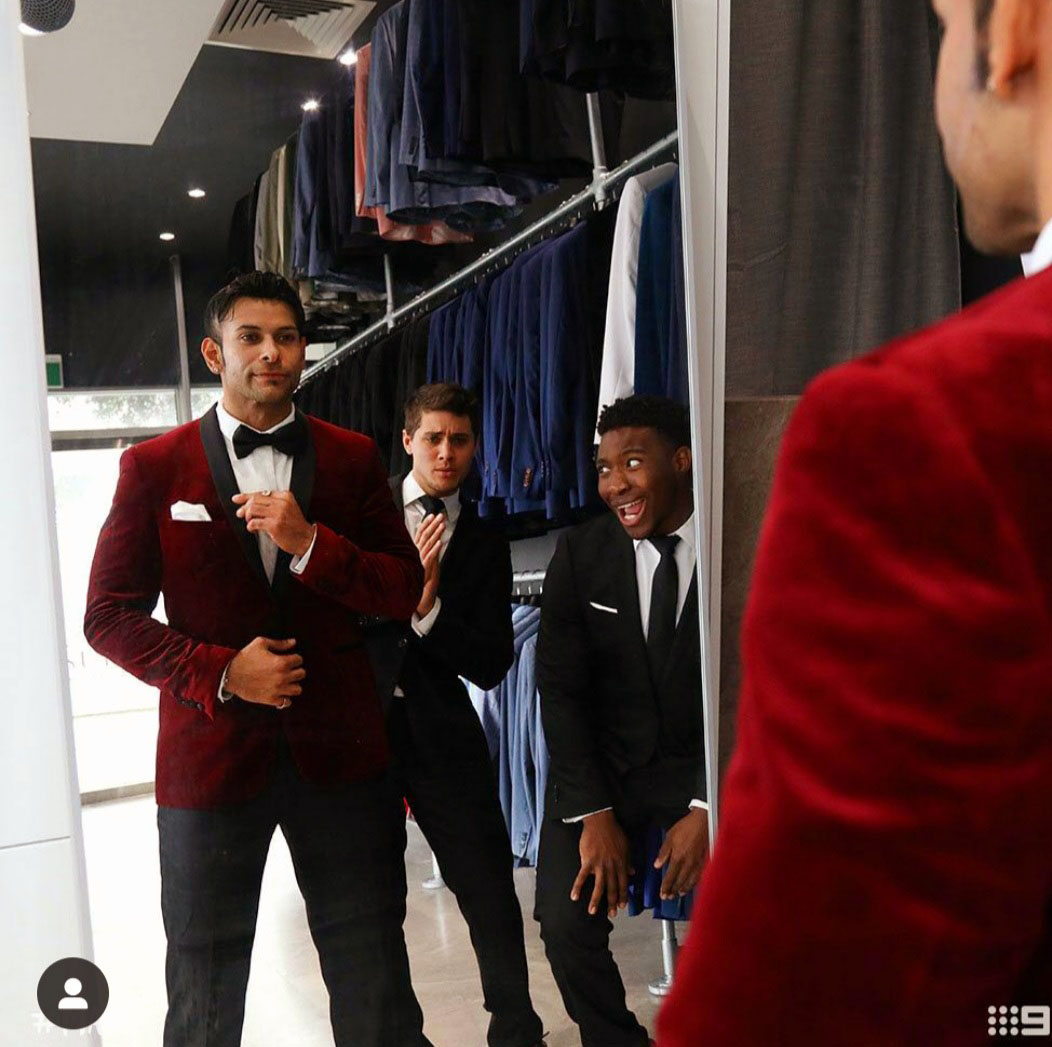 Dino was able to take away a made for TV moment- riding into his wedding on a horse. Even though the tv network controlled more of his image than he thought, Dino was very grateful to have a new experience he could take with him to his next challenge in life.
"Now looking back at it, I'm really thankful for being on that show because they highlighted my interest in teaching meditation, and I received a lot of messages from people inquiring about my meditation. It inspired me to start my online mediation courses with The Modern Yogi Co."
Journey to Rishikesh and becoming an author
After the show, Dino wanted to continue his education in spiritual development.
He decided to set off to Rishikesh, India near the Himalayan mountains, a world-renowned location for those seeking to practice meditation and yoga. For 8 months he lived a simple life in the mountains, healing his spirit and further enriching his outlook on life.
"I learned that meditation is all about listening. You are listening to your inner world and the universe to find answers."
Using his deeper level of knowledge, Dino decided to transmit his teachings in the form of a book. That way his writing could inspire others, especially men, to overcome mental health issues. And in January 2019 he proudly released his work entitled "A Miner Who Wins Inner Peace." It's a fictional tale based on his experiences as a miner grappling with happiness in a cut-throat business world.
Dino is now back at home in Hong Kong. He spends his time teaching online meditation courses through his company, The Modern Yogi Co.
In a world battling the Covid-19 pandemic, it's proven to be the perfect time to offer online sessions to help with mindfulness and positivity. Dino offers a wide range of packages geared to help people bring more gratitude and abundance into their life through regular guided practice.
Dino also keeps busy sharing his positivity and energy with Hong Kongers by teaching classes at Central Wellness. He's also taught an 8-week program to high school students at West Island International School in Pok Fu Lam and hopes to continue programs like these for the future generation.
To book a Meditation Session with Dino, call the Modern Yogi Co. at 852 9530 5579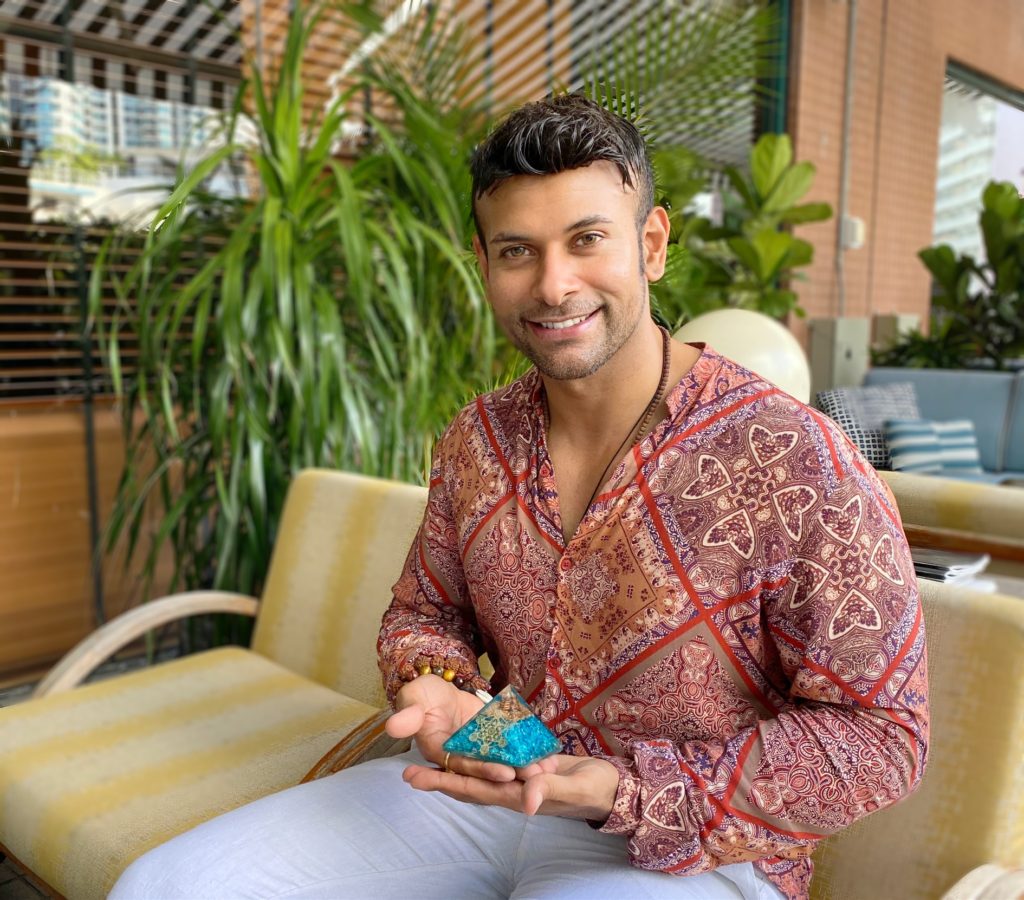 We asked Dino if he could share some simple tips that people can do when they are struggling to climb out of a dark place mentally…
Step 1: Acknowledged that you are not ok
It's ok to not be ok
Seek help and talk about what you are going through
Step 2: Attitude of Gratitude "Gratitude is probably the best life insurance policy- the positive vibrations attract positive things."
Always try to think about something that you are grateful for
Keep a daily gratitude journal
Begin to look at things from a place of abundance instead of only thinking about what you are lacking in your life
Step 3: Be mindful of who you surround yourself with
Ask yourself, are the people in your life effecting you in a positive or negative way?
Sometimes you have to remove people from your life to make space for new people that are more aligned with who you are.
Step 4: Trust
Trust the process and trust yourself
Step 5: Mindfulness
Create an atmosphere that helps you connect with the moment
Light candles, burn incense, play some relaxing music
Start by sitting in silence for just 5 minutes and go from there
Focus on your breath and observe your thoughts
Final thoughts from Dino for men
Society has predefined what a man and woman "should" be, but Dino shared that we all have this feminine and masculine inside of us, and that we should embrace our inner goddesses whether we are man or woman.
"It comes down to just letting go of this whole image that you might have of what a man is supposed to be. What is a man, what is a woman?
Dino encourages men to turn inward for self-improvement, rather than look for affirmation from others. Especially when men are feeling down, it's important to live for yourself and do things that make you happy.
"Remember that living a great life is not about the external, it's about how you feel on the inside. Whatever you want to achieve is possible if you have the willpower. Look for things that you enjoy doing and spend time doing those things- this will help take your mind off of depression."
If you or someone you know is struggling, please know that you are not alone and that you deserve to be happy. Life is always worth fighting for!
Before you go…
A few fun quickfire questions and answers to help you get to know Dino even better:
WELL,: What is your favourite place in HK to get away from the hustle and bustle?
Dino: The Peak or the beach. Sun, sand, and water- I'm there!
WELL,: What is your favourite date night spot in HK?
Dino: Somewhere where we can see the sunset- outside by the water so that we can have a nice, deep conversation.
WELL,: If you could travel anywhere in the world right now, where would you go?
Dino: Hawaii would be great, but anywhere honestly right now given the current situation.
Follow Dino's Journey on Instagram! @dino_hira & @themodernyogico
Written exclusively for WELL, Magazine Asia by Emily Kelleher
Thank you for reading this article from WELL, Magazine Asia. #LifeUnfiltered.
Connect with us on social for daily news, competitions, and more.