In a hospital ward in Hong Kong, an elderly patient is nearing the end. Suffering from a terminal illness, they can do little more than lie immobile on their bed, kept alive only by a constant supply of medications. For both the patient and their loved ones, the certainty of death haunts them like a dark spectre.
But then, a dog with a red bandana around its neck walks into the ward and suddenly the entire mood changes. The patient's face instantly lights up as if seeing an old friend again, and they laugh for the first time that day as the dog pads up to the bed. Over the next hour, the two cuddle and share in the brief but blessed happiness of each other's company, bringing the patient a reprieve from their pain that no drug ever could.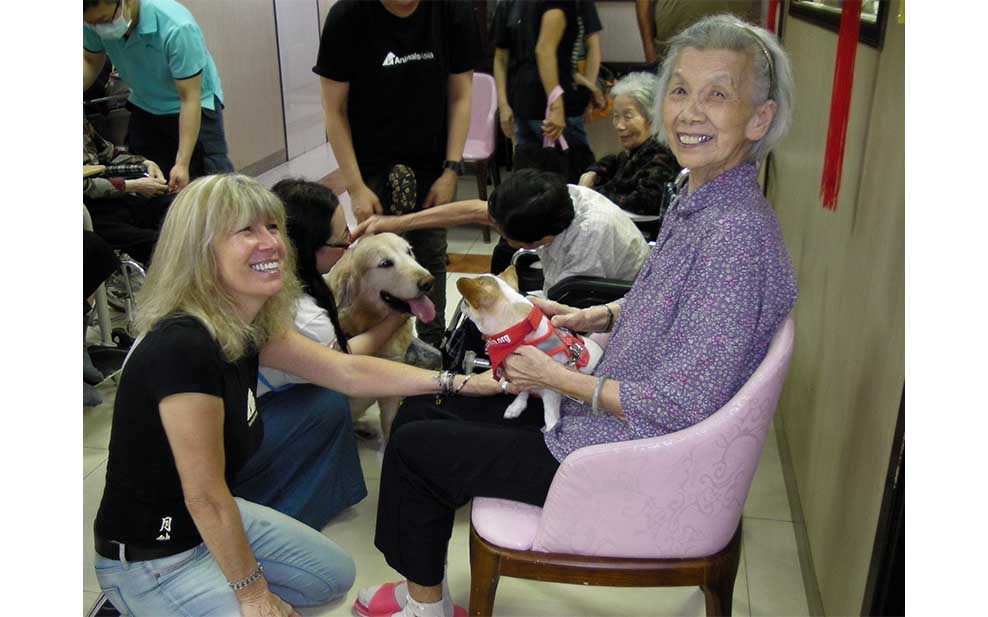 This heart-warming scene might sound like something from a movie. But in fact, this is all in a day's work for the dogs registered with the very real animal therapy programme, Doctor Dog. Founded in 1991 by Jill Robinson of the animal welfare NGO, Animals Asia, for over 30 years, this programme has been channelling the physical and psychological benefits of a dog's unconditional love into helping the sick, lonely and disabled all over Asia.
Animal therapy (or animal assisted therapy) operates under the umbrella of Animal Assisted Intervention (AAI), which includes any goal-oriented activity involving positive human-animal interactions. Animal therapy uses such interactions as an additional, complementary, individualised treatment for people with physical or psychological difficulties. Examples include (but aren't limited to) keeping an emotional support animal, playing with a therapy dog, or riding and caring for a therapy horse.
Despite sounding like a New Age alternative medicine, animal therapy is nothing new. It dates back to the 18th Century, when patients at the York Retreat asylum in England were given small animals to look after to calm them down. But it was first documented scientifically in 1953 and finally recognised as a viable form of therapy in the 1980s. Since then, research has turned up a whole host of physical and psychological benefits to it, including reduced blood pressure, decreased anxiety and even faster recovery rates, among many, many others.
"The human-animal bond is part of Animal Assisted Intervention and Animal Assisted Therapy" says Karina O'Carroll, Animal Welfare Education Manager for Animals Asia. "It's how we bond together with animals and how they help us to overcome or deal with or cope with different things that life may throw at us, either physically, mentally or emotionally."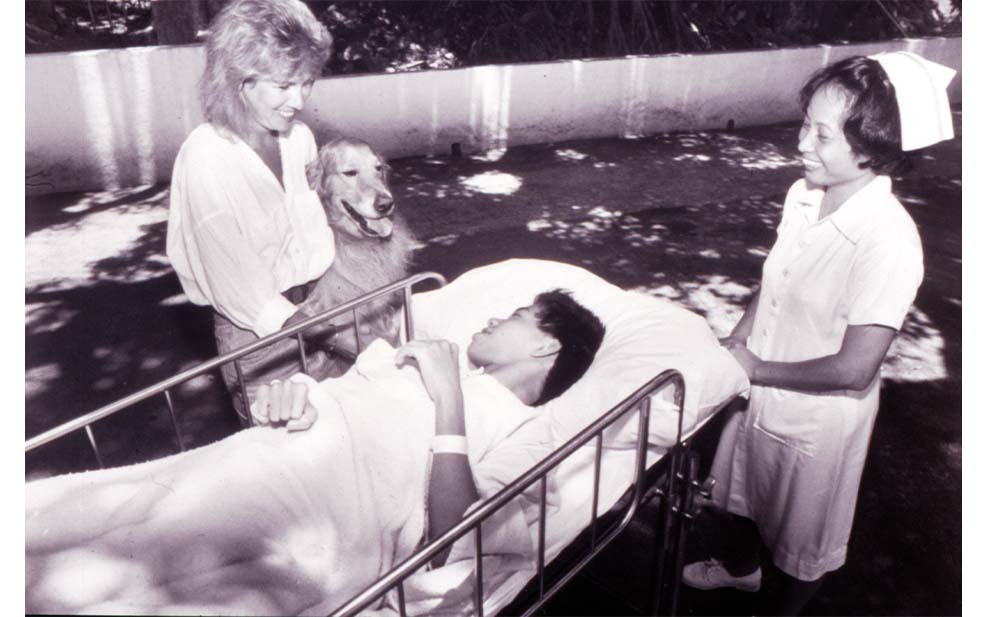 Prior to 1991, no such therapy programme existed in Asia. But after a trial session at the Duchess of Kent Children's Hospital was a resounding success, demand for Doctor Dog skyrocketed among Hong Kong hospitals and disabled centres. Today, it operates in six other Asian countries too (including India, Malaysia and China), touching the lives of around 25,000 people per year.
Qualifying for Doctor Dog
Doctor Dog runs on registered dogs (and their guardians) volunteering to visit hospitals, disabled centres and elderly homes as therapy dogs. But to be eligible for registration, they must first pass a rigorous Canine Behaviour Assessment Exam to ensure that they are fit for the work.
"If we're going to be bringing dogs to work together with people, we have to make sure that not only are the dogs enjoying the work, but that it's safe for everybody involved and that clients will be enjoying the interaction with the dogs as well" says O'Carroll. "The only way we can do that is to check and test the behaviours of the dogs before they start visiting any people."
To begin with, guardians can contact O'Carroll over WhatsApp or email to express their interest in registering their dog, then to discuss their dogs' personal traits, including health, behaviour, temperament and obedience.  "For us, the most important thing is that the dog has naturally suitable personality traits. Things like being calm, well mannered, sociable with people and other dogs." If the dog seems suitable, they are then booked on to an exam designed to simulate the types of situations and people they might encounter during Doctor Dog visits, to determine if they are well suited for and would enjoy taking part in them.
As well as the dogs, it is equally important that their guardians can interact well with the people being visited. After all, they're the ones who are going to be handling their dogs. Doctor Dog volunteers should be patient, good listeners, comfortable with working with the disabled, young or elderly, and sensitive to people's needs, backgrounds and personal choices.
"We are notoriously strict with our exam" says O'Carroll with a chuckle. "But the reason it's tough is mainly for the welfare of the dog. We are not going to put the dogs or the humans in any situation where they are forced to do this work or something that they're not enjoying."
Guardians are encouraged not to provide additional training before the exam, as its purpose is to judge if a dog's innate personality makes them a natural fit for the work, without any external influences.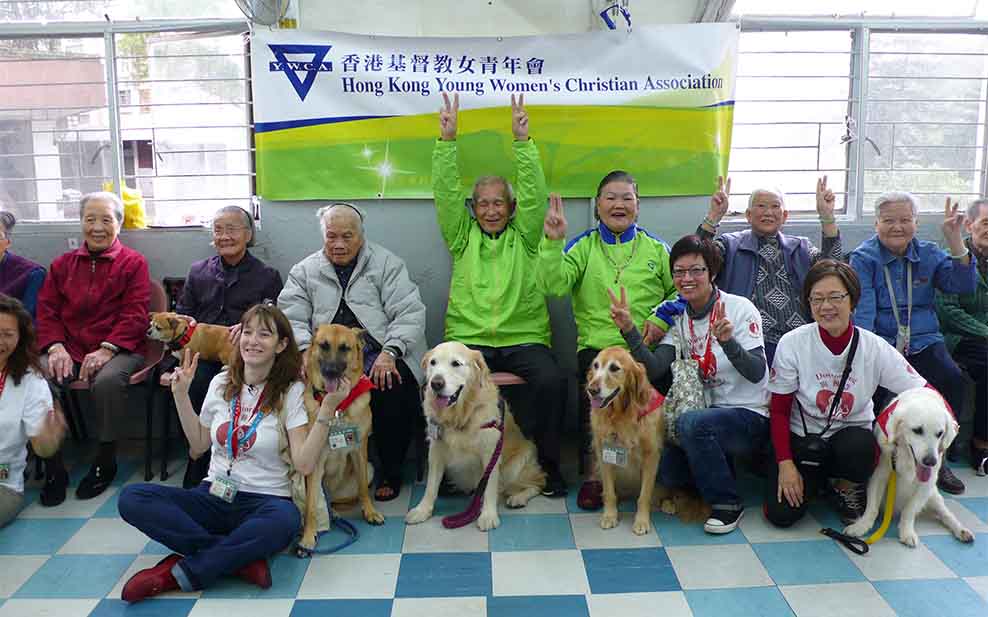 A typical Doctor Dog visit goes as follows:
First, dates, times and any additional concerns are settled with the venue beforehand. Doctors and carers are consulted with to devise a programme that will address the needs and issues of patients, in ways that complement their existing treatments. Security staff are also debriefed on the dogs' visit.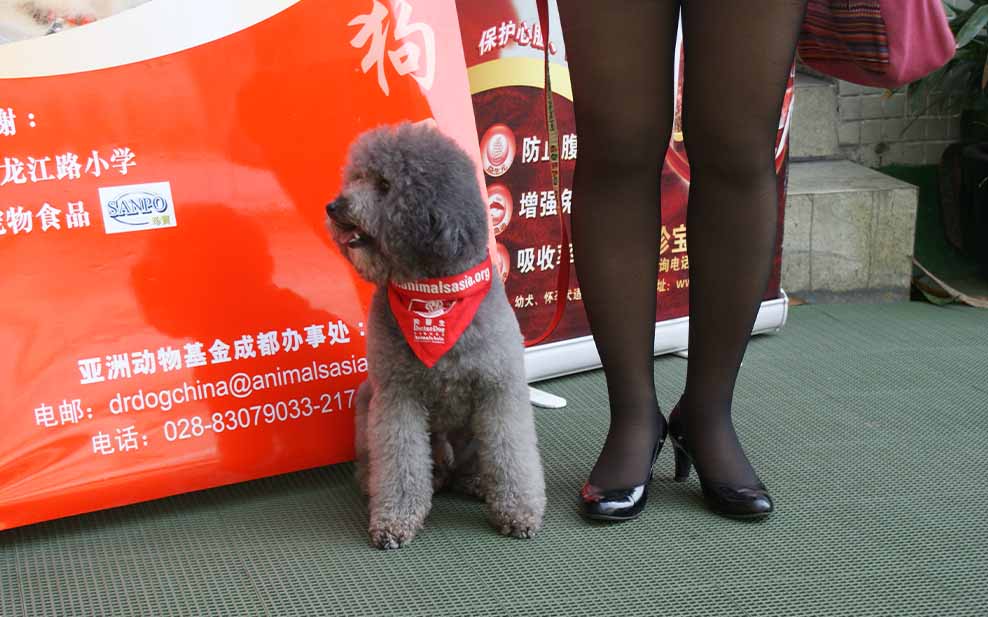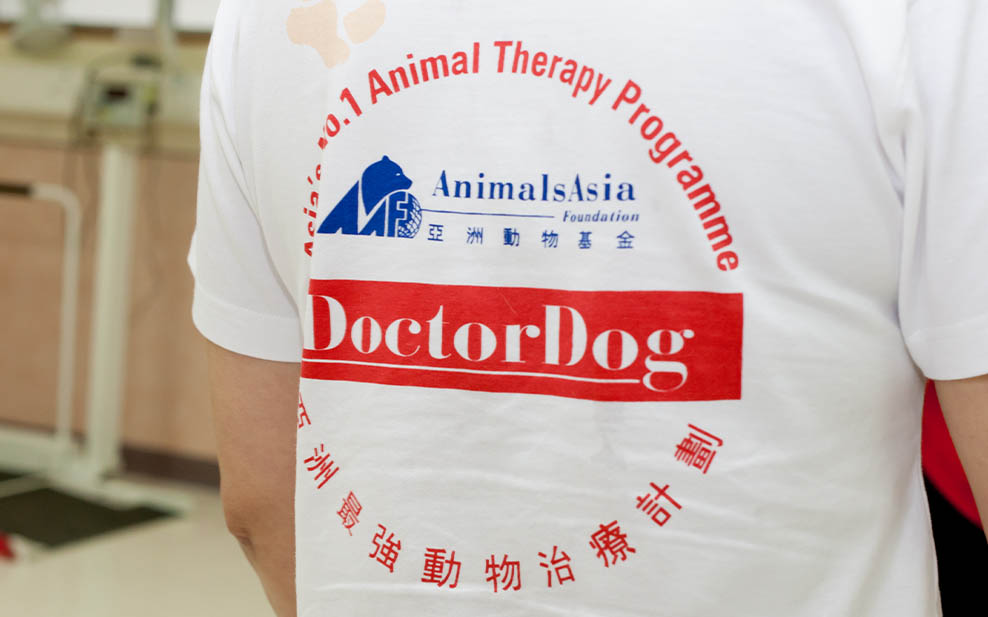 On the day of the visit, the dogs and their guardians arrive at the venue 15-20 minutes before the scheduled time, both wearing Doctor Dog Uniforms. This allows time for the guardians to be debriefed and for the dogs to relieve themselves if need be. Following strict hygiene protocols, guardians must ensure that they carry clean-up things (wet wipes, toileting bags etc.) and that their dogs are clean and presentable.
Next is a 10-minute introduction to those being visited on how to interact properly with dogs, which is particularly important for young or disabled patients who might not already know this. As not everyone may be fully comfortable with dogs, a more willing volunteer is typically encouraged to come up for a live demonstration on handling them, to show the others there is nothing to be afraid of. However, interaction with the dogs is strictly voluntary.
"We constantly communicate with those who may be feeling apprehensive, and we allow them to sit or stay where they feel most comfortable and just observe" O'Carroll explains. "[But] we usually find that those people tend to change their minds and perception after about 30 minutes, and they do want to engage with the dogs."
The next 45 minutes are for patient-dog interactions. During this time, guardians are encouraged to calmly and gently encourage conversations about their dogs. This can include asking about a patient's history with animals, their feelings on the visiting dog, or letting them know what the dog likes. If the patient feels comfortable enough, a guardian can help them to do things like brush the dog's coat, walk it, or play fetch with it. Dogs themselves must be leashed at all times, must not be allowed to paw or jump on people (lest they accidentally injure them) and must not be allowed too close to a patient without their consent.
Throughout the hour-long visit –"That's the time frame for the dogs before they start to get a bit tired and they've had enough"– dog welfare is monitored constantly by Animals Asia staff with training in dog behaviour. So if a dog is showing signs of stress or discomfort, they can spot it and intervene accordingly.
Just What the Doctor Ordered
Since its foundation, Doctor Dog has helped over 10,000 people in Hong Kong, registered over 200 dogs and pre-COVID, was doing around 160 visits annually.  In that time, the results of its work have added to the ever-growing scientific evidence of the health benefits of animal therapy.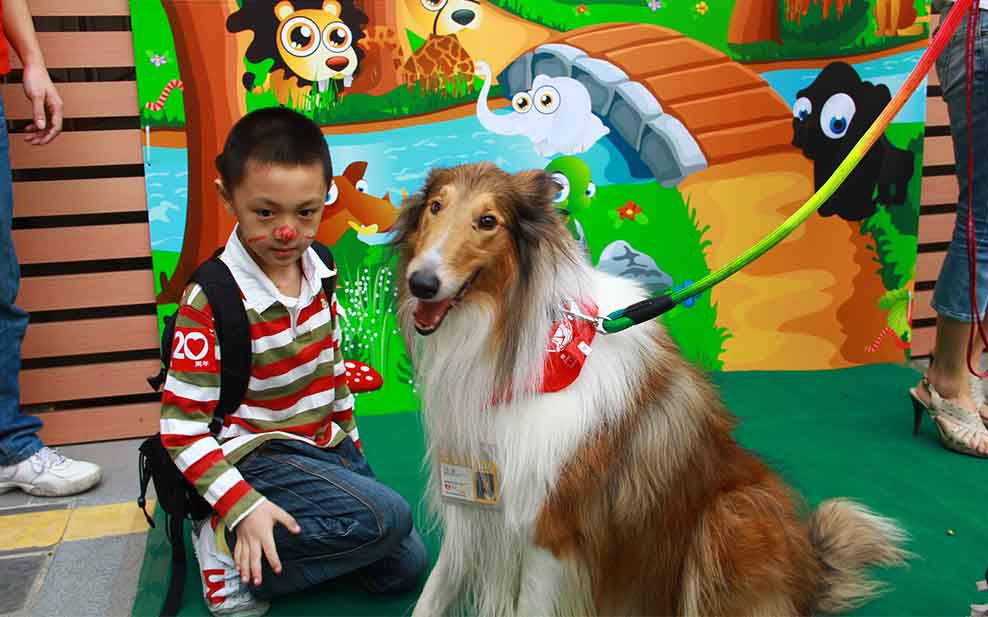 For instance, studies of autistic children –who have difficulty communicating and socialising with others– found that exposure to therapy dogs helps them to become less withdrawn and more sociable. These studies suggest that dogs may act as 'social ice-breakers', helping autistic children to feel comfortable enough to communicate with them and then, eventually, with other people. "It's made them more compliant, interactive and engaging with the world around them" says O'Carroll, who herself comes from a psychology background. "They would communicate with their parents more having had the interaction with the dog." Similarly in a study of dementia patients, Doctor Dog was found to reduce the severity and frequency of negative emotions and had a sustainable calming effect on them.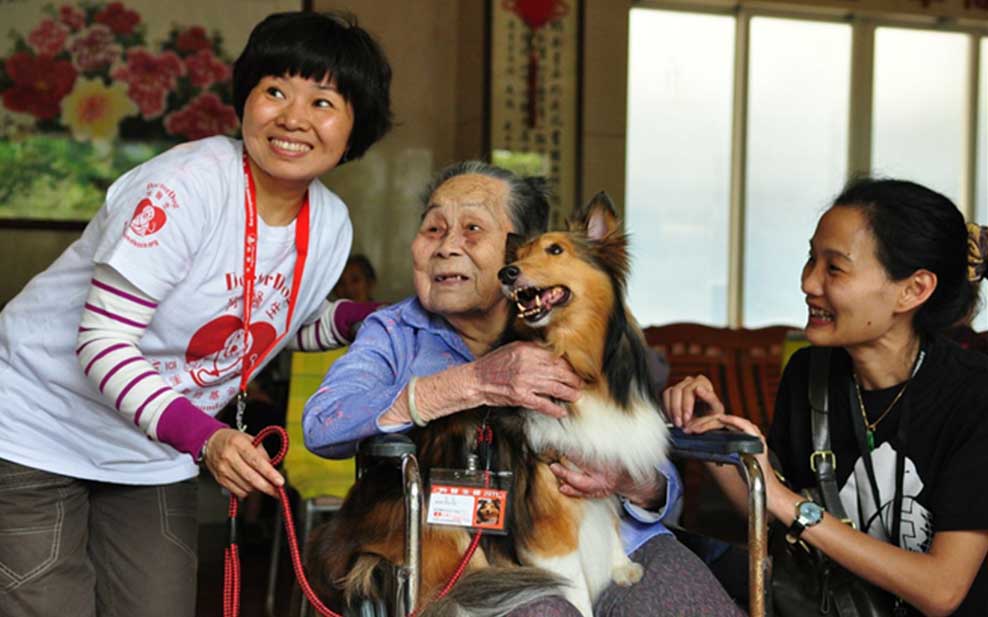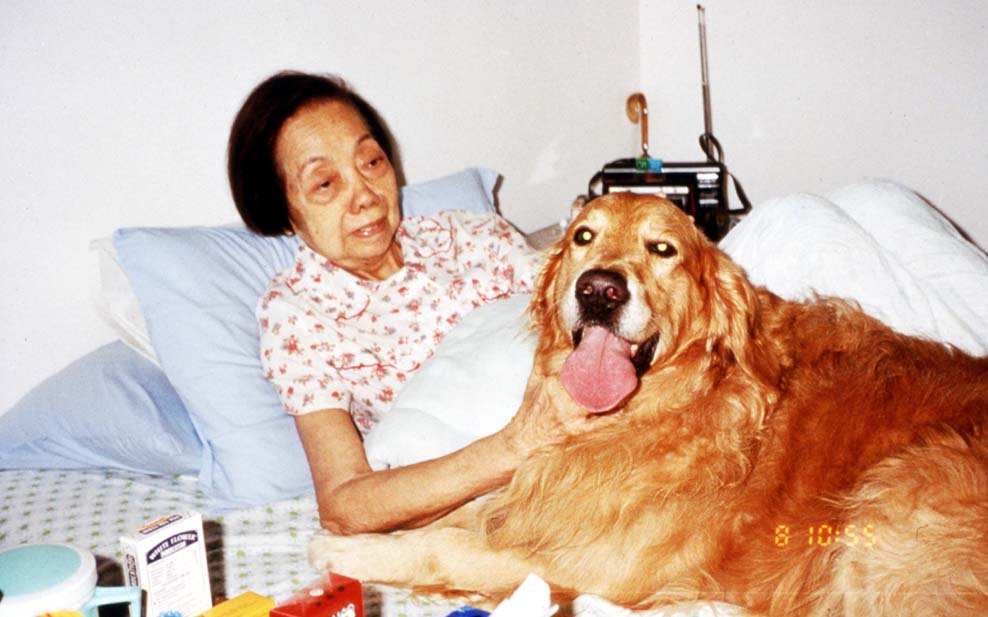 Benefits like these aside, Doctor Dog has been a great service to some of the more marginalised in our society. For people in elderly homes, who may not get regular visits from loved ones, Doctor Dog visits provide a welcome source of comfort and relief from their loneliness and walking the dogs helps to keep them physically active. Many even form emotional attachments with them. "We have clients and dogs that have built up strong bonds over time because of their repeated visits" O'Carroll remarks. "If the dog isn't available for a repeat visit, sometimes we have clients asking 'Where's my favourite dog?'" Even for those not living in assisted care, Doctor Dog can still be a welcome presence in their lives, as Hong Kong's restrictive housing rules mean that many people here aren't allowed pets. The dogs themselves also derive pleasure from the programme, as they enjoy the social benefits of meeting new people.
As with many things, COVID has forced Doctor Dog to move online, switching to doing Zoom visits with patients instead. But despite the technological challenges (particularly for elderly people), the joy of seeing their favourite dogs still comes through the screen for many patients. Such is the power of a dog's unconditional love, which ultimately is what lies at the core of Doctor Dog's success.
"They seem to know just the right way to behave when they're faced with different emotions from people they interact with. They don't care who we are, where we come from, what we wear, what our job is or our income" says O'Carroll. "Show them kindness and they will give it back to us tenfold."
If you are interested in Doctor Dog and think that your dog would be a suitable fit for it, here are some things you should know beforehand:
Dogs must be at least two years old, desexed, healthy and fully vaccinated. They must receive regular annual veterinary check-ups, even if they have no obvious medical problems.
Dogs must be trained to a basic level of obedience, being able to respond to basic commands like 'sit', 'stay', 'come' and 'leave'.
Dogs need to have lived with their guardian for at least 6 months prior to the exam.
Dogs should be clean and presentable at all times.
Dogs must have a calm, friendly temperament.
Mixed breed dogs are just as welcome as pedigrees. However, wolf-hybrids and breeds such as Pit Bull Terriers, Dogo Argentinos, Akitas, Fila Brasileiros, Japanese Tosas and their crossbreeds will not be considered, due to Hong Kong's regulations on these breeds.
Guardians should ideally make arrangements with Doctor Dog at least one month in advance of the exam. Exams are held at regular intervals every 2-3 months.
A minimum fee of at least HK$500 per dog is required for the exam.
Written exclusively for WELL, Magazine Asia by Thomas Gomersall
Thank you for reading this article from WELL, Magazine Asia. #LifeUnfiltered.
Connect with us on social for daily news, competitions, and more.