Imagine you had a passion for something. Imagine being so passionate about this topic that you choose to spend five years studying it at university, plus an extra masters year. Imagine pouring your soul into it, crafting your whole future career around it, and having the time of your life learning about it.
Then imagine that you learned that a career in your area of interest would contribute to the destruction of the environment and the exploitation of people? How would you feel?
That is the scenario that Grace Lant found herself in just after completing university. After spending five years studying Fashion Knitwear at Central St. Martins, it was during her master's year in Italy that she began to discover the environmental harm of garment production.
Struggling to reconcile her love for fashion with the harm it was doing, she might have aborted her planned career in the industry altogether. Instead, however, she became resolved to help make it more sustainable. Armed with this newfound desire and her own resourcefulness, she has since gone on to revolutionise an international yarn mill based in Hong Kong as well as to start her own sustainable knitwear brand here, all before the age of 30. Her current venture, Love From Blue, is also setting an example for making fashion more purposeful- through their support of local artist and charities.
In this WELL, WHO? Feature, we share Grace's story to inspire everyone- especially aspiring fashion professionals looking to make a positive difference in a convoluted industry. As her story proves, there is a way to build your own path and align your work with your values.
Grace was born in Hong Kong and attended Island School throughout her education. Back then, she had little interest in fashion, thanks in part to a limited exposure or understanding of it. "The only magazine we could get in Hong Kong was American vogue, which isn't a holistic representation of the fashion industry, especially young designers and what they have to go through" Grace recalls.
What she did have an interest in was textiles. So much so that she was inspired to study the subject at GCSE and then at an International Baccalaureate (IB) level. After graduation she applied to University of the Arts London for a foundation year during which she exceled in textile work- so much so that she was encouraged by her teachers to apply for a BA in Fashion Knitwear at the prestigious London art school, Central Saint Martin's college –the Oxford of fashion.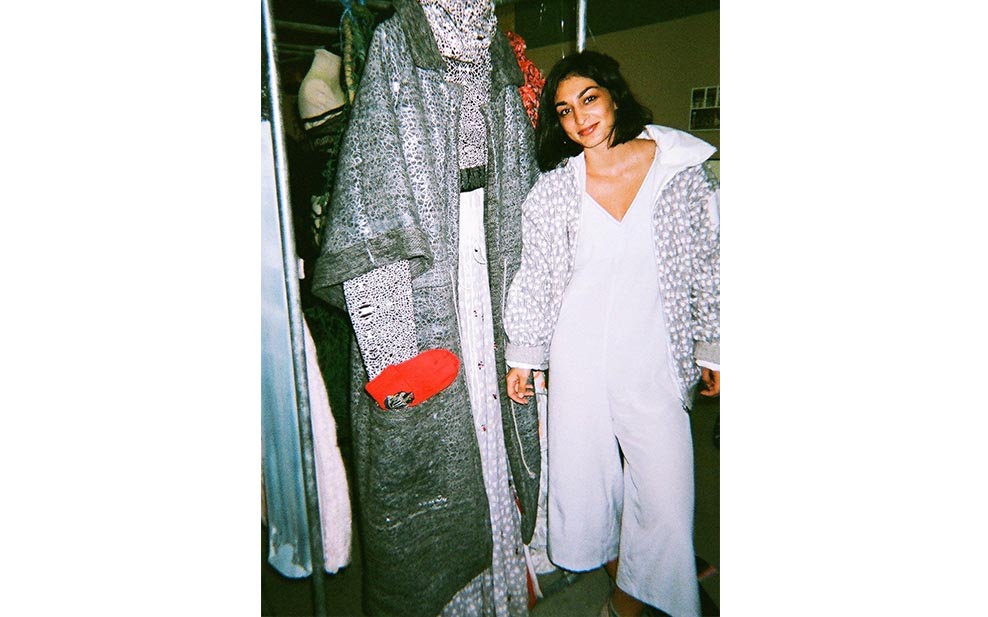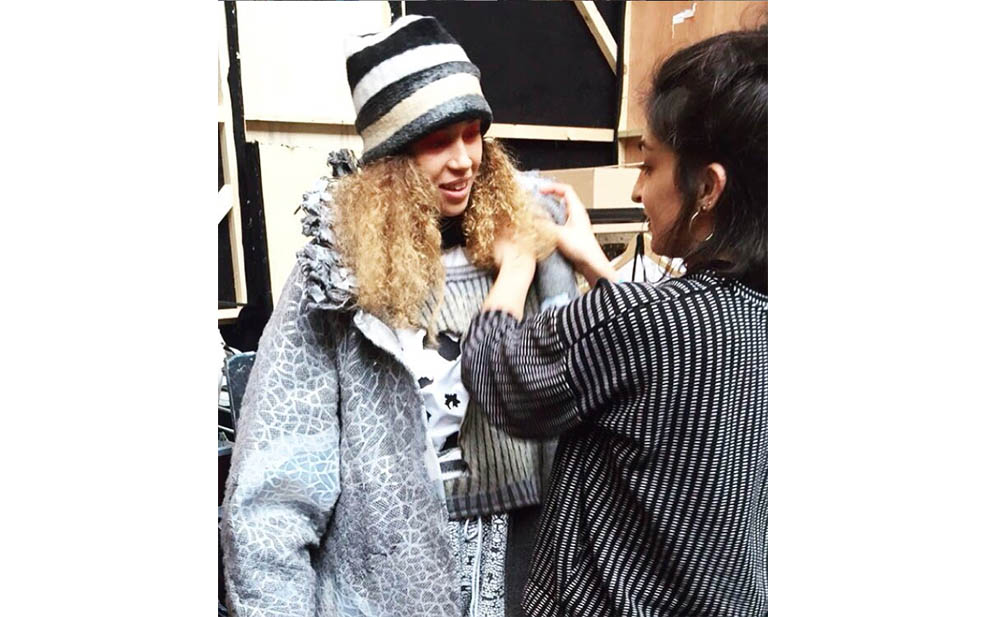 Gaining acceptance to the prestigious program was an amazing opportunity for Grace, who excelled in the coursework. While learning in the classroom and interacting with her peers was rewarding, she enjoyed the chance to get a taste of working in fashion the most. During school breaks, she interned for Alexander McQueen and at a newer brand, Shrimps, doing everything from technical drawings and research to production and design. For Grace, the exposure to the realities of the fast-paced world of the fashion industry was a rigorous, yet informative exercise that helped her better understand her options in fashion after school.
Commenting on her time working during university, Grace explains "You learn so much that the BA doesn't teach you. It would be impossible to teach you the stuff you learn when you're in industry. You work alongside designers that have 20 years of experience, you learn how they work, the pace that they work and how productive you have to be in one day."
While Grace gained valuable skills and insights into the fashion industry, one topic seemed to be consistently missing from her time in the classroom and on the designer floor- sustainability.  Rather than focus on efficiency or impact on the environment, sales seemed to be the biggest driving factor. She openly wondered how she would reconcile the desire to make fashion responsibly with the cut-throat industry she observed.
An Uncomfortable Eye-Opener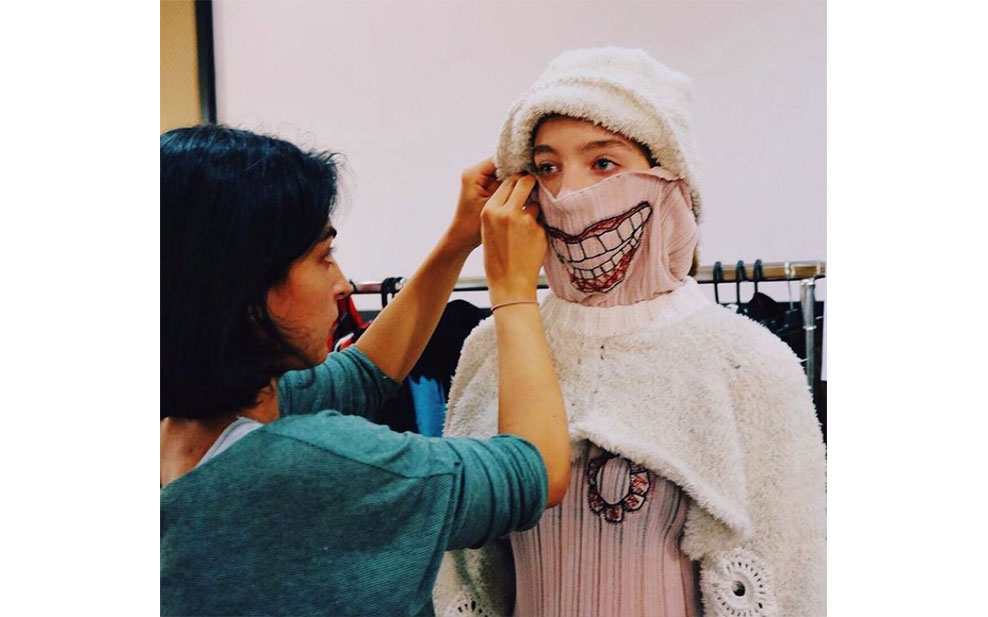 The opportunity to potentially do just that presented itself to Grace when at the end of her studies at St. Martins she was offered a place on a Masters course in knitwear at Accademia Costume e moda in Rome. The program boasted the world's largest knitwear archive, whose raw materials came from alpacas, which she had been told was a more environmentally friendly alternative to other types of raw materials.
Excited to learn about a more "environmentally friendly" niche within fashion, Grace entered the program and began work on the assignment of designing her own collection. At the end of the program, her designs were selected at the top of the class- winning her the opportunity to travel to Peru and show her work in Peru Moda, a local fashion show in Lima.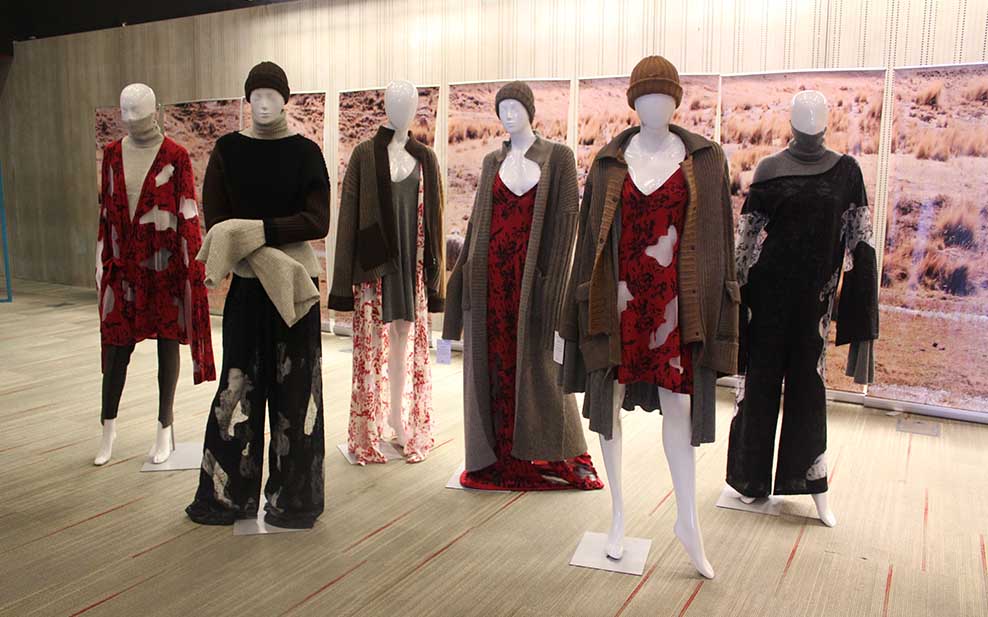 While she reveled in the chance to travel and see the world, what she discovered in Peru was more disheartening than she had anticipated. On her trip, she learned alpaca wool was not as sustainable as she had originally thought. Contrary to its reputation, the impact of the alpaca industry on the local environment was still quite large. "You don't realise the scale of the industry until you see something like that and you start realizing how much gets made and what goes into making it. The amount of water, the amount of machinery, the amount of energy" she recalls. What's more, she observed that local farmers were pushed out of the supply chain by larger yarn manufacturers who have a monopoly on the local industry.
After seeing firsthand the frustrating realities of alpaca wool, she realized that she couldn't take part in fashion unless she changed her approach. "After my masters, I was going through a crisis thinking 'I can't work in this industry. It's terrible. I don't want to be a part of it. I've always wanted to help people and do good'" Grace comments. "I wasn't really interested in being in the industry unless I was making an impact in the direction of sustainability."
A Start in Sustainability
After returning to London, Grace sought out likeminded professionals in fashion and was given some hope after attending a sustainable materials show. She realized that perhaps there was a way to still pursue her dream of designing sustainably by thinking outside the box and engaging with people who really did care about achieving a more sustainable future in fashion. One such person Grace got re-connected with was the then-creative director of a Hong Kong- based yarn Mill, UPW, whom had supported her work in the past.
Impressed with Grace's passion and dogged persistence in finding a better solution, the director offered her a job as a designer, promising her plenty of flexibility to pursue her passion for sustainable practices and integrate those into her work.
So Grace returned to Hong Kong, excited to take full advantage of the opportunity. With help from some of her colleagues, she pushed for and successfully brought about dramatic reforms, including using natural dyes, reducing water wastage in the factory by around 90% and increasing the use of newer, more eco-friendly fibres not widely used at the time. As a result of her influence, UPW was changed into a much more sustainable yarn mill in a relatively short space of time. "I would go on record to say that [it has] one of, if not the most sustainable yarn collection available now" she proudly remarks. "If you compare it to three years ago, it's a huge improvement."
Two and a half years into her employment at UPW, Grace was enjoying designing and helping the company become more environmentally friendly, but yearned to get back into the making the clothes herself. Around that time, she encountered Redress, an environmental NGO dedicated to reducing waste in the fashion industry and learned about an annual competition they hold for budding young sustainable designers from around the world. Recognizing the opportunities that Redress could provide, both to make her own clothes and to network with important contacts in the Hong Kong fashion world, she signed up for the competition.
Right from the outset, the Redress competition required a lot of work. Just to get accepted, she had to do an intensive pre-course on sustainable design, then had just one week to design three different looks with detailed supplementary information on why the materials and processes she would use were sustainable. For Grace, who had been out of practice in creating her own clothes for two years and was still working a full-time job with UPW, there was a lot of pressure to get things done quickly. 
Given the uncertainty and complications caused by Covid, it was a particularly challenging year to collaborate and get things done. "There was one challenge I did with a girl in Sri Lanka, a girl in the Netherlands and a girl in South Korea" she recalls. "It was upcycling garments that weren't able to be sold because of COVID, using 3D software to design new garments. That's already a huge challenge, but doing it with 4 different people who speak 4 different languages on 4 different time zones on Zoom was really grueling."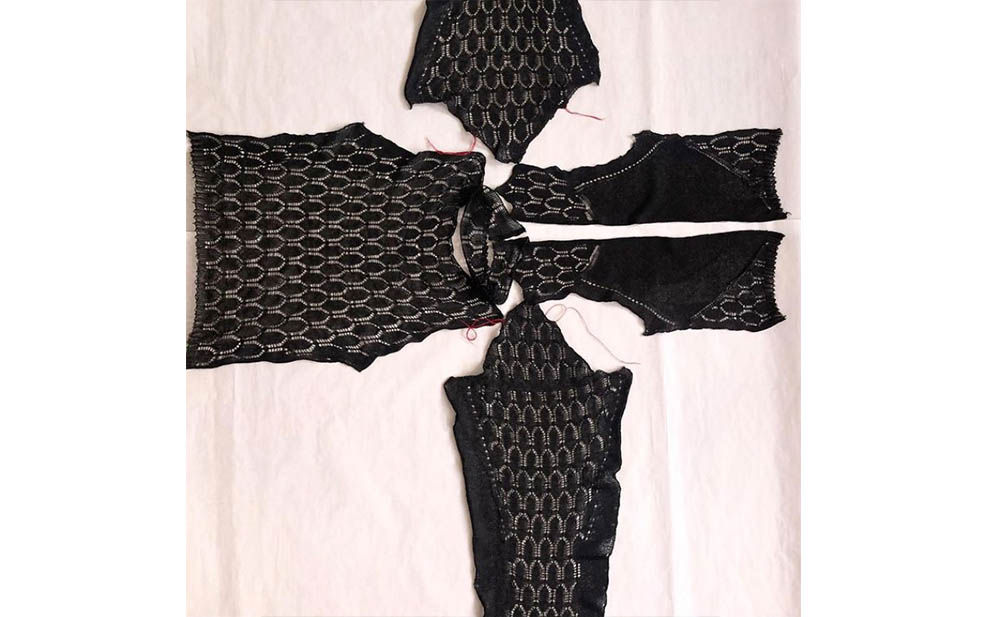 For all of the difficulties Covid presented, the Redress competition was still an extremely valuable experience. For one thing, it showed Grace in greater detail than ever before what sustainable design truly involves. "You find what's available that's sustainable, whether it's dead stock, whether it's recycled fabric, whether it's old clothes. Then you look at your inspiration and you think 'how can these merge together?' […] Co-ordinating and collecting all of these scraps, sorting them all out, working out what you can make with them that looks good, it's a whole new way of designing." Being forced to be more resourceful also led her to discover a treasure trove of material in the form of unwanted fabric discards, which local tailors would otherwise throw away. Within a day, every single tailor she contacted asking for discards replied to offer theirs to her, often good quality ones no less. "I only needed enough for two garments, and I've got a whole three drawers full now in my cupboard" she laughs. "We're not talking about cheap polyester. People who go to tailors are paying for good quality fabric and that's what they had left over." Grace benefitted from having a sewing machine and plenty of unused yarn at home, allowing her to complete her collection for the competition whilst not having to leave the safe confines of home.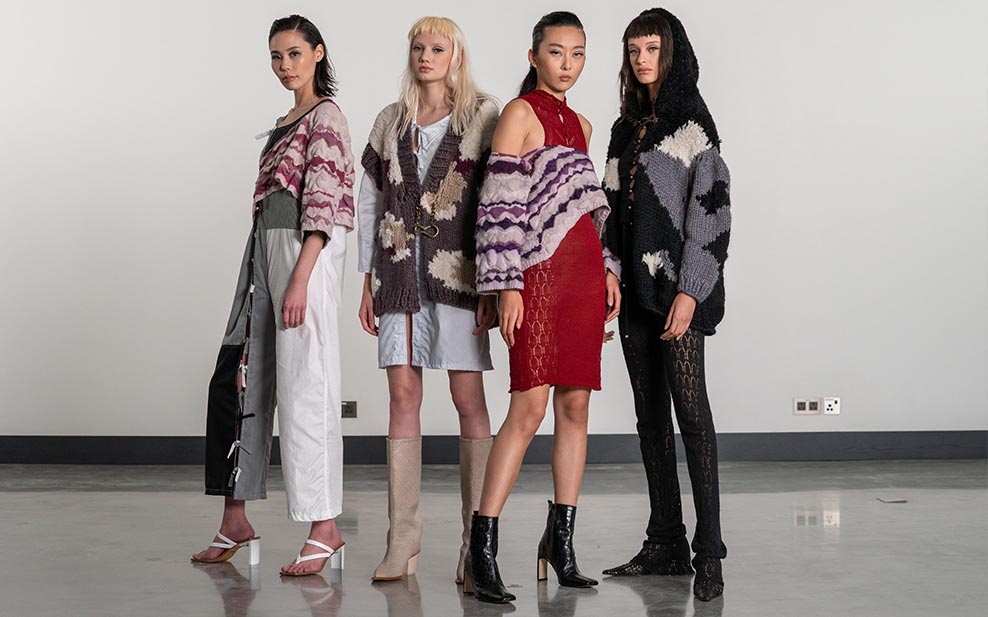 At the end of the competition, it was announced that Grace had won an award for her collection- 'Best in Hong Kong'. Her unique line of clothing was designed for women in powerful positions as a way of boosting confidence (in a sustainable way of course). Commenting on her work, Grace explains "There's hints of sexiness, but it's not degrading. When you get ready to go out and you look great, you get this extra feeling of confidence and I wanted the clothes to do that."
Taking part in the Redress competition did more for Grace than just winning her an award. It also helped her to realize just how close-knit the sustainable fashion community is in Hong Kong. The convergence of her network with the Redress network proved that there were enough people and resources around her to make a full line sustainability- and truly sustainably at that.
"It's something I really learned in Redress by doing this collection, that everything is on my doorstep here" she reminisces. "I can be designing in the morning, then be at the manufacturer's office half an hour later going over stuff with them and then go and see some samples. Everyone knows everyone so if I need some help in dyeing or want to do something woven, everyone has connections."
Grace was intent to leverage the positives of the community to create work for herself. She wanted to break the mold that often holds back designers in Hong Kong- from the long hours to the creative limitations that comes with strict structure. So rather than be restricted by working for a large firm, she decided to start her own venture.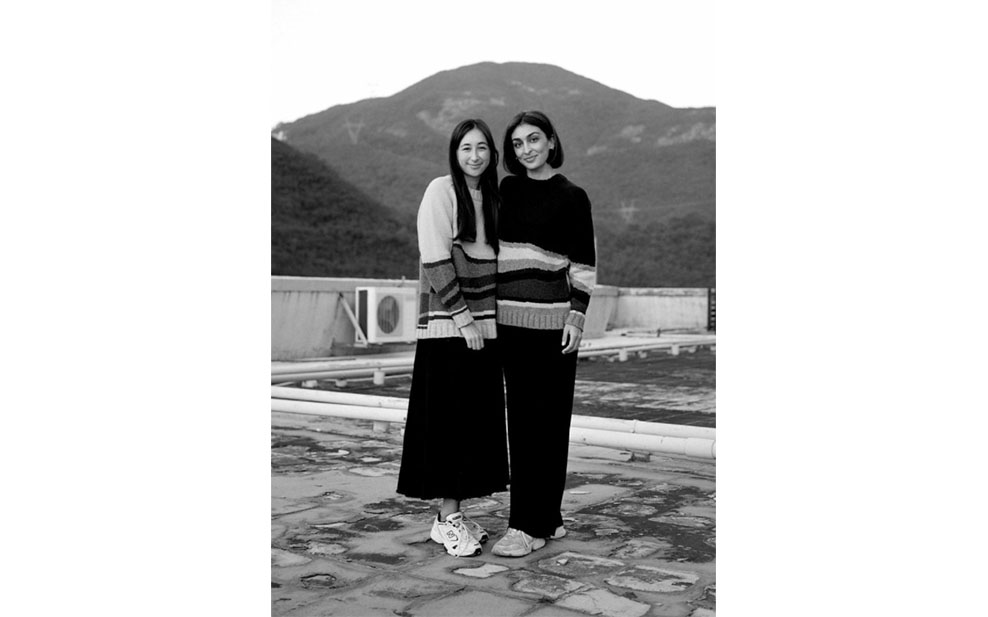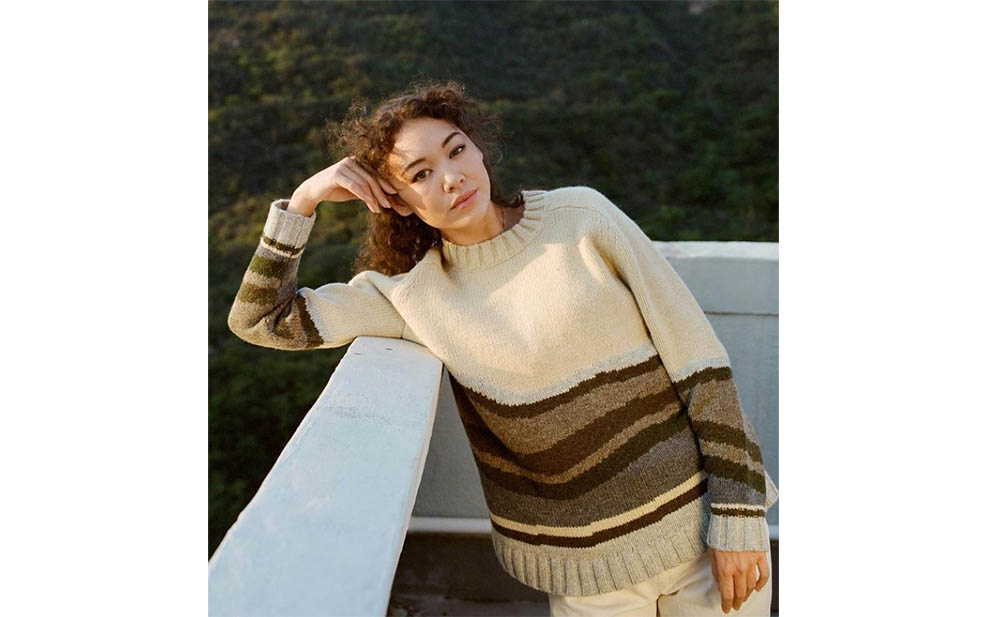 So along with her friend, Alice Crotty, Grace co-founded her own Hong Kong-based brand, Love From Blue, in December of 2020. Specializing in knitwear, the brand puts sustainability and waste reduction at the forefront, operating on a small scale and making all of its clothing only from discarded (dead stock) yarn left over by commercial yarn mills. "It's amazing yarn and it's in really nice colours, but it just gets left behind because a few hundred kilograms [of yarn] is nothing to some huge companies. But for us, it's more than enough."
Love From Blue operates on a pre-order model- which allows for limited edition pieces, made for clients on a 3-week lead time. Grace's goal is to stick to limited production of the pieces and encourage clients to cherish the clothes, embroidering them with slogans emphasizing their uniqueness and rarity so that they will be less likely to be casually thrown away. "The more you have to produce, the more you start compromising, and then before you know it, it's not really a sustainable collection" reminds Grace.
Through their work, Love From Blue is attempting to change the mindsets of others in their supply chain as well, such as the factories in China where they source their dead stock from. Despite only working with them for about 8 months, already they have found a growing number of companies coming around to the idea of small-scale production at high quality.
Love From Blue also embraces sustainability from a social standpoint. With each collection they make, they work with local artists to produce artwork based on the inspiration for that collection. They later auction off the artwork and donate the funds to the charity of the artist's choice, as well as promote them in a blog on their website (make sure to check this out!). Grace hopes that the expansion of her brand will help to amplify the impact of this work. "There's so many amazing creatives in Hong Kong that just don't really get seen" she remarks. "Hopefully the bigger we get, the more exposure the artists will get and the more money the charities will get."
Looking to the future and advice for others
There is no doubt that purpose runs through the core of Love From Blue- something that the mainstream fashion industry is slow to adopt. While there has been some change in mainstream fashion (Grace's alma-matter, Central St. Martins now teaches sustainability as a core component of its curriculum) the changes are painfully slow. It's the hope of entrepreneurs like Grace that they can continue to affect change on a local level and push big fashion to finally make a change and grow the opportunities in sustainable fashion to an even wider scale.
In the meantime, it's up to us the "conscious consumer" to support designers like Grace and their initiatives. As her story shows, when there don't appear to be any paths in front of you, carving your own is always an option.
To learn more about Grace and sustainable fashion:
If you would like to learn more about Redress or take part in their competition:
For young aspiring fashion designers looking to get into similar work, Grace suggests self-studying the good and the bad of the fashion indsutry. She particularly recommends subscribing to the Ellen MacArthur Foundation newsletter and listening to podcasts like 'The Business of Fashion' and 'The Wardrobe Crisis'. "It's not an easy listen. They really throw the issues at you" she warns. "But it's not all bad. They tell you what's going wrong, but they also talk to people who are trying to solve these issues, so its inspiring too" she adds.
Finally, here are a few quickfire questions and answers to help you get to know Grace better. We asked her to say the first thing that came to mind when we said the following words. Her responses are in italics.
Redress: My Collection
Italian: Knitwear Factories
Sustainable Fashion: Dead Stock
Christina Dean: Redress
Inspiration: Photography
New Collection: Knitwear
HK Fashion: The Future
London: My Friends
Written exclusively for WELL, Magazine Asia by Thomas Gomersall
Thank you for reading this article from WELL, Magazine Asia. #LifeUnfiltered.
Connect with us on social media for daily news, competitions, and more.