Cordial chatter rises and falls above the upbeat music. A pair of scissors produces a steady rhythm of snipping sounds. In the far, chair a beard is being trimmed with a low toned buzz. A customer enjoying a respite from his busy work schedule takes a sip of his gin and tonic – letting out an audible sigh of relief as he relaxes back into his chair. The relaxed, distinctively masculine atmosphere of the barbershop, just off of Graham Street in SOHO, draws in men of all ages to unplug and get cleaned up.
The architect behind it all, co-founder and owner Paul Fox, stands behind the barber chair keeping an eye on the in and outflow of clients.  He quips a jolly "See you next time" to a satisfied client. Today is another good day at Fox and the Barber.
But like many small businesses in Hong Kong, fears of making ends meet hangs in the air. From the instability of the protests, to unpredictable closures due to Covid-19, businesses like Paul's shop that rely on in-person visits have had to be resourceful to get by. Luckily for Hong Kong, Paul Fox is well-equipped to adapt to whatever challenge is thrown his way; for it is what he has done his whole life.
 In this WELL, WHO profile, we tell Paul Fox's inspiring story. From his humble upbringing in suburban London selling bags to make money as a 12-year-old, to the ups and downs of his career in finance, Paul has shown exceptional ability to survive and thrive no matter the circumstances. Now, for the first time ever, Paul pulls back the curtain on his biggest challenge that he bravely faced and overcame- a battle with cancer. What is revealed is an inspiring story of sacrifice, hustle and a deep desire to gain fulfilment through channeling one's creative spirit and following one's passion. If anything, his story is proof that the spirit of Hong Kong's small business owners is one that won't be defeated easily.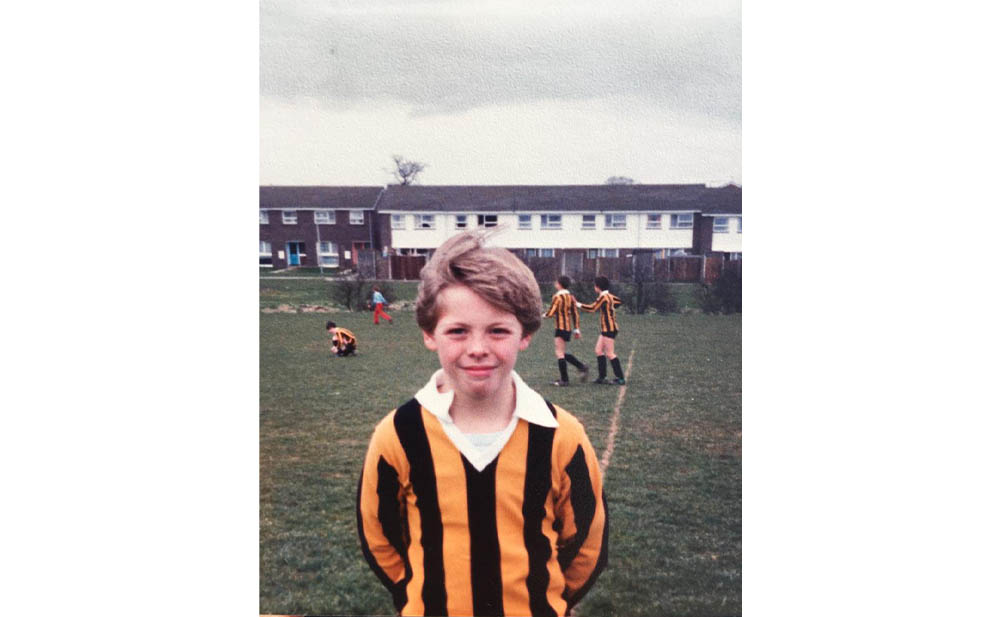 Paul was born into an unglamorous household in Essex, in a suburb on the northeast outskirts of London. His parents were divorced at a young age and Paul's mother was left to be the primary caretaker of him and his two sisters. Even though the stresses of a broken family sometimes exerted themselves, his childhood was relatively stable. Money, however, was always tight. He attended public school and qualified for free lunches and reduced bus fares. "We didn't have a lot of money… it was tough."
Although not a strong student, Paul was socially adept and well-liked by his peers. He liked playing football in the neighbourhood and had a penchant for doing things his own way. "As a young kid I was always a little bit flighty" reminisces Paul.
At the age of 12, Paul relished his first opportunity to make some spending money when a friend invited him to help him sell handbags at a stall in a local marketplace. Rather than wake up just in time for school like most of his peers, Paul woke up at 5:30 am and journeyed to the local market to set up the stall for a day of sales. After a few weeks of selling handbags, Paul made enough pocket change to buy whatever caught his eye -a pair of football boots, a bike to ride around town- and was able to afford school trips without asking his mother for money. Paul and his friend relished the newfound freedom their work had afforded them.
"We used to work on Saturday morning and afterwards we would literally eat 20 slices of toast each at the local café. We would have scones and eat like 10 of them" he recalls
Inspired by his success in business, Paul jumped at an opportunity when a family friend offered him an internship at a stock brokerage in the city. At the age of just 15, he spent weeks running errands for London stockbrokers at a local brokerage house. Before the era of online traders, that meant frequent runs to the basement to find old contracts in the archive database. Even though the job itself was unglamorous, being around the energy of the brokers and the excitement of the trading floor made a huge impression on Paul.  
"It was so cool… after that I knew that this is 100% what I wanted to do."
Upon attaining basic secondary qualifications, Paul followed the tide of most students in his class and enrolled at a local secondary college. He struggled to stay motivated in the less structured atmosphere but eventually saw the course out and obtained his 3 level passes. In 1989, after considering applying for further schooling, Paul decided he needed to follow his heart and find a job with the energy of the trading house he had experienced as an intern.
Many of his peers had already gotten a jump start on applying for jobs, so Paul was immediately at a disadvantage to find an open position. Without an impressive school background to show potential employers, he had to be aggressive. He began by penning letters to all the stock brokerages in the city asking for a chance to prove his worth. And as fate would have it, the well-known firm, Robert Fleming, agreed to give him an interview. Paul was met at the front desk by someone unexpected- a family friend of his mother's. Working his personal connection to the firm, Paul got his shot.
"That's how I started off working in the city… It's not what you know, it's who you know" he says.
Through a combination of adept social skills and a masterful performance in the annual football match against a competing bank (it helped to be young and fit), Paul was promoted to an associate, working close to the epicentre of the firm's most successful department that traded in Japanese equity warrants. The super-fast pace of work life exhilarated Paul who was now, even as a low-level associate, making more money than all his peers from back home. He rose within the company, eventually taking frequent business trips to cities like Tokyo and Frankfurt.
His success at Robert Fleming would lead to his first senior position in finance with the American hedge fund, Deshaw. With the financial success and freedom, it was hard for Paul to stay focused on making money. "In hindsight, for me it was probably too big of a jump. I was more interested in partying and going out."
After years living the "broker lifestyle"- late nights, unhealthy diet and copious amounts of booze, Paul was starting to feel the tread on his tires wearing thin. After spending some time travelling in Asia to unplug, he decided it would be best if he could do trading on his own and control the pace of work himself. However, after a few years of trying his luck on his own, the combined forces of the shifting market and relentless pressure on his personal finances proved to be too challenging to continue. Paul shut down his personal business and started looking for his next opportunity.
It was around this time that Paul's life took its first major shift.
The first catalyst of change came in the form of romance. Paul had heard about a cute girl cutting hair in his neighbourhood and decided to go see for himself. What he found- other than a good haircut- was a girl named Sarah with an intellect like his own with an attractive smile. The two hit it off and started to spend more time together.
Not long after meeting Sarah, Paul bumped into an old friend at a pub who revealed he was looking for someone with Paul's skillset in finance. The friend's firm had a position that was about to become available in their Hong Kong office. But if he was interested in joining, he had to start right away.
Paul was excited by the opportunity, but was unsure how Sarah would take the news. A short conversation later, Sarah was on board and the two set right away planning the move. It was November of 2002 when the two landed in Hong Kong and started to get their bearings. They were struck by the energy of the city and quickly made friends through work.
"Hong Kong quickly started to feel like a home away from home" Paul remembers.
Channelling his reserve of scrappy energy, he started in his new role focused on making money in the futures markets of Asia. Within a year Paul had the business scaling quickly and was starting to reap profits from a steady stream of broker deals. After a few years, Paul had carved out more market share for his company and competitors were starting to take notice. He was approached by Deutsche Bank for a high paying position in investment banking. The only catch was the role was in Japan.
Without overthinking it, Paul agreed to the position and was on a plane to Tokyo with his (now wife) Sarah in a matter of weeks. The prestige of the position attracted Paul- perhaps so much so that he did not think through some of the challenges that working for a traditional financial institution might present. The stuffy, bureaucratic environment stifled Paul's "rough around the edges" style of getting things done. He couldn't call the shots anymore and had to navigate complicated politics to get anything done. Not long into the flashy role, it became apparent that it just wasn't a fit. "I came back to Hong Kong with my tail between my legs" Paul reminisces.
Luckily for Paul, upon his return in 2012 he had many connections ready to assist in finding him a new job. After a painful time waiting out his non-compete clause, eventually Paul was rehired to build a team in futures trading- something he had done so well previously with the firm, Vantage Capital.
"Returning from Japan was a very difficult part of my life. I had to dig deep to exercise the demons of failing and rebuild my career through thinking positively."
A few years into getting his career back on track, the second major shift in Paul's life shook him and his family.
It started with unwanted news. After not feeling well for consecutive weeks, he went to the doctor for tests. What came back was not a result one wishes to hear- he had non-Hodgkin's lymphoma, a (albeit treatable) form of cancer. His case was possible to manage, yet serious, and required a plan for intensive chemotherapy. "It was a lot more serious than I realised at the time. I'm not really someone who likes to share a lot. If I keep it to myself and don't like to bother others" says Paul.
The news was hard to process. He was now a father of two kids, his son Lex and daughter Isabella (ages 5 and 7 at the time). Thinking about not being in his family's life was unfathomable. Paul committed to taking treatment seriously and doing all he could to get better. Throughout the whole process Paul kept his emotions to himself and powered through the rough times on his own. Even upon reflection, it's hard to recall details as he buried so much of his negative emotion in order to keep looking forward. "I kept it very quiet- it's not easy for me to put myself out there… during the whole process (of treatment) quite honestly felt like I was a different person. I don't really know how I was able to make it through." Though he had the support of his wife and the support of his work, Paul closed himself off in order to make it through.
One thing that became apparent to Paul was that his lifestyle needed a serious rebalance if he was going to stay healthy. Late nights, poor diet and business-related drinking had to stop. "I felt like a broken thing. My whole path to healing myself was to be better and stronger than I had been in my previously life" he recalls. Paul's body reacted well to the chemo however, and although there were a few complications, he was blessed to go into remission soon after completing his treatment. "I tolerated the chemo pretty well…I had some issues with sepsis which is quite dangerous"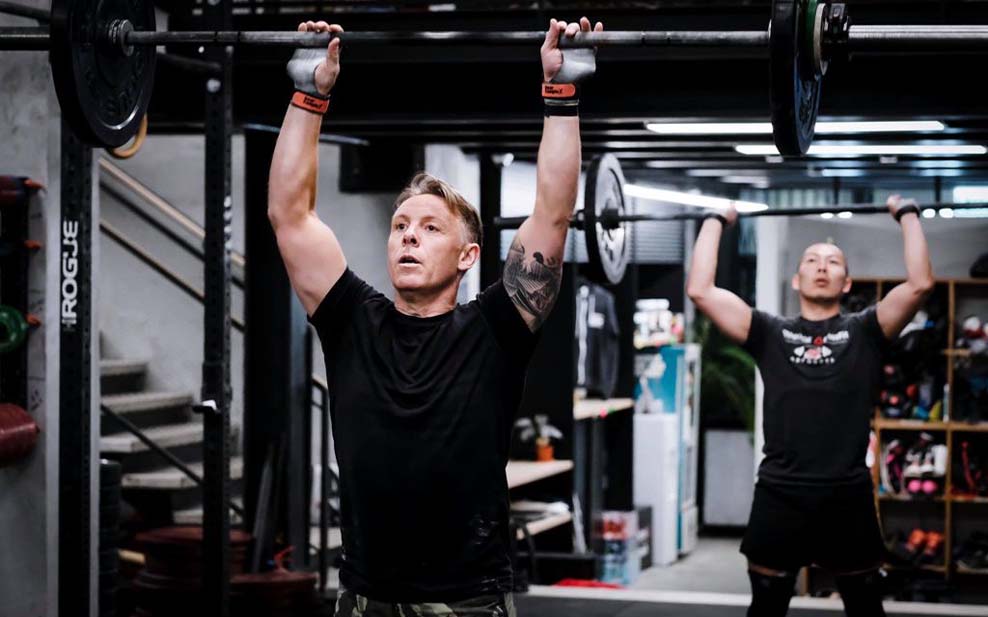 After spending time in the UK to further recuperate and start working again, Paul and his family moved back to Hong Kong to return their work and network of friends they had built. Once they were back, Paul committed to finding a place where he could work out and get in better physical shape. Luckily, he found Steven Hightower, a trainer at O-bo Crossfit (now known as Crossfit Asophodel). Steven helped keep Paul motivated and built a plan to rebuild his body. 
"I was unfit, inflexible and fat. I couldn't touch my toes" he recalls "Crossfit was a big part of my healing process."
Taking care of his body for the first time changed Paul's mental outlook as well. He started thinking about being healthy and happy for himself and his family. "The things I used to worry about didn't mean much. I started to think about things like being around for my children getting married, graduating… those are the things that matter."
Not long after getting better, Paul's lifestyle would shift even more- this time in his professional life.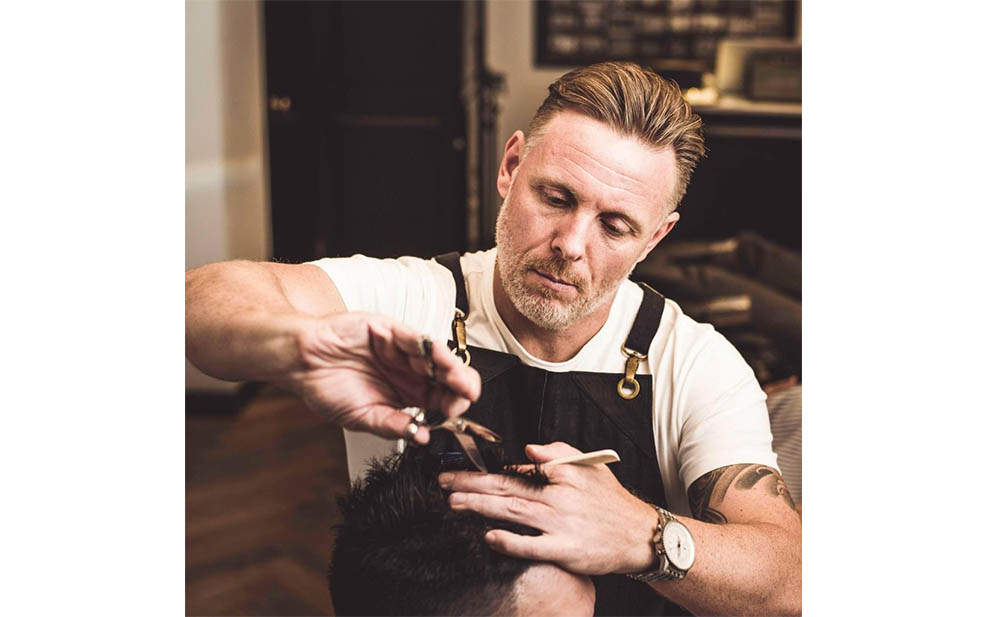 Sarah had been cutting hair and envisioned opening a shop of her own. She saw a niche in the market for providing an upscale, relaxing environment for professional men, especially those from international backgrounds looking for a positive social experience as well. She had fashioned a business plan and started to look for locations to potentially open a shop. Paul started helping Sarah in his free time. The more he helped and the more he assisted, the more he enjoyed it; working in something other than finance was a refreshing change. "I just found the entrepreneur draw enticing- the reality may be different- I was stuck in an office and in a desk trying to drum up business. I was looking for an out."
After months of searching for a space for a barbershop, Sarah and Paul were frustrated by the lack of affordable or convenient options. That changed on a fateful day when the two were getting a Poke bowl for lunch at Pololi restaurant in SOHO.
After their meal, the two noticed someone moving out of the space next door. They asked the store owners about it and learned the space was coming available. Luckily for Sarah and Paul, the landlord happened to be on-site at the time and came down for a chat. They were told the desired rent and that if they wanted the space they would need to sign right away. Paul knew the asking price fit the budget and was in a high traffic area in an up-and-coming neighbourhood. So, the contract was pulled out and signed right there on site.
"It was one of those moments where it all came together. It was right place and right time. If you walk away and try to rationalize it, maybe you wouldn't do it. But we went for it."
A short time later in July of 2015, Paul and Sarah were accepting their first clients at their new shop, Fox and Barber. Tremendous thought was put into creating the atmosphere they desired- from the chairs, to the deep hair washing sinks, to the artwork on the wall and the crisp black and white branding.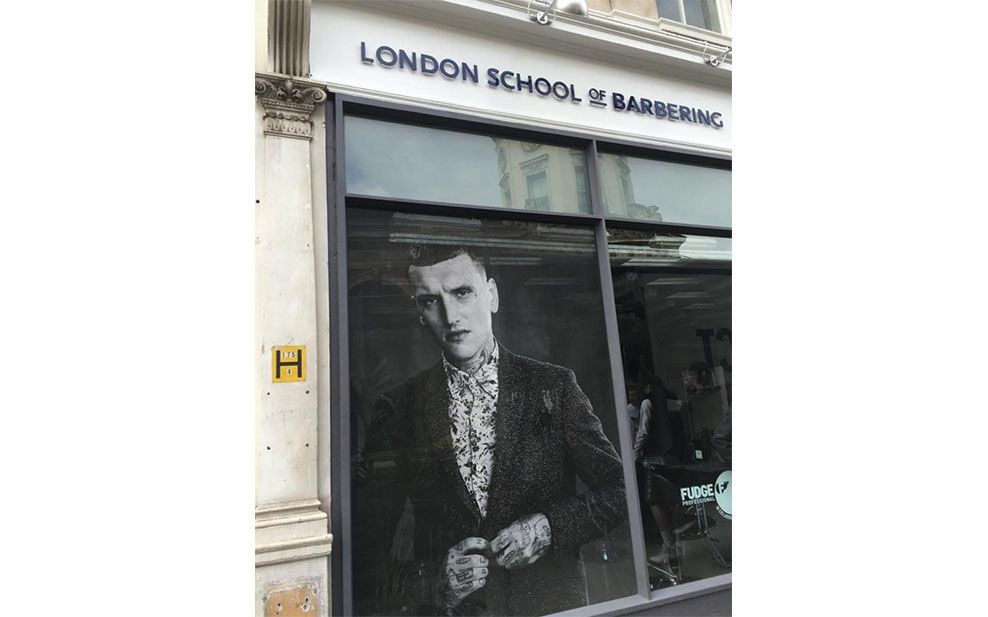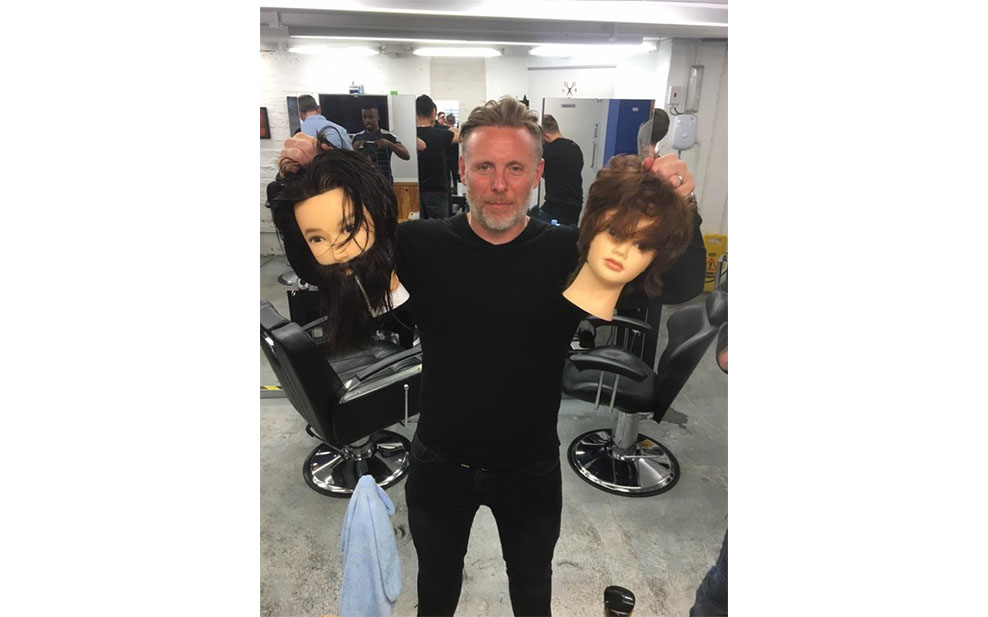 Paul's entrepreneurial spirit, innate in him from him from childhood, had re-awakened. Without overthinking, he left his broker job and committed to helping Sarah make the shop a success. To get trained up as a barber, Paul spent 4 months at the London School of barbering on his own, before coming back to be at the shop full-time.
Funnily enough, the role of a barbershop owner meshed well with Paul's background and personality. Every day he could enjoy chatting with diverse range of people, sharing stories and building a community- minus many of burdens that accompanied the stress of life in finance. "I've always been a people's person. I can't imagine there is another profession that you can dive into other peoples lives more than a barber" he says. As opposed to finance where his name was not attached to every transaction, at Fox and Barber he was proud to have the opportunity to deliver concrete value to the market that reflected his family values more explicitly.
In the span of a few years, Paul had revamped his body and his mind, and pursuing a passion he was unaware he had and feeling like he was in charge of his own destiny.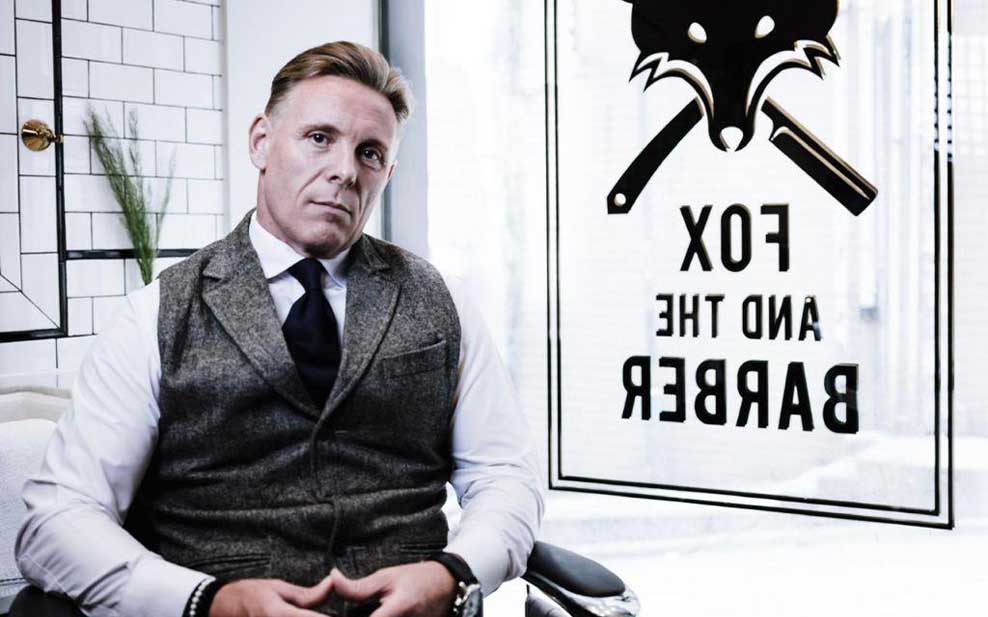 Fast forward to 2020/2021, Fox and Barber has built a loyal clientele who love the experience of getting a fresh shave and haircut in the welcoming atmosphere. Sarah has stepped away from the day-to-day operations and Paul is running the show.
Owning the shop has had its fair share of challenges. Being married and working together all the time was a change in dynamic for Paul and Sarah. It was and still is challenging to manage all that's on their plates- from raising kids, coordinating their social life and managing the stress of running a business. In addition, with first the protests and then the virus, foot traffic into the shop has decreased, putting more pressure on the business itself. The cost of employing experienced expat barbers adds even more pressure.
"As a gwei-lo in barbering, it's difficult in Hong Kong" Paul comments. "Our inability so far to develop the business into a bigger brand is largely from our inability to hire and train western centric barbers."
Covid-19 has been particularly challenging personally, as Paul has had to endure being away from his family who are back in England. Like lot of people in Hong Kong and around the world, the inconsistency of 2020 has been difficult both personally and professionally. If Paul's track record is any indication, however, he is well suited to weather the storm and come out stronger.
For now, Fox and Barber continues to foster positive community and provide the best haircuts to men of all ages. It's important we all do our part to support local businesses, especially during this time. So next time you are in Central, pop in and give your business to Paul and his team of barbers.
As Paul's story illustrates, you can take inspiration that no matter your situation- from health issues, to burnout at work- it is indeed possible to change your situation for the better. Sometimes it takes a nudge from a spouse or partner, trying something new or a bowl of Poke at your favourite lunch spot to start the change. 
Before you go:
For more info on Fox and Barber (and to book a haircut/shave) visit http://www.foxandthebarber.com/
Follow Fox and Barber on Instagram @foxandthebarber
Check out Paul's feature in #Legends Best Barbers in Hong Kong:
https://hashtaglegend.com/style/movember-2020-hong-kongs-best-barbers-for-a-cut-and-shave/
Finally,
Here are a few quickfire questions and answers to help you get to know Paul better. We asked Paul to say the first thing that came to mind when we said the following words. His reponses are in italics.
Home: Hong Kong
Fox and Barber: Challenging
Happiness: Winning
Japan: Conflicted
Opportunity: Take
Passion: Working
Failure: Move forward
Deutsche Bank: Mistake
Handbags: Good Times
Football: Natural
Brokering: Shallow
Hong Kong: Complicated
Written exclusively for WELL, Magazine Asia by Jackson Kelleher.
Thank you for reading this article from WELL, Magazine Asia. #LifeUnfiltered.
Connect with us on social media for daily news, competitions, and more.