It's Christmas. Once again, it's that time of year when those special boxes come out of storage and out come the decorations for your home. Whether they be coloured baubles for the tree, tinsel chains to wrap around the bannisters or a wreath for the front door, these decorations are a staple of the holiday and no Christmas-celebrating household would be complete without them. 
But amidst all of the merriment, it is important that we not lose sight of the unseen impact of our holiday merrymaking. As stated in previous articles, each year a staggering amount of Christmas paraphernalia is wasted and sadly, decorations are no exception to this. In the UK, for instance, 12,500 tonnes of decorations end up in landfills per year. It also doesn't help that many popular decorations, like tinsel, glitter and artificial wreaths, are made of plastic.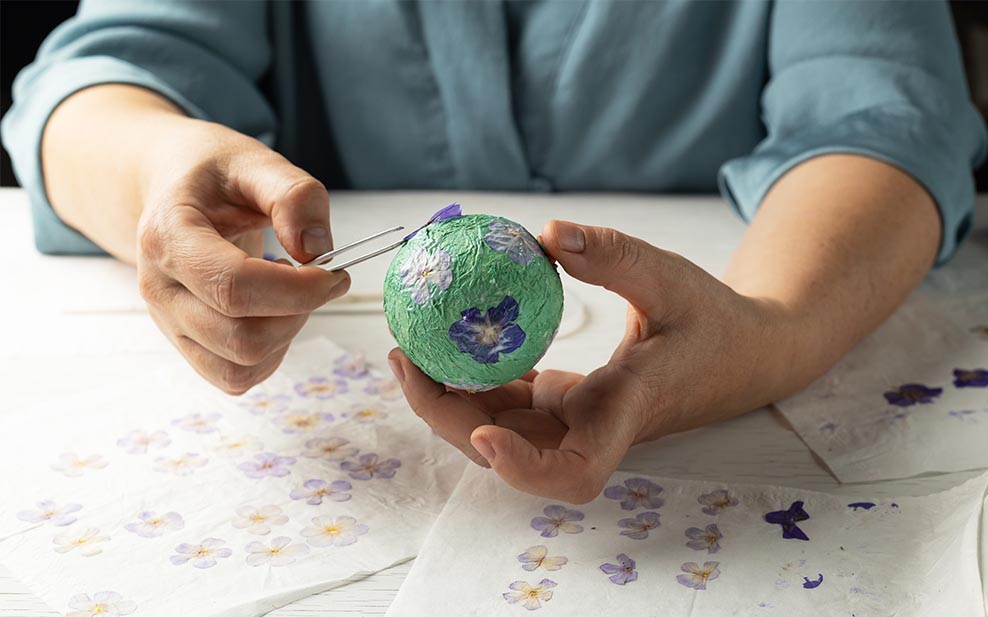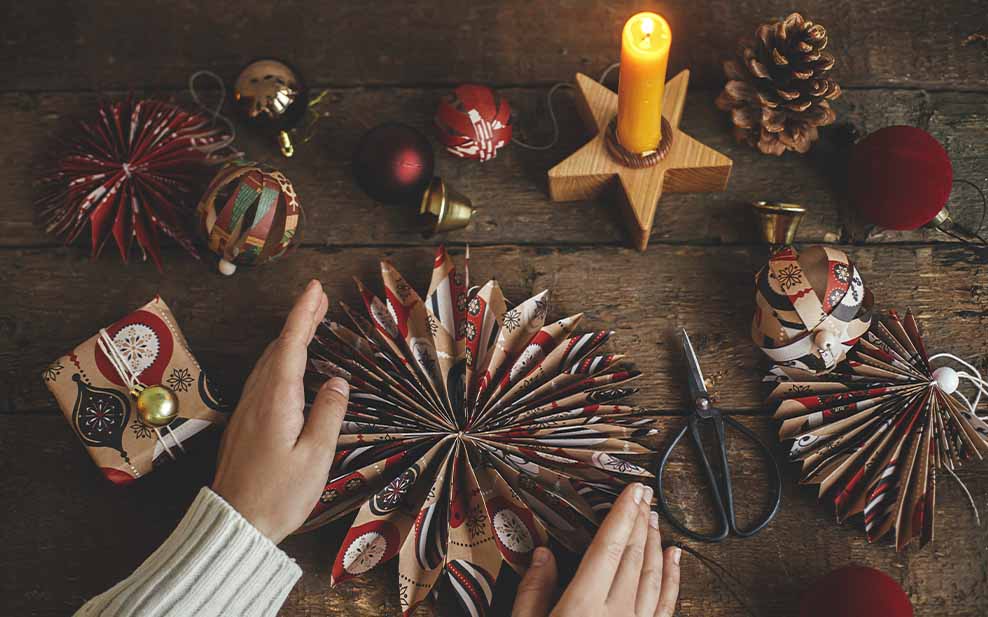 But what if instead of adding waste to the environment, decorating for Christmas could help to reduce it? In addition to keeping and reusing old decorations each year, one can also fashion a surprising array of new ones from materials that would otherwise end up polluting the planet. It's not only a way of being more eco-friendly at Christmas, but in the spirit of the holiday, it can also be a great creative activity to do with the family (especially young children).
WELL, here are five ways you can make recycled decorations line your home instead of the local landfill this Christmas.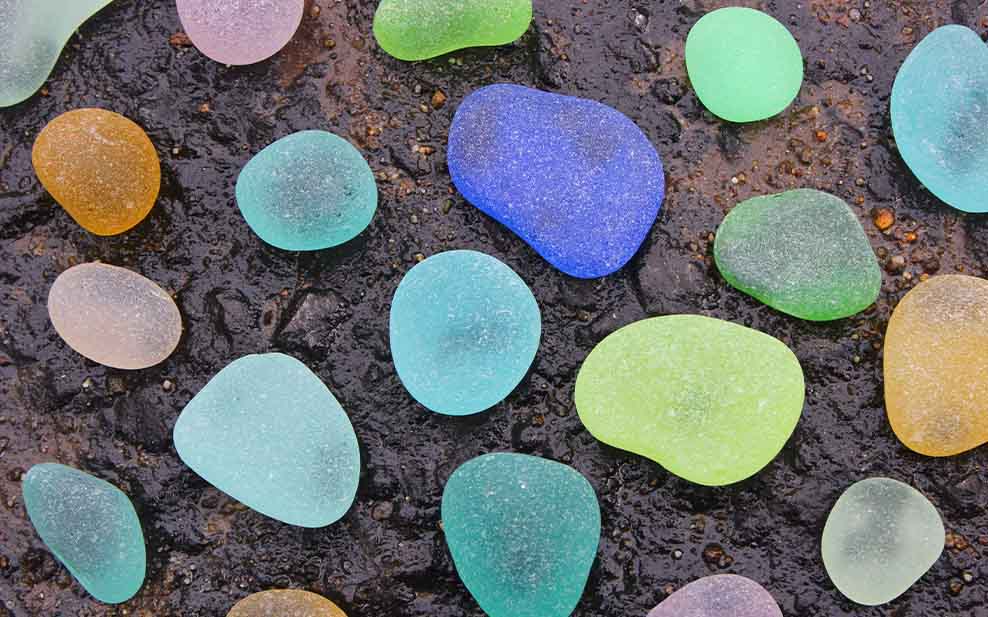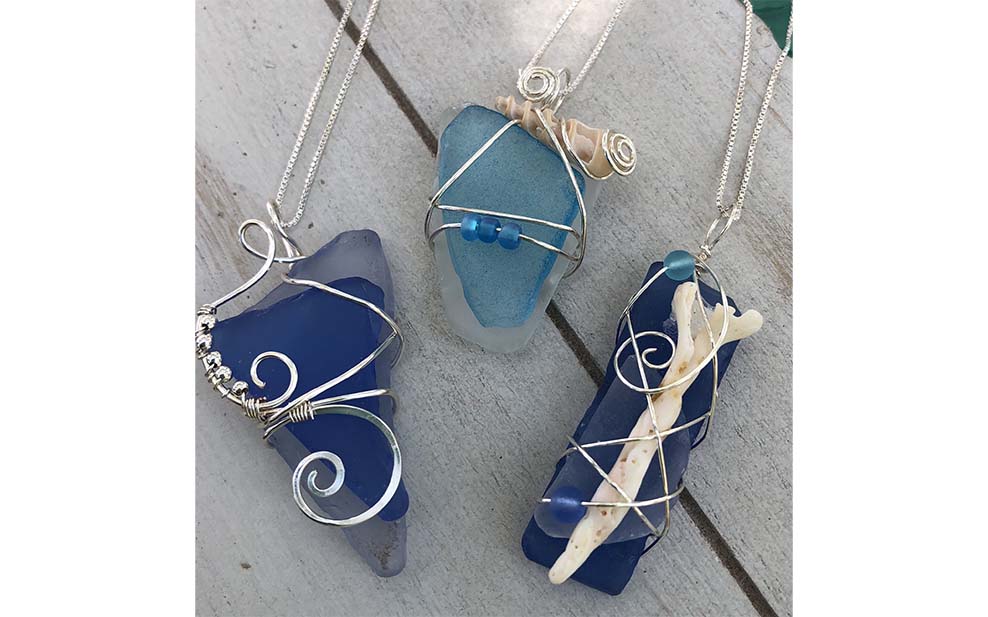 Sea glass refers to fragments of discarded (often coloured) glass that, through decades of weathering by physical and chemical marine processes, have been worn to smooth, jewel-like objects. Due to their size and unique appearance, they are an increasingly popular material for making pendants and necklaces. And via the same process, they can also be used to make Christmas ornaments.
First, take a suitably small and colourful sea glass fragment (Chung Hom Kok beach on Hong Kong Island is a good place to look). Then, fold 1 foot of bendable wire in half and make a small loop at the folded end. Twist the wire below the loop until the twisted section is about half the length of your sea glass fragment. Place the fragment on the twisted section and wrap the rest of the wire tightly around it in a suitably festive pattern, leaving enough at both ends to wrap around the base of the loop. Put a small jewelry hoop through the loop and feed a loop of string through it to hang your new ornament from.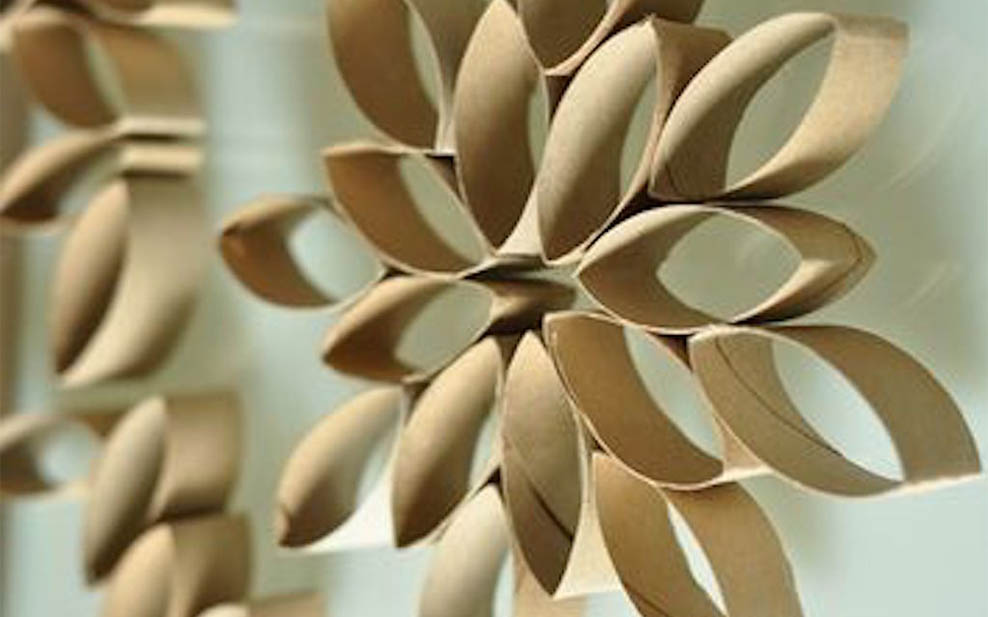 Ever wondered what else you could do with the cardboard centre of a toilet or kitchen roll besides throwing it away? How about repurpose it into a Christmas decoration? There are many different types of decoration one can make from roll, but for this article, we will focus on one of the less kiddy and arguably more refined ones: Christmas stars.
First, paint your roll and leave it to dry. Then, cut the roll into ½ inch segments and squeeze each one into a pointed, oval shape. Glue them together into a star shape and hang wherever you think it looks the most festive.
Are you tired of the same old Christmas baubles and/or concerned about Hong Kong's considerable wastepaper problem? Well, as well as using some of it to wrap presents, why not also use it to decorate yourself some new baubles? One of the easiest (albeit messiest) ways to do this is to use papier mâché.
Before starting, prepare your papier mâché by mixing plain flour and water in a bowl together and setting aside some torn strips of newspaper. You can then make the body of the bauble either by blowing up a balloon, scrunching up wet newspaper into a tight ball or simply reusing a pre-existing bauble (be sure to include a hook or loop to hang it from). Once you have your spherical object, dip the newspaper strips into the flour mixture to make them sticky, then layer them over the object until it is completely covered. Leave to dry and then paint in whatever colour and pattern you want.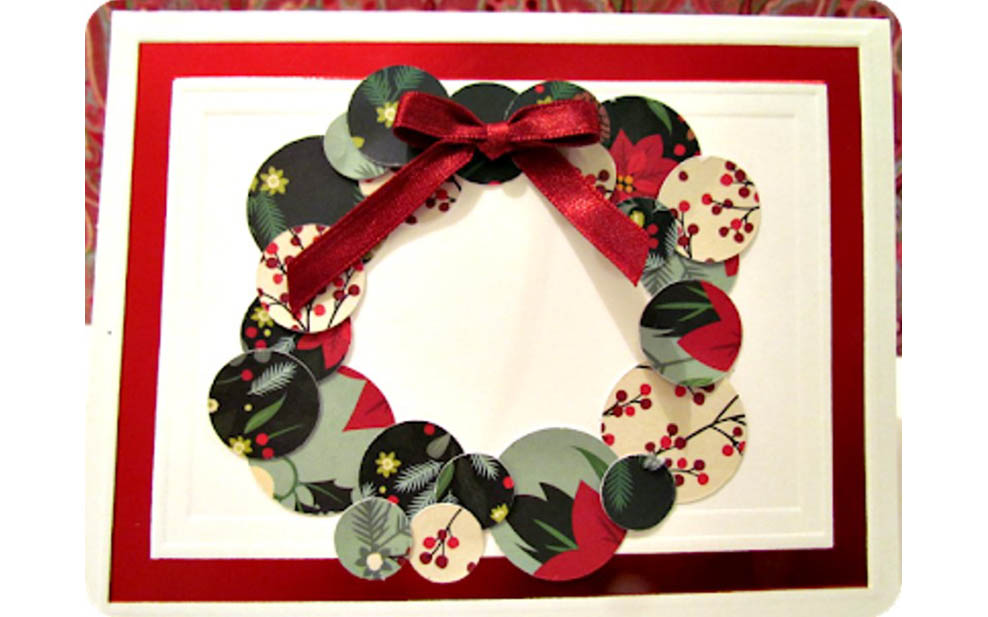 Sticking with wastepaper, perhaps the most common form that accumulates at Christmas is the Christmas card. Each year, many people receive stacks of them from friends and family and each year, many struggle with the idea of throwing something so personal away once the holidays are over. Fortunately, those festively coloured covers can be repurposed into new decorations that in turn can be re-used year after year, so you never have to throw anything away. Recycled Christmas cards have an extensive list of uses as Christmas decorations from ornaments to paper chains, but for this article, we will focus on making an eco-friendly, plastic-free wreath from them.
First, cut various sized circles (or whatever shape you like) out of the card covers. Trace a large ring on a piece of cardboard and cut it out. Poke two holes in it to feed some string through to hang the wreath by. Then glue the card cuttings on to the ring so that they overlap to complete your wreath. Glue a ribbon or some holly to the top of the wreath if you want to give it that festive finishing touch.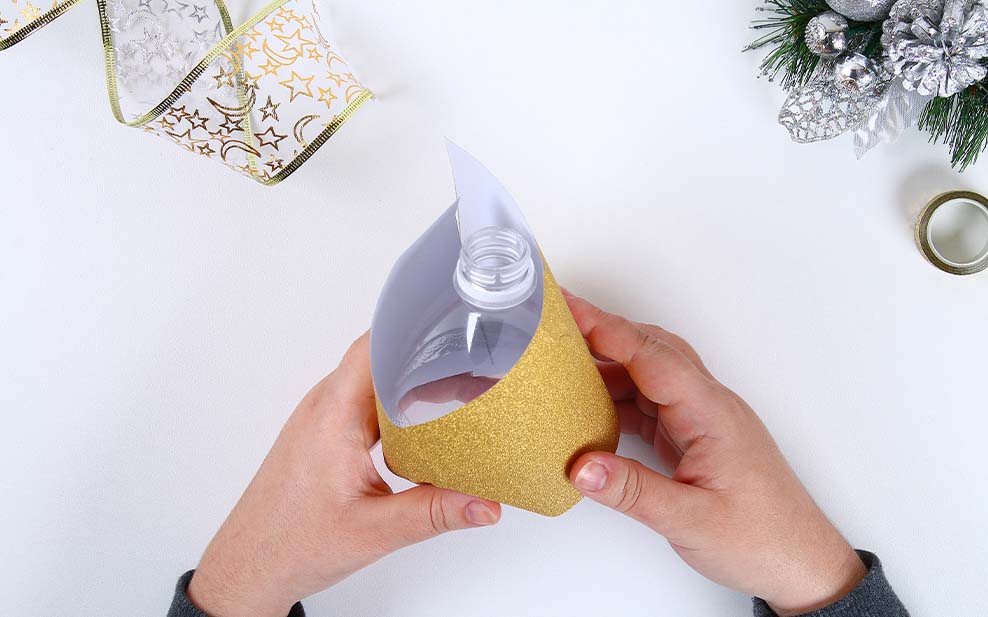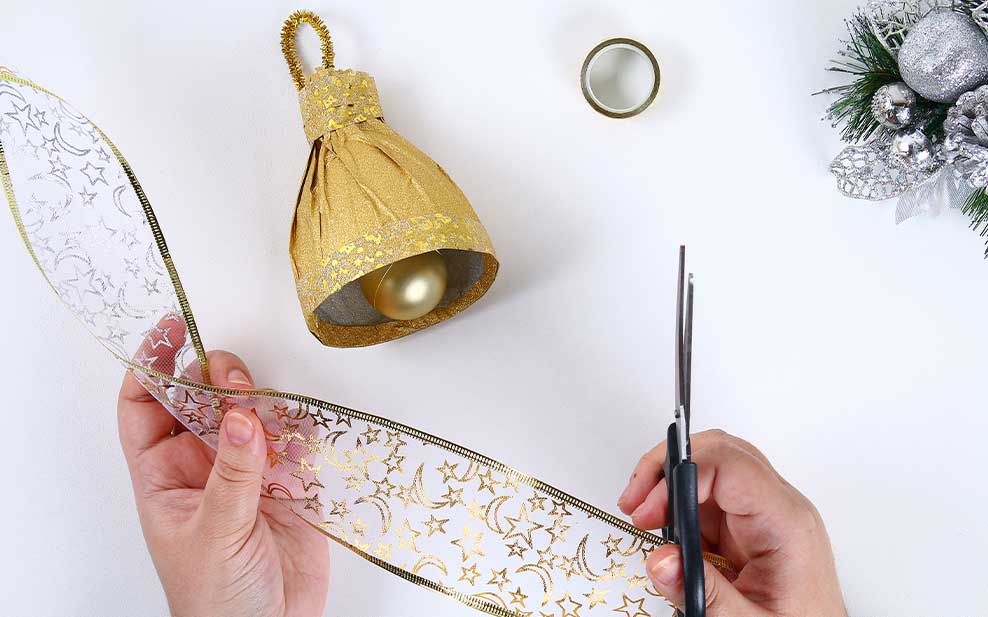 If you're wondering if there's a use for plastic bottles as a Christmas decoration, the answer is yes. Since the top half of a bottle has a very similar shape to a bell, this makes it an ideal thing to make one out of.
To start with, rinse out the bottle and leave to dry. Cut it in half and use the top half for the bell, smoothing any rough edges with sandpaper. Coat with papier mâché or white acrylic paint, then apply another layer of paint to decorate and leave to dry. Cut a hole in the bottle top and pass a piece of string through it. Tie a knot at the end passed through the bottle to secure it and tie the other end to a loop of string to hang the bell from. Glue additional decorations on (e.g. ribbons) if you wish.
To get some practice in making sea glass ornaments, consider attending WWF Hong Kong's

workshops

on it at its Central Sustainable Living Hub, available on weekends and public holidays.
To support a local business making home décor gifts out of sea glass, visit the Facebook page of the Lantau-based

Virtual Urgency

.
For more ideas on turning waste into Christmas decorations, check out this

link

.
Written exclusively for WELL, Magazine Asia by Thomas Gomersall
Thank you for reading this article from WELL, Magazine Asia. #LifeUnfiltered.
Connect with us on social for daily news, competitions, and more.