What is Mid-Autumn Festival?
Mid-Autumn Festival is one of the three biggest Chinese Festivals (Chinese New Year, Dragon Boat Festival, Mid-Autumn Festival) and is held on the 15th day of the eighth of the lunar month, this year falling on 1st October. Generally, the full moon on this day seems brighter and bigger than usual with less clouds. In ancient China, Chinese emperors worshiped this special autumn to wish for an abundant harvest the following year. Nowadays, we usually celebrate it with family members because it symbolizes reunion- similar to Thanksgiving Day in the United States. In Chinese culture, people believe that the whole family eating together around a round table will bring them a feeling of well-being and good luck.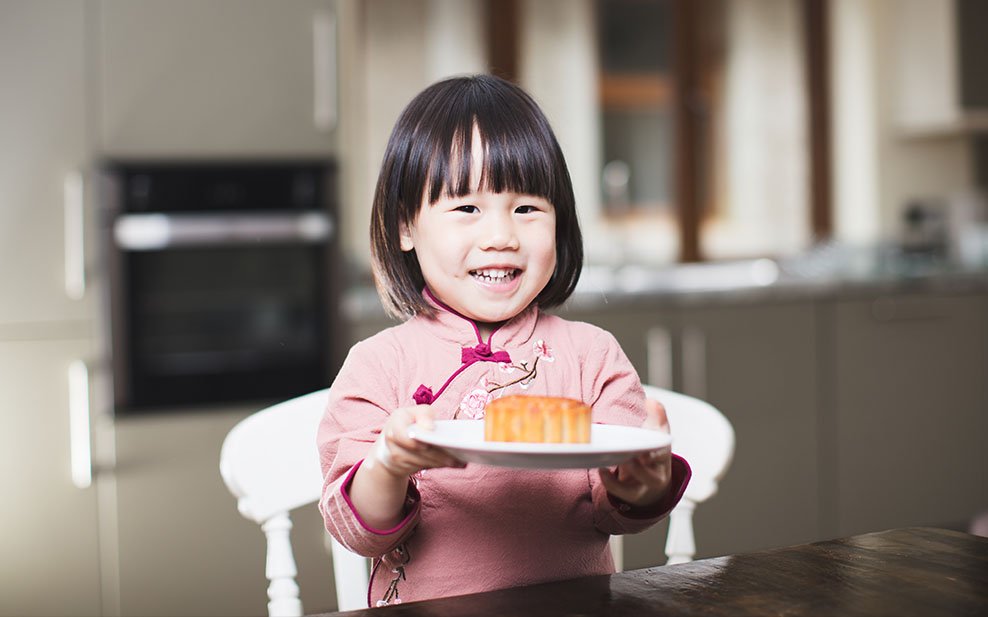 History of Mid-Autumn Festival
The history of Mid-Autumn Festival goes back over 3,000 years. It is started with moon worshiping in the Shang Dynasty (c.1600-1046BC) and became a national festival during the Tang Dynasty (618-907). Nowadays, it is still celebrated in China, Hong Kong and by Chinese Diaspora throughout the world.
How to celebrate Mid-Autumn Festival
1. Gather Family for Mid-Autumn Reunion Dinner
On the Mid-Autumn Festival eve, family members should gather around a table for a family feast.
The festival of the moon is not complete without mooncakes! Mooncake is one of the traditional Chinese pastries, generally filled with sweet lotus paste or egg yolk. The round mooncake is a symbol of family reunion, happiness and completeness. People share mooncakes together and present mooncakes to relatives, friends and clients to express love and blessing. In Hong Kong they are easily purchased at a cookie shop in the MTR. Most popular, especially among the little ones are the 冰雪月饼 or "snow mooncakes" that are served chilled.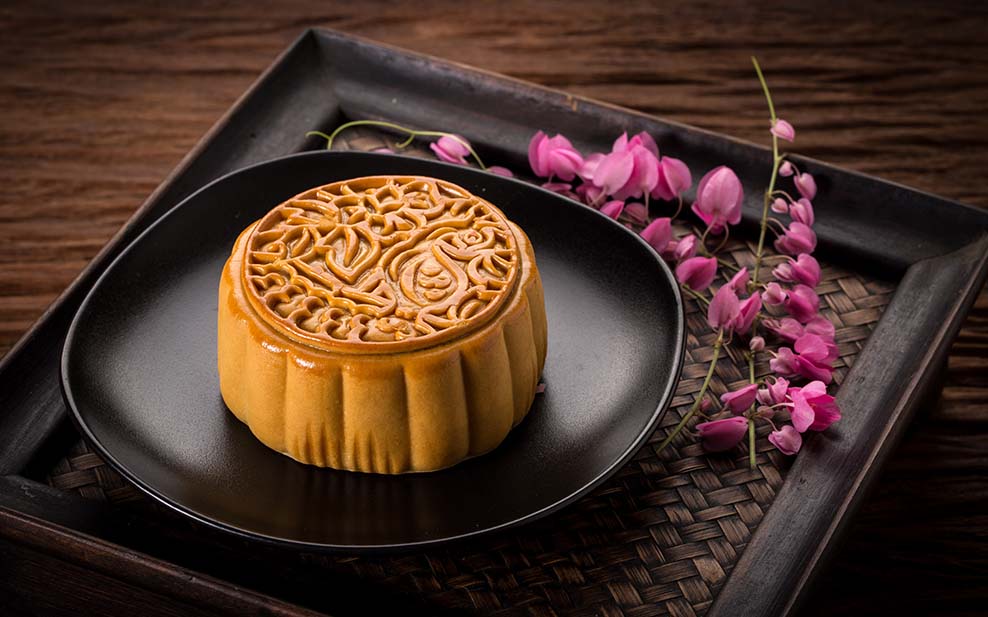 3. Appreciate the Full Moon
After the reunion dinner, people will often come together to outdoor areas, for example the roof, a balcony, square, parks, and beaches to appreciate the full moon. In Chinese beliefs, the round full moon represents reunion, so even people who are living far away from home, can look up at the same moon and be connected in spirit no matter how far away.
Children love playing with various lanterns on Mid-Autumn eve to celebrate the Festival.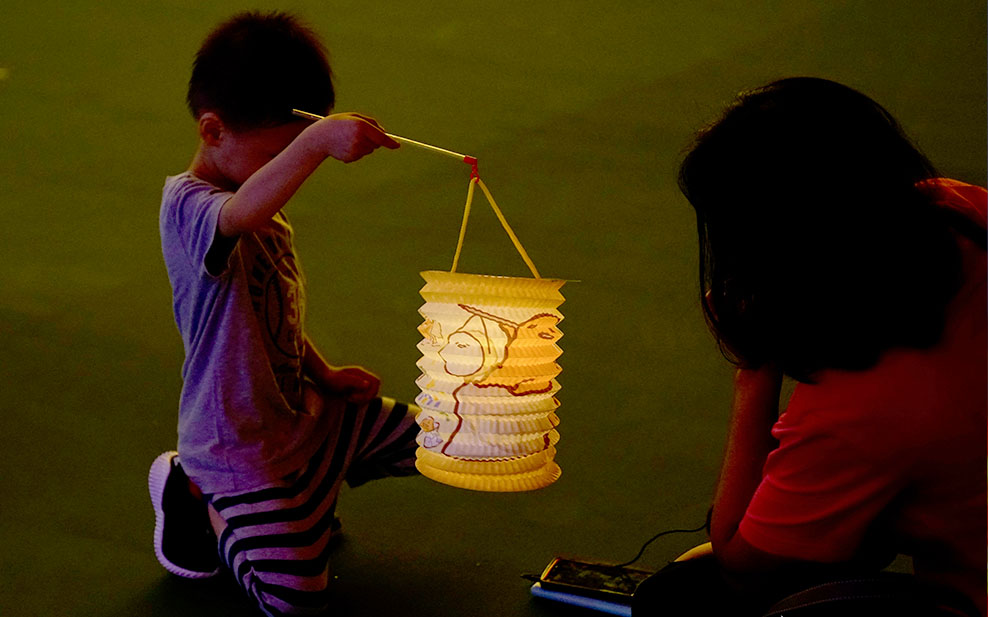 Why is the Moon significant in Chinese Culture?
The Moon plays a significant role in Chinese culture which is reflected in the Chinese calendar. China has adopted a Lunar Calendar (農曆) since ancient times which combined the movement of the moon and the sun.
Also, the moon is associated with immortality, femininity, pleasant scenery, fullness and success, purity, faithful love and homesickness in Chinese culture. Chinese literature also reflects the importance of the moon as a symbol of emotion. Since ancient times poets have used the moon as a symbol to depict strong emotions. For example, the waning moon is often a symbol of imperfect human life and sorrow. The Full moon in contrast symbolizes family reunion, perfection, eternity, completion and self-realization.
Why is the Circle significant in Chinese culture?
In Chinese culture, the circle and the square represent the philosophy of "The Round Heaven and Square Earth". The Circle is a spiritual symbol of "wholeness", "sense of completeness", "oneness", "perfection", "unity", "totality", "harmony", "vitality", "eternity", "the Self", "the infinite", "timelessness", "softness", "balance" ,"cyclic movement". Also, the circle reflects the view that harmony is the top priority in Chinese social interaction.
The circle represents Confucian philosophy of "Tianren Heyi (天人合一) – the integration of humanity and nature". It means that heaven, earth and man are holistically connected and interdependent. Human beings are a part of nature; thus, we should follow the natural flow of life and maintain a harmonious relationship between ourselves and nature.
Yin and Yang is a core Chinese philosophy. Everything combines Yin and Yang, two opposite yet complementary forces. The Yin-Yang symbol is made up of a circle with two teardrop-shape swirls. Black swirl is "Yin" and it represents femininity, receptivity and the moon. White swirl is "Yang" and represents the sun, growth and passion. 'Yin" (the black) contains a seed of "Yang (a white dot), and vice versa. The relationship of "Yin" and "Yang is dynamic flow and there is balance of ebbs and flows. When two forces blend into one seamless whole, it become harmony and balance. Thus, the circle is the most representative and significant figure in Chinese culture.
Mid-Autumn Festival is not only a reunion day but also the most representative festival to reflect Chinese culture and Chinese emphasis on family relationship and social harmony.
"Prelude to Water Melody" by Su DongPo, an everlasting poem about Mid-Autumn Festival
 "Wishing We Would Last Forever (但願人長久)" is a well-known Mandarin song first sung by the late Chinese superstar Teresa Teng and also by well-known singer Faye Wong. The lyrics of this song derived from a famous poem "Prelude to Water Melody".
Su Shi (aka Su DongPo) was a famous poet in the Song dynasty's (960-1279) and he wrote the poem "Prelude to Water Melody" in 1076. At that time, Su DongPo and his brother had been apart for seven years because he disagreed with other government officials and was banished. In the poem, he used different moon phases to describe his ups and downs and to illustrate his loneliness and homesickness. The last two lines "I only pray our life be long and old souls together heavenward fly." (但願人長久 千里共嬋娟) is often used by people to express a yearning for family members who are far away and give them a blessing.
Prelude to Water Melody by Su DongPo
How long will the full moon appear?
Wine cup in hand, I ask the sky.
I do not know what time of the year
'It would be tonight in the palace on high.
Riding the wind, there I would fly,
Yet I'm afraid the crystalline palace would be
Too high and cold for me.
I rise and dance, with my shadow I play.
On high as on earth, would it be as gay?
The moon goes round the mansions red
Through gauze-draped window soft to shed
Her light upon the sleepless bed.
Why then when people part, is the oft full and bright?
Men have sorrow and joy; they part or meet again;
The moon is bright or dim and she may wax or wane.
There has been nothing perfect since the olden days.
So let us wish that man
I only pray our life be long
And our souls together heavenward fly.
水調歌頭
丙辰中秋,歡飲達旦,大醉,作此篇,兼懷子由。
明月幾時有?把酒問青天。不知天上宮闕,今夕是何年。我欲乘風歸去,又恐瓊樓玉宇,高處不勝寒。起舞弄清影,何似在人間?
轉朱閣,低綺戶,照無眠。不應有恨,何事長向別時圓?人有悲歡離合,月有陰晴圓缺,此事古難全。但願人長久,千里共嬋娟。
Written exclusively for WELL, Magazine Asia by Phoenix Yu
Thank you for reading this article from WELL, Magazine Asia. #LifeUnfiltered.
Connect with us on social for daily news, competitions, and more.