At WELL, we believe that practicing mindfulness is the epitome of great self-care. This month we got to sit down with Triathlon Champion, Oliver Courret, and learn all about how he's been able to train his mind to achieve greatness.
Our discussion with Olivier took place in WELL,'s preferred ZEN DEN, Mana! Fast Slow Food. Soaking in Olivier's energy and excitement for life was a serious "aha" moment for us. We left feeling like we could accomplish anything! Below you'll find snippets from our discussion and lots of great tips to help you on your journey to finding fulfillment in life.
Olivier is the Founder of Mind Your Brain, a Hong Kong-based company specialising in motivational talks, workshops, life/professional transformation programs, and high-performance athletic coaching. Before starting Mind Your Brain, Olivier focused his time on training himself to compete in Triathlons across Asia and beyond. His training led him to become a three-time Triathlon Asian Champion. He also leads Open Water Swimmers of HK where he continues to inspire Hong Kongers to get outside and connect with nature and self through sport. This father of two is also a Certified Neuro-Linguistic Programming Practitioner, Meditation Certified Instructor, and is currently finishing up his Clinical Hypnotherapy courses. His primary goal through Mind Your Brain is to help people find their purpose using techniques he's learned over the years so that they can achieve their goals. Olivier believes that harnessing the power of the mind is the key to fulfillment in life
"If you put your mind to something, you can have whatever you want!"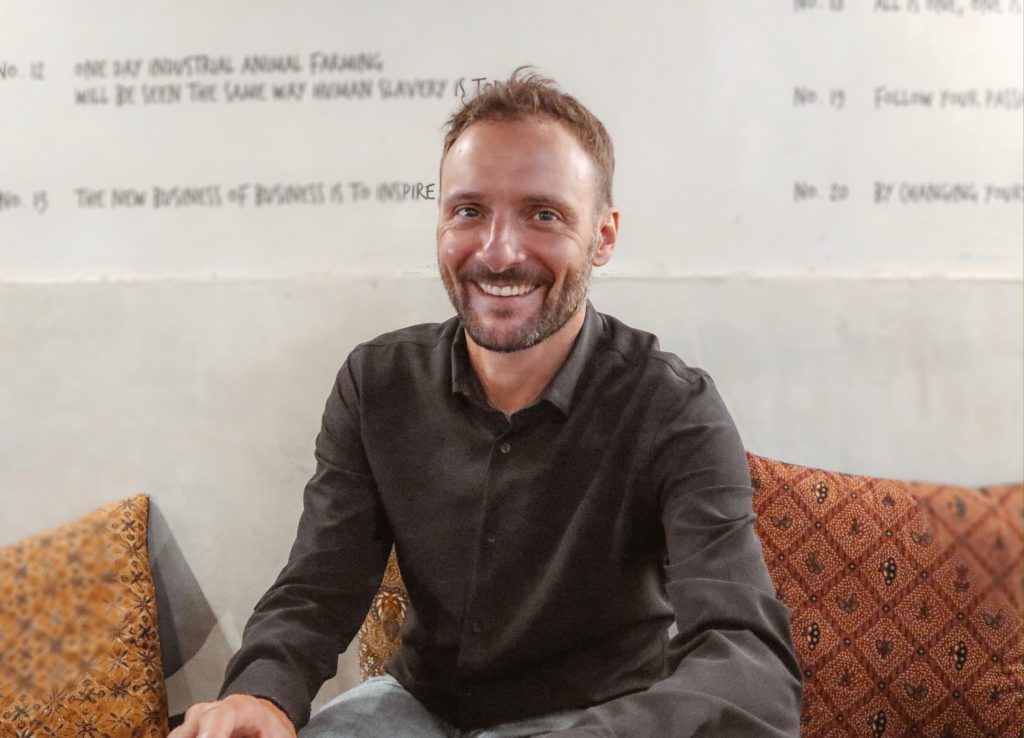 Originally from Aix-en-Provence, France, Olivier was active and did a bit of cycling and running growing up but didn't discover open water swimming until about 12 years ago. At the time he was working for the largest retail chain in France, helping them source products from factories in Asia. He shared that although he had a very nice life, he couldn't shake the feeling that something was off.
"Something was not complete, but I couldn't figure out exactly
what it was."
In 2009, Olivier discovered triathlon. With no proper training and only running twice a week (on a good week), Olivier suffered from several minor injuries that he now knows could have easily been prevented with the right amount of discipline and technique. These injuries led him to seek out the help of a mentor and coach. His coach and mentor advised him to do drills and taught him the importance of being dedicated and consistent. Over time, after training every day for an hour or more he says he finally started seeing improvements in his swimming. "I got hooked." Just one year later Olivier got a 2nd place trophy in the first triathlon that he competed in. This was a major confidence booster that helped him continue to move forward.
"At this point, I knew that I wanted to work in triathlon."
Olivier found what was missing in his life. Knowing he would be fulfilled working in triathlon, he began reaching out to companies in the industry. Soon enough, he was in contact with the owner of Orca Swim and together they built a plan. Olivier corrected me when I said that it was perfect timing and a bit of good luck…
"There is no luck. When you put your mind to something, you will find so many opportunities all around you. If you're looking to break into a certain field, you should start picking up a conversation about it."
Olivier said his life changed in 2013 when he worked on a documentary with elite athletes called Iron Minds, by Orca. 
"We were talking about products and having very technical conversations with these athletes. I had the opportunity to spend a lot of time casually chatting with them and realized that the mind was the reason for their success. It was all about building and conditioning their mind so they can reap the objectives that they want to achieve. "
Olivier continued to share what he noticed when chatting with these top national elite athletes…
"The way they talked about their successes and failures was something different. They had a natural ability to control their emotions and understand how they are working."
Olivier's thoughts on meditation
Repulsed by meditation and all of the "woo woo" stuff around it in the beginning, Olivier said he needed to learn the science behind it. He made it his mission to read everything he could about the brain. With a background in business and mathematics, he wanted to understand the mechanics of the brain. One thing led to the next and meditation became a daily practice of his.
"Meditation is the first thing that I teach in my program.
It's all about being in the present. Being more aware so that you can work on being clear about your goals and what you need to do to make them a reality."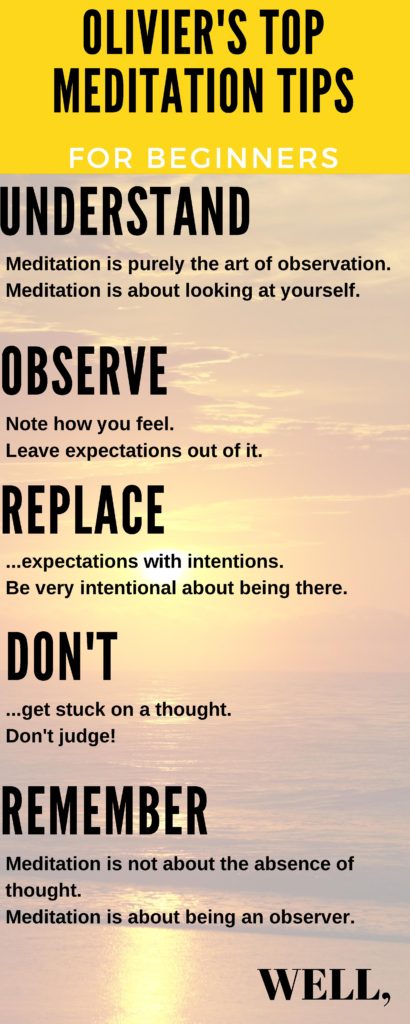 "There is no such thing as a bad meditation or a failed attempt at meditation."
Neuro-linguistic programming
As a certified NLP practitioner, Olivier teaches his clients and athletes how to undo the damage that mental patterns have created in their minds. A simple thought or statement can create a negative pattern. Olivier says procrastination falls under this category. "It's the meaning that we give to things and how we behave. If you simply change your lens, you will begin to see things differently.
"Being in tune with your mind helps to align your hopes and dreams with your thoughts."
Many people hear the word "hypnotherapy" and immediately think of stage hypnosis. After beginning his training in Clinical Hypnotherapy, Olivier realised that it's the science of linking the conscious to the subconscious.
"It gives you access to the subconscious part of your mind to help guide you to a deeper level of awareness."
 In his practice, Olivier uses hypnotherapy as another layer to add to meditation, helping his clients and athletes go even deeper. His technique is one of guidance that allows you to do most of the work yourself. In a successful session, you should be able to remove any unwanted connection that you've made with an emotional attachment and find a new way of looking at negative events and past trauma.
When Olivier felt like he had enough tools and knowledge, he started his mission to help and educate others.
"I want to help people understand that mind strengthening, conditioning, and training is as important as physical training and taking care of your diet."
He hopes to teach others to be in control and be in charge of their mind so that they can live the life they want.
"It's the way to open yourself to be your inner architect to create the life you want."
If you feel like you know you should be doing something different but aren't sure where to begin, Mind Your Brain is for you!
Olivier has a step by step approach that will help with:
Building self-awareness
Clarity
Finding the right resources needed to complete your goals
Building alignment between subconscious and conscious
Changing beliefs and thought patterns that are holding you back
"I'm not telling people what to do. They have the answers within them. I give tools to them so that they can create habits so that they can be sustainable."
COVID-19 and mental health
Olivier shares his tips for staying mentally and physically healthy during uncertain times:
Take it one day at a time
Focus on what you CAN control and what is within your power
This is an opportunity to learn something new!
Wake up every day at the same time
Workout and make it fun!
Get outside and be active (best to go in the morning when fewer people are out)
Schedule regular video calls to stay in touch with friends and family
Take this time to reinvent yourself.
How to get involved in swim/run (for beginners)?
Open water is easy, fun, and safe if you respect the safety rules. We have a group called the NOW (New to Open Water) group that is designed for people who can swim but are not yet familiar with open water. We meet every Saturday at 1.00 pm on HK island (and 2.15 pm for more experienced swimmers). It is a super open and friendly community that always welcomes new swimmers. And the best thing is that it is all free.
Details can be found on www.owshk.weebly.com or the open water swimmers of Hong Kong Facebook page 
It is best to learn how to swim in the pool first with a swim instructor. Once you can swim freestyle 500m non-stop, you can join our group.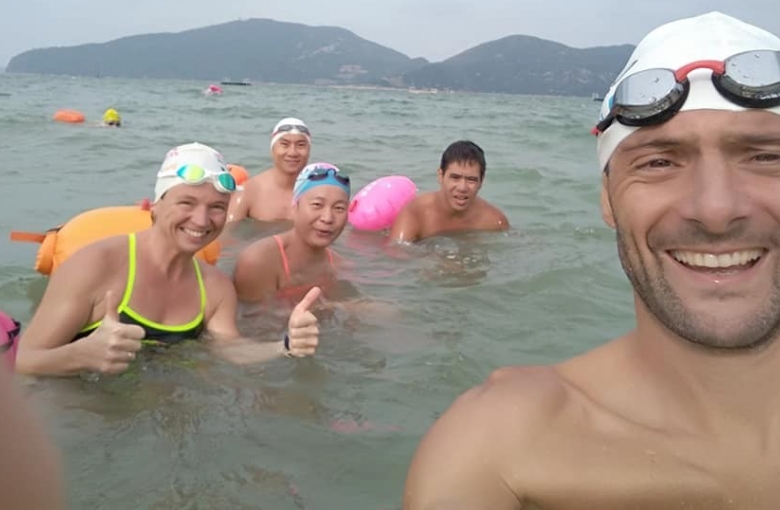 Running is the easiest thing. You can start running 1 min and walking for 1 min for 20 min. It is all about getting started and repeat. Consistency is key. Start easy, build up slowly, and allow yourself to enjoy the journey as everyone needs to start somewhere. The biggest mistake is to start too fast, too long, and get an injury.
Favourite places to swim open water in HK:
Chum Hum Kok Beach 
Probably the most beautiful beach on HK side with great caves to explore while swimming. Once again, never, ever swim open water alone. Swim with a group that knows the water and the itinerary and wear safety buoy and bright cap.
Swimming along the coast towards turtle cove or towards the prison is beautiful with clear water and rough enough for open water enthusiasts.
Swimming towards South bay or around the Middle island usually offers spectacular scenery and clean water.
Favourite places for a family hike:
Follow the catch water to Tai Tam reservoirs and back to Parkview. It's rather flat except on the way back to Parkview. The best part is the stunning views and there are usually very few people around.
I love to do this hike with the kids with options to explore the HK trails with plenty of shade.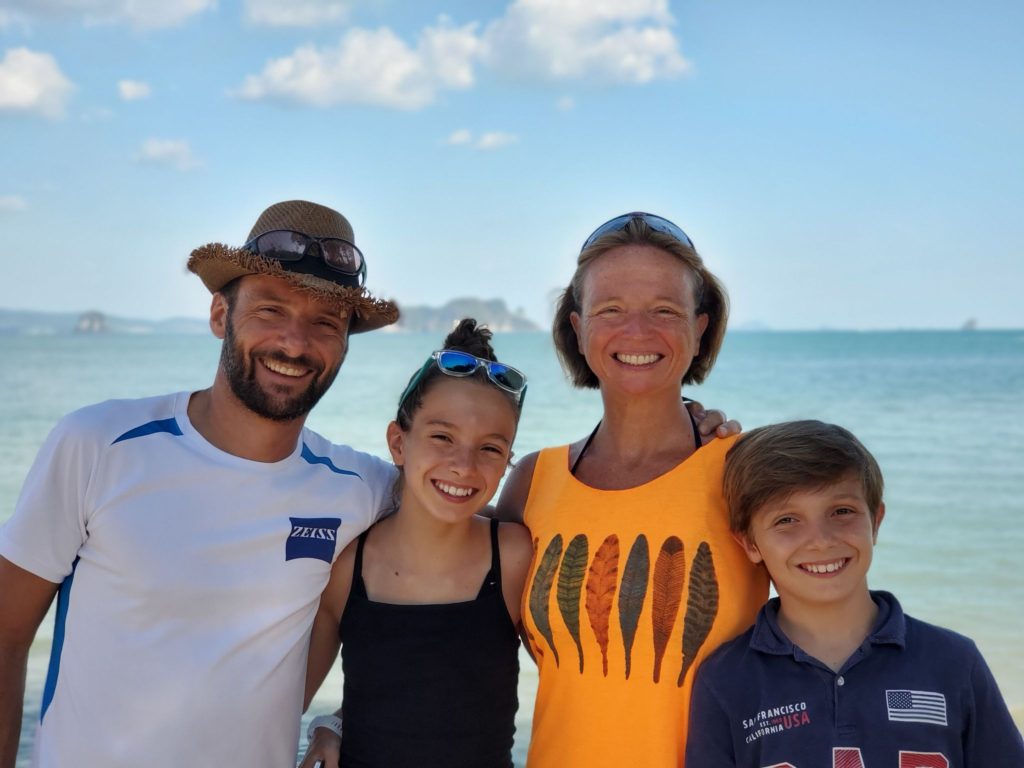 We hope that our discussion with Olivier inspires you to chase your dreams and explore mindfulness as a daily practice to enhance the connection between your mind and body. Life is too short to waste time wondering "what if". Remember that you deserve to be happy and fulfilled. You are the architect. Go out there and build the life you want!
Written exclusively for WELL, Magazine Asia by Emily Kelleher
Thank you for reading this article from WELL, Magazine Asia. #LifeUnfiltered.
Connect with us on social for daily news, competitions, and more.