If you're a person who is A) concerned about your health and that of the planet and B) aware of current eating trends, you might be feeling at least a little inclined to try switching to a plant-based diet.
However, it is also likely that you are finding it difficult to do that. Perhaps you've been a meat and dairy consumer all your life and feel like you just can't let it go. Perhaps you think that you won't get enough protein. Or perhaps you just don't know what your options are beyond salads and Impossible burgers.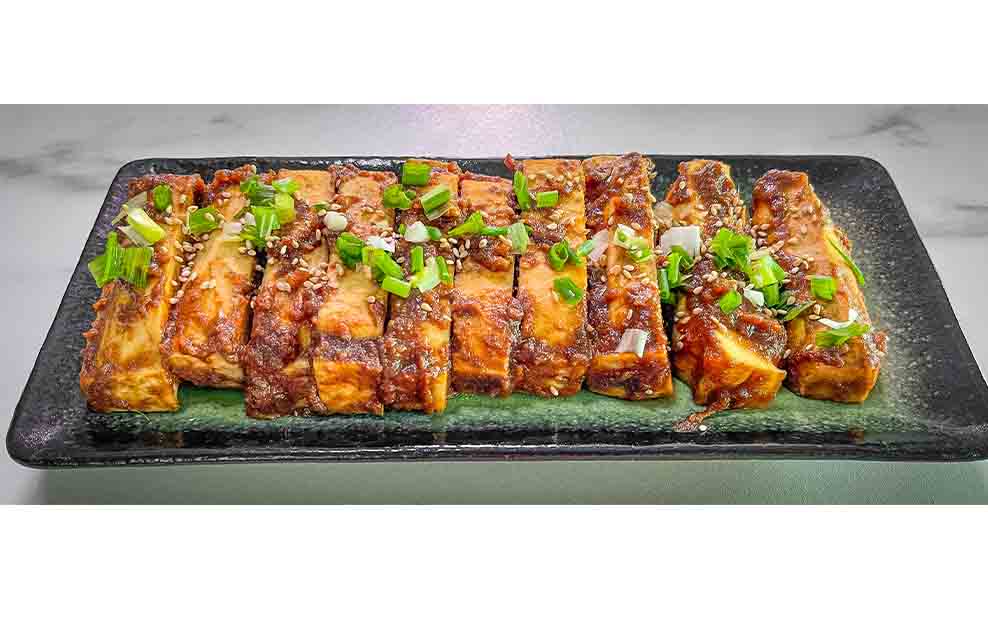 But what if there was someone who could help you? Someone who could open your eyes to a whole world of possibilities. Someone with a proven track record of changing eating habits and making people much happier and healthier for it.
Enter Our Conscious Kitchen.
Founded in early 2020, Our Conscious Kitchen works to transition people to plant-based eating not by imposing regimented diets, but through offering guidance and support through this often challenging shift. By participating in its programmes, clients can learn how to change their ways, find solidarity with others going through the same experience, and marvel at just how many of their favourite animal dishes can be veggie-fied.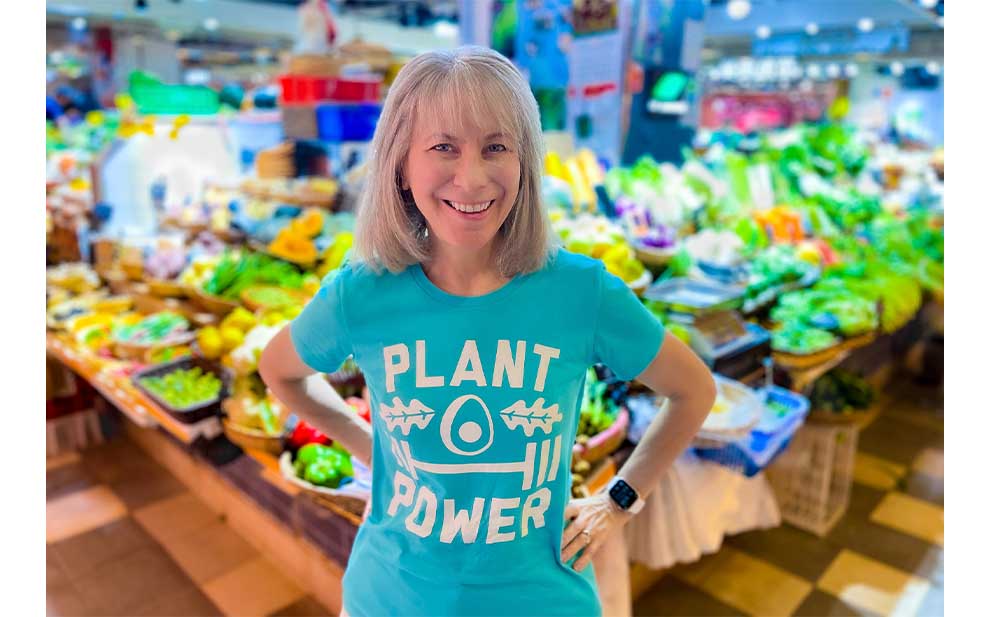 Our Conscious Kitchen founder, Michele Wisla –who is also a member of the American College of Lifestyle Medicine– has always been a big foodie. Growing up in Milwaukee, Wisconsin, she would often spend whole days helping her grandmother in the kitchen "We used to do a lot of baking and cooking and stuff together" she reminisces fondly. Later, when working in fashion brand management, she would take advantage of overseas business trips to learn about the local food. In her 20s, Michele adopted a Mediterranean Diet (based heavily on the foods of that region) after reading articles about its supposed health benefits.
However, this diet proved to not be healthy enough, as Michele later had to have surgery for fibroids –non-malignant tumours caused by excess oestrogen– in her uterus, which she later learned was linked partially to consuming animal products. Shocked, she decided to switch fully to plant-based eating, but initially struggled to find a diet that was both healthy and personally sustainable for her.
Eventually, Michele switched careers to food brand management and later worked for a client in Hong Kong who was working to find ways to cultivate microalgae to make more nutritional versions of Chinese dishes. Through doing research for him, she became even more immersed in nutrition and plant-based eating, which lead to her adopting a wholefood plant-based diet.
"The more I learned and the more I really got into it from a science point of view, the more I saw that it was the healthiest way to eat" she remarks.
After adopting this diet, Michele and her partner, Dalip, noticed a marked improvement in their health. They both lost weight, developed cleaner skin and had much more energy than before. Dalip was even able to come off his high blood pressure medication. Upon learning how little most people knew about the benefits of a wholefood plant-based diet, Michele was inspired to become a nutrition coach in order to educate and help them. After taking coaching courses in nutrition and plant-based cooking to gain her qualifications, she then decided to start a company as well to lend more legitimacy to her services.
And so, Our Conscious Kitchen was born.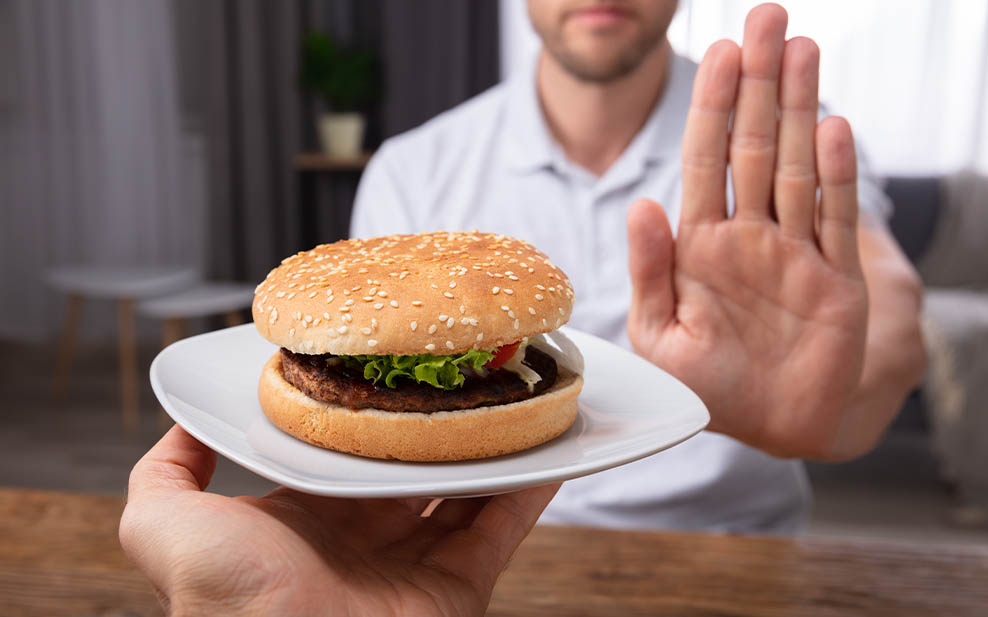 As we all know, what we eat invariably has an impact on our health, especially on our weight. As plants contain only a tiny fraction of the saturated fats found in animal products and processed food (including plant-based meats), naturally a diet high in wholefoods is very conducive to weight loss.
"If you eat plant-based, you don't have to worry about your calories. You don't have to watch how much food you eat. You need to watch what you eat" says Michele.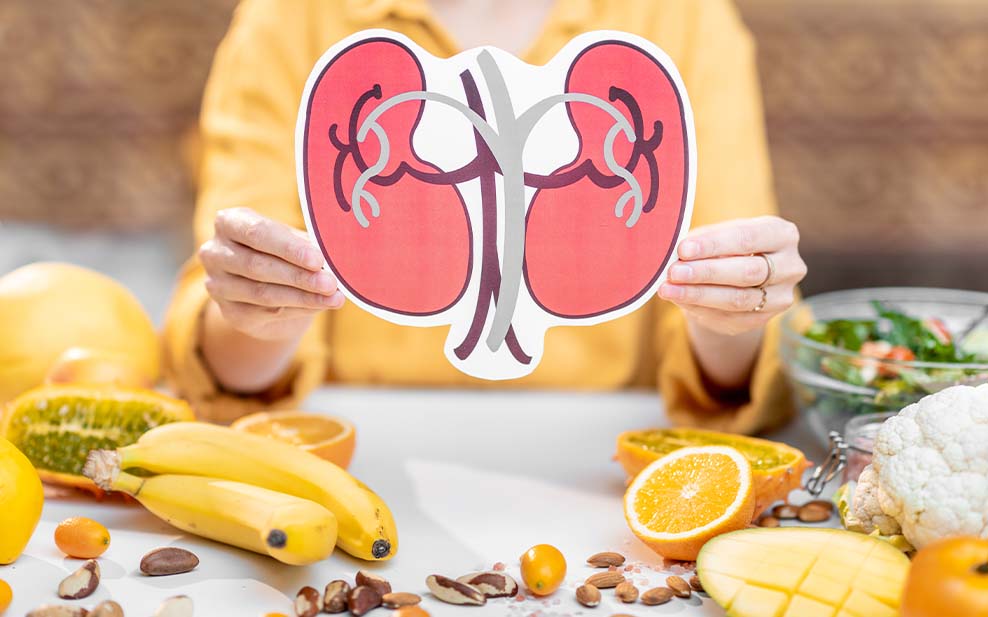 But the health benefits don't stop there. Heart disease, Alzheimer's, kidney failure and many other ailments are all at least partially caused by inflammatory compounds produced by arachidonic acid, which is heavily present in animal products. Kidney disease especially is very closely linked to excess protein consumption. By contrast, the antioxidants that are most abundant in fruits and vegetables reduce inflammation and their high Vitamin C content helps to improve immune function.
There is also growing evidence for a link between plant-based eating and mental health. Vitamin C helps to trigger the production of dopamine –the chemical responsible for happiness– while reduced inflammation also helps to improve one's mood. Indeed, a 2019 study in the UK found that people who ate 7-8 helpings of fruit and vegetables per day had the highest levels of happiness and life satisfaction.
So, knowing all of these benefits, why do so many people still struggle to even begin transitioning to a wholefood plant-based diet? And how does Our Conscious Kitchen help them to not only make the switch, but stick to it as well?
Along with the myth that a plant-based diet lacks sufficient protein –no such deficiency has been found in plant-eaters– a major barrier to adopting one is an incomplete knowledge of its eating options and how to cook them. "I found out that a lot of people in Hong Kong don't know how to cook" Michele remarks. "Restaurant eating has become the norm and it didn't used to be two generations ago."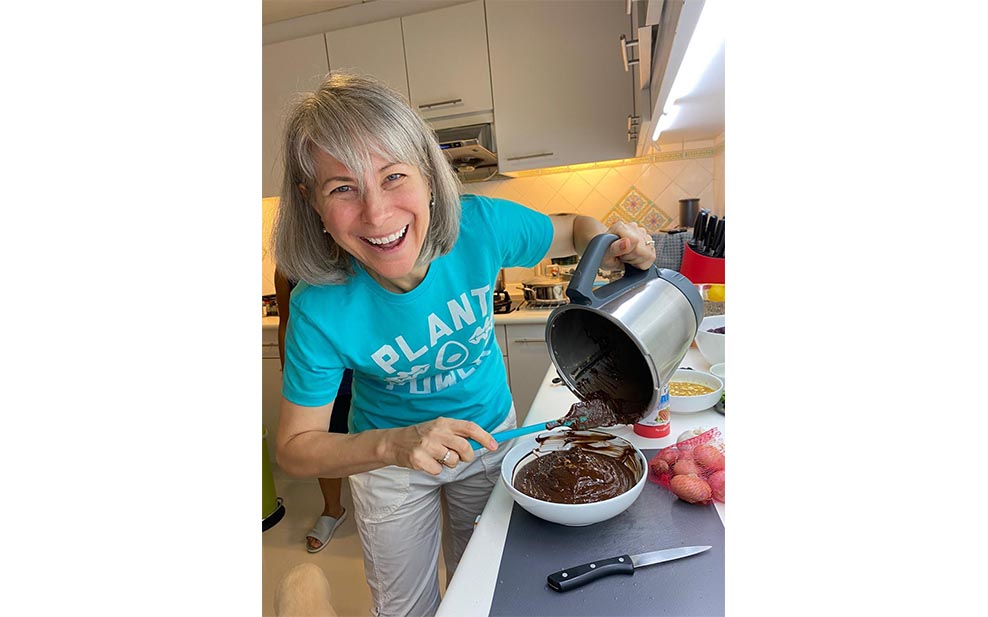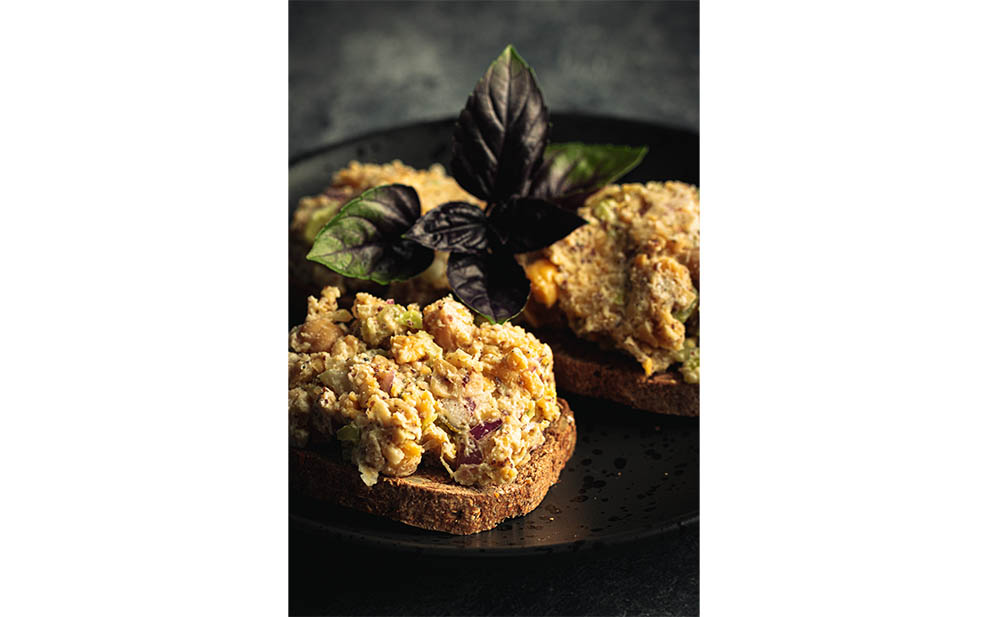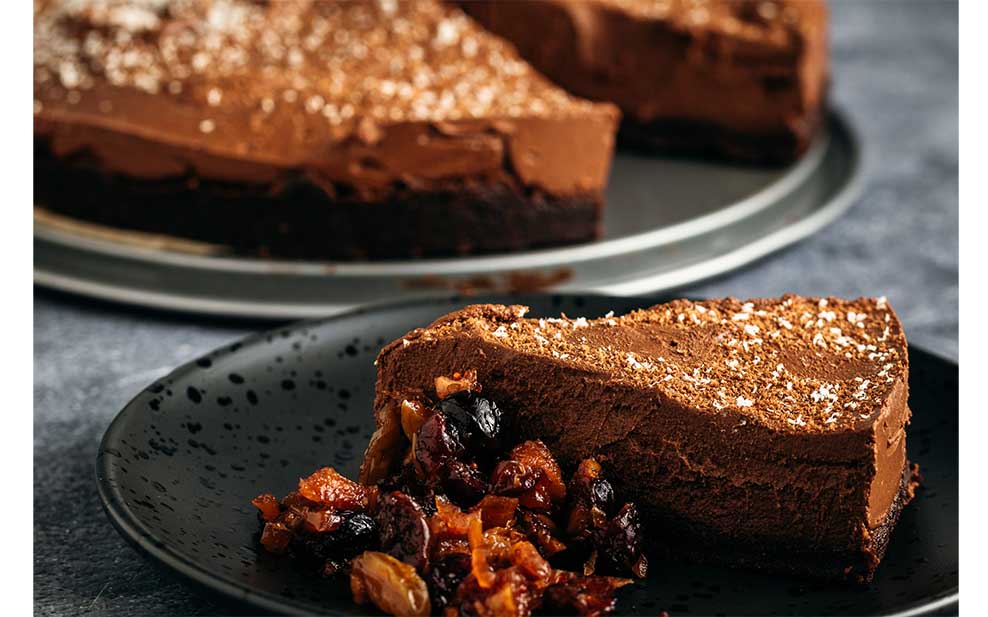 One thing that Our Conscious Kitchen offers to address this is a 12-week one-to-one coaching programme, in which Michele teaches clients and/or their helpers to make three different plant-based recipes per session at home. Alternatively, it offers online group coaching sessions on Zoom, featuring 10-minute videos on making recipes like plant-based macaroni cheese, chocolate cream pie, scrambled egg, pulled pork and even tuna salad.  "What that does is it sets them up to eat healthier food and understand how to replace food" says Michele. As many of these dishes include protein-rich plants like nuts and chickpeas, these sessions also help to dispel the nutrition myths from clients' minds.
Additionally, for those who want to lose weight, Our Conscious Kitchen offers half day workshops on cooking without oil (including not using oil-based salad dressings). Instead, clients learn how to use healthier substitutes derived from tahini paste, avocado, cashews and vinegar.
But the desire to eat animal products or unhealthy foods is not as easily overcome as this. Helping clients to truly break these habits requires a more psychological approach.
Changing Brains to Change Eating
First, a quick tangent on how we form habits:
When we learn new things, synapses in our brain form connections between each other that eventually cause us to perform actions unconsciously or in response to certain stimuli. Conversely, these synaptic connections can be altered as we learn different things and change our behaviours. But as anyone who's tried to break a bad habit can tell you, this is often much easier said than done.
 "That's actually the hardest part of any sort of diet change" says Michele. "That's why so many diets fail, because people don't stick to them because they don't form the habits properly."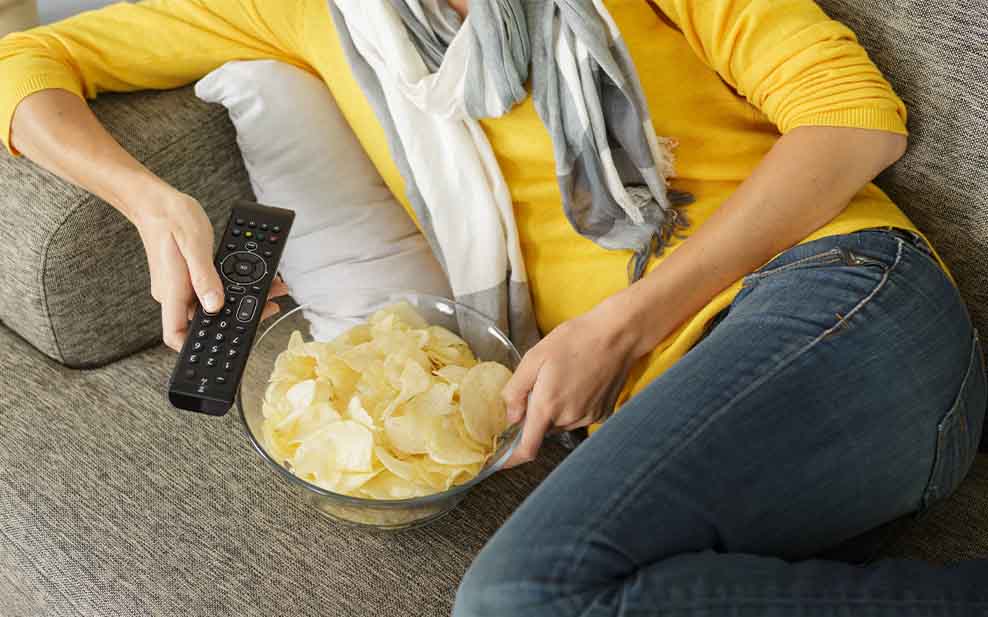 To give her clients some much needed guidance on this, Michele starts with assessing their current habits –including ones seemingly unrelated to eating– to see where they could make changes. For example, one client would eat potato chips every evening to relax while sitting on the sofa. Through repetition of this routine, she had come to associate relaxing on the sofa with eating potato chips. Thus, Michele encouraged her to do something else in the evenings, eventually reducing her chip intake.
Michele also consults with clients on their motivations for going plant-based, which is just as important for them to understand as it is for her. It not only helps her to form a coherent game plan for them, but it also provides them with a tangible goal to strive for. "As a health coach, it's not my job to tell you what you want as your health goal. You're coming to me as a coach because you want me to hold you accountable and help guide you in what are the best decisions you could make given your goals" she states.
In a world of often questionable fad diets, it's not uncommon (nor unreasonable) for people to question the legitimacy of commercialised diet plans.
In the case of Our Conscious Kitchen, the proof of that is the experiences of its clients. Several have seen drastic drops in weight since going plant-based, sometimes in as little as 6 weeks. "Recently, I had a client who's lost 30 pounds [since last September]" says Michele. Others have reported feeling much more energetic and/or managing to shift to an 80-90% plant-based diet.
Achieving such goals is no easy feat. But what makes it easier for clients is both Michele's expert guidance and the vibrant online community in Our Conscious Kitchen's paid monthly coaching & recipe membership, where people share their experiences with the programmes and various recipes. This, Michele argues, is key to providing the interpersonal support needed to see one's diet shift through. "People need to feel confident in their choices" she opines. "You need to feel like you're not the only one." Another is being inspired by interesting recipes, like mushroom-based 'pulled pork' that tastes almost exactly like the real thing, or food cooked without the use of oil. "That's just mind blowing for people to realise that they can have a salad dressing sauce or even a marinara sauce that doesn't use oil" says Michele.
But whether or not you choose to go with Our Conscious Kitchen for your transition to plant-based eating, Michele's advice is this: set a clear goal, stay motivated and do things at a pace that's comfortable for you.
"It is actually more helpful to do one little thing at a time than to do one large thing. […] Honour yourself with the small steps that you make and congratulate yourself" she says. "If you get that diary out of your coffee for two weeks: high five!"
Written exclusively for WELL, Magazine Asia by Thomas Gomersall
Thank you for reading this article from WELL, Magazine Asia. #LifeUnfiltered.
Connect with us on social for daily news, competitions, and more.