Seventy million barrels of oil per year to make polyester alone. The world's fourth largest lake sucked dry to water cotton fields. A dump truck of textile waste incinerated or landfilled every second, with a 60% increase projected by 2030.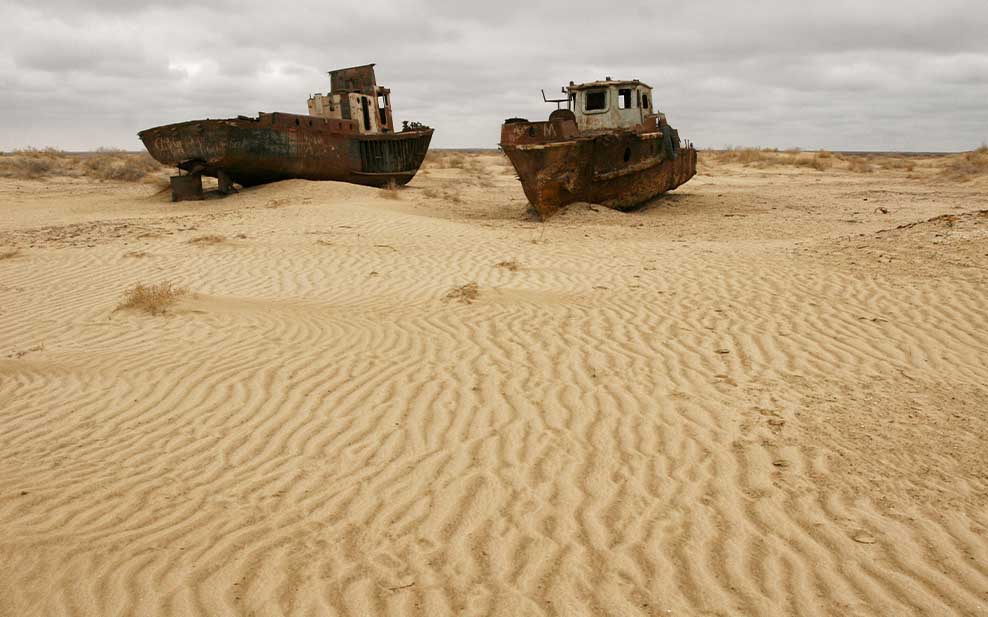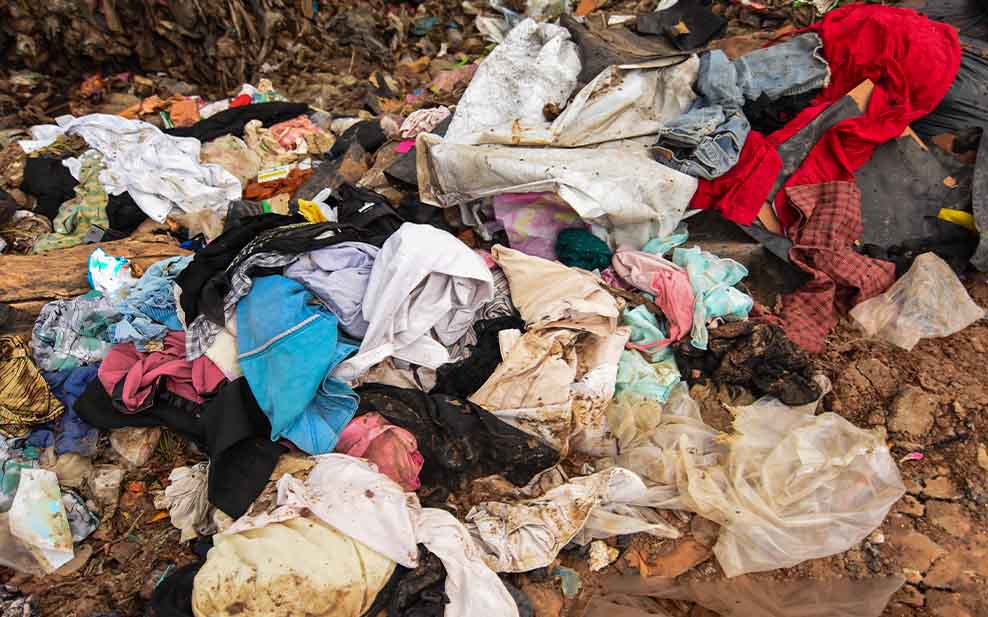 These are just a few of the environmental impacts caused by the mainstream fashion industry, one of the most polluting in the world. What's more, it is estimated that around 80% of said impacts (i.e. textile waste generated) stem from the design stage. In other words, it is designers who contribute the most to this problem through the decisions they make (or don't make) on the materials and processes used to create their clothes. One might even say that mainstream fashion is wasteful by design.
However, this also means that if this stage were to be re-designed (pun intended) to be more eco-friendly, it could significantly reduce or even wipe out a huge percentage of fashion's environmental impacts. And that means training up-and-coming designers to be sustainable from the start.
So, if you're an aspiring fashionista who hears these facts and thinks 'I want this industry to be better and to use my influence as a designer to make it so', then the Hong Kong-based environmental NGO, Redress, wants to hear from you. Specifically, as an applicant for the Redress Design Award 2022.
What am I signing up for?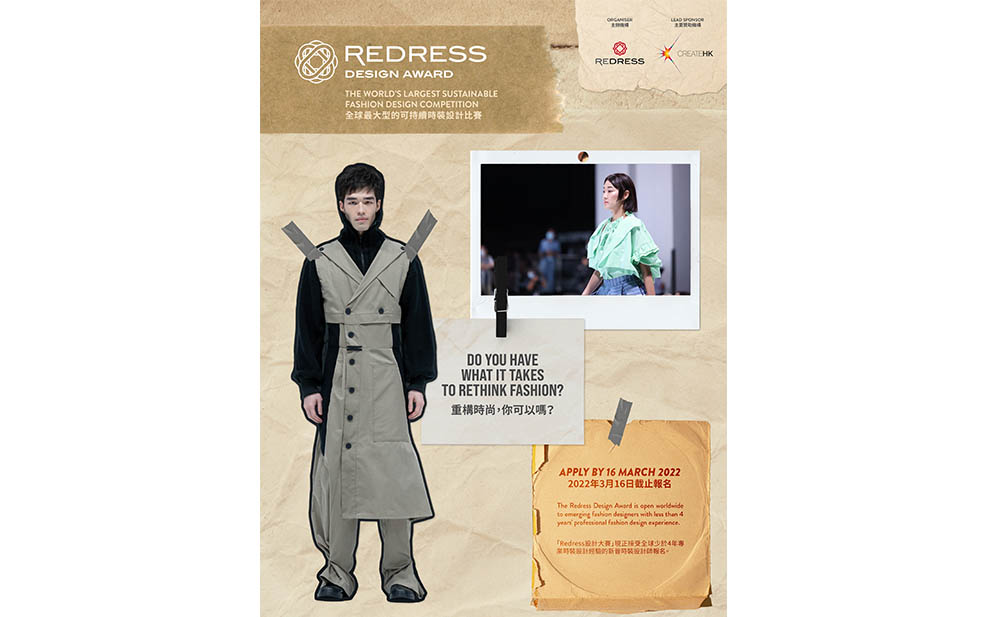 The Redress Design Award is an annual global sustainable fashion competition. Over the course of a year, 10 finalists are tasked with designing and making collections of sustainable clothing, with submissions being judged on the environmental friendliness of their materials, sourcing and design, among other things.
But what does it mean to design and make sustainable clothing, you might ask? What are the things I need to know, the materials I need to source, the practices I need follow? And can I really make something both stylish and sustainable to rival the collections of the world's most prestigious fashion houses and designers?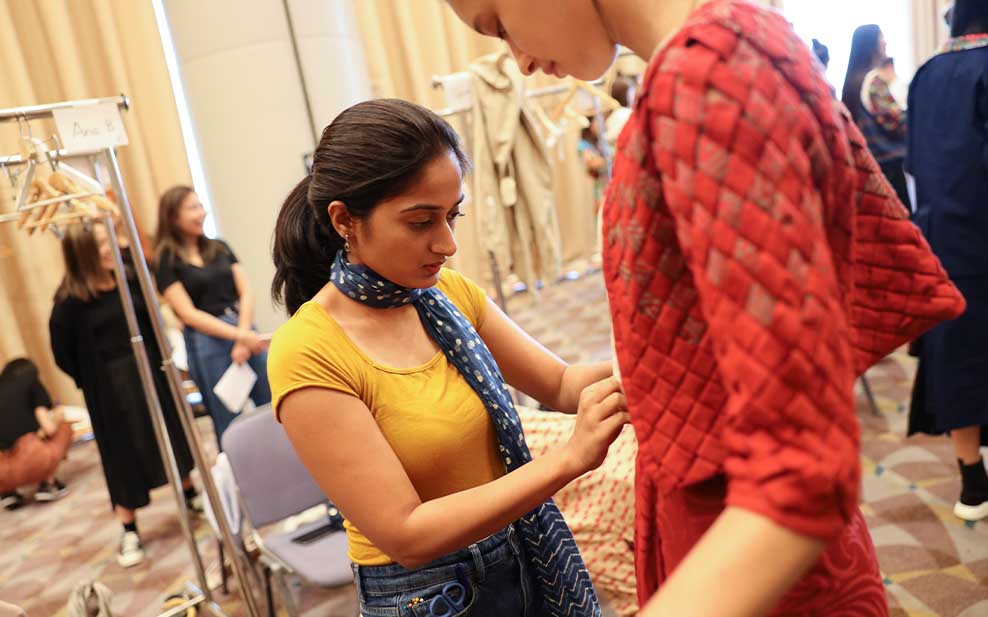 WELL luckily, the Redress Design Award is as much a design education as a design competition. To address the disproportionate contribution of design to fashion's environmental impacts, as a finalist, you will undertake a rigorous, months-long learning programme on incorporating sustainability into the design process from the beginning, learning from online resources, workshops and leading experts within the fashion industry.
Redress' online academy offers plenty of free videos, case studies, guides and master classes providing in-depth lessons on strategies and techniques for low waste design, sourcing and marketing sustainable fashion. You will learn things like the environmental impacts of different fabrics, digital design software and techniques, options for upcycling textile waste –tailor discards, old clothes, recycled fabric etc.– and how to design clothes for maximum longevity and recyclability.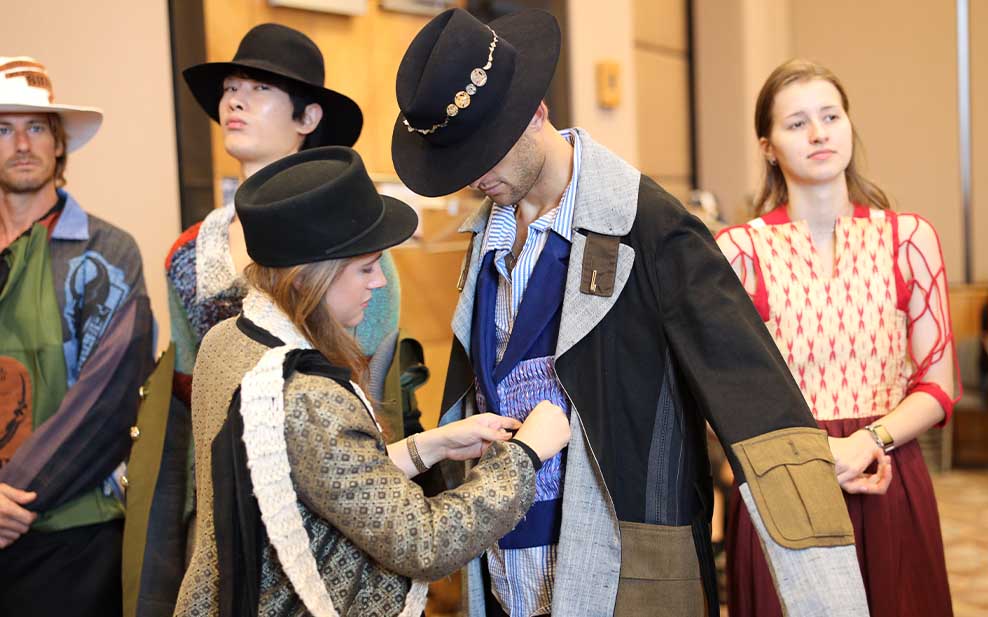 As fashion is so much about creativity, you will also be put through a series of challenges to stimulate your creative side, inventing designs that are as eco-friendly, innovative and beautiful/practical as possible, as quickly as possible. By the end of this programme, sustainability and low waste fashion will no longer be an afterthought, but rather your default mode as a designer.
Applications for the Redress Design Award 2022 are open until March 16th.
To be eligible to apply, you must be at least 18 years old and have three years or less of industry experience in fashion. Applicants must undertake a pre-course on sustainable design and will then have one week to design three different outfits and provide detailed information on why the materials and techniques they would use are sustainable.
Applicants must incorporate the following sustainable techniques into both their submission collections and in their final collections should they be accepted into the competition:
Zero-waste design: Ensuring that the design process for a garment produces little to no textile waste.
Upcycling: Using textile discards to make garments.
Reconstruction: Making new garments from pre-worn (second hand) ones or industry samples.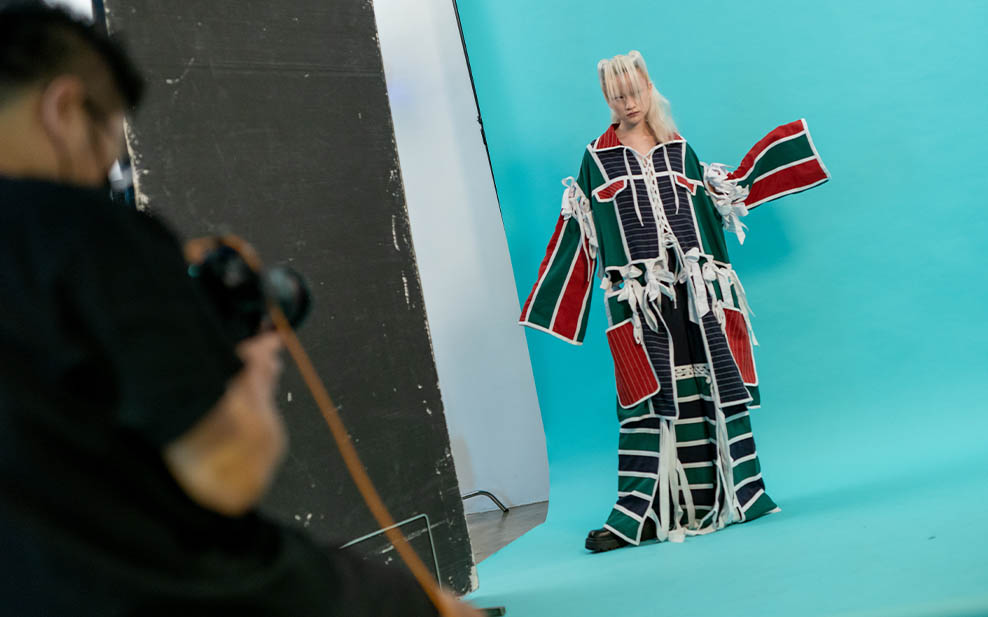 This year, collections are being judged especially on their use of low waste, low impact processes and materials, as well as on how long-lasting and recyclable these materials are. So be sure to bear that in mind when designing yours.
At the competition itself, you will have three minutes to present your collections –to judges from leading fashion giants like Vogue– and to sell them on their sustainability credentials, as well as things like originality and marketability.
The winner of the Redress Design Award 2022 will receive HK$ 50,000 in prize money. But they will also win something much more valuable, both for themselves and the sustainable fashion movement at large.
At the end of each Redress Design Award, the winning designer is placed with an established fashion brand for a design collaboration, allowing them to utilise everything they have learned about sustainability to reform the industry from the inside. This year, for the third year in a row, that brand is Timberland®.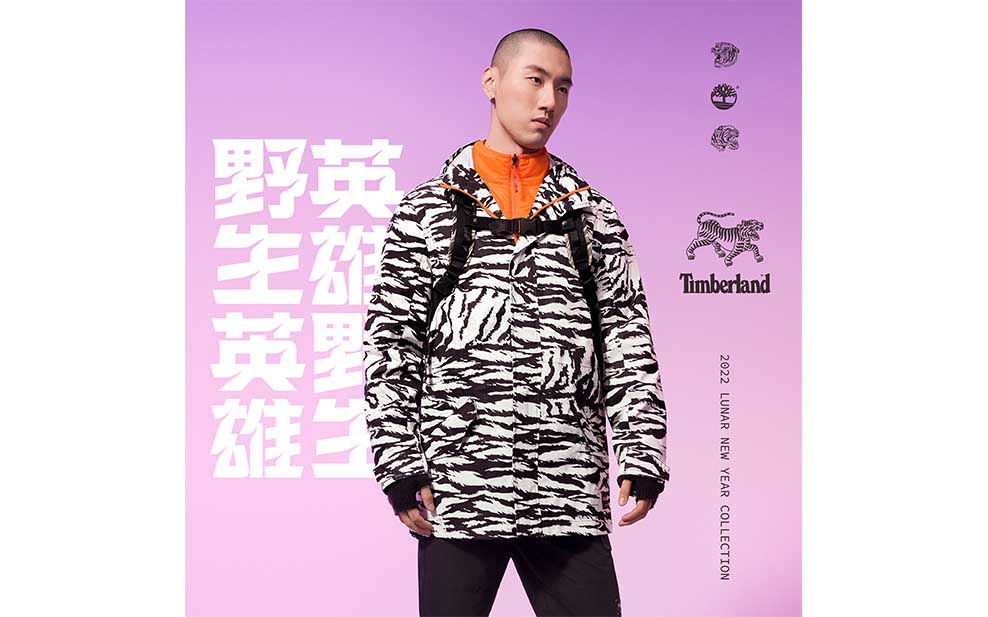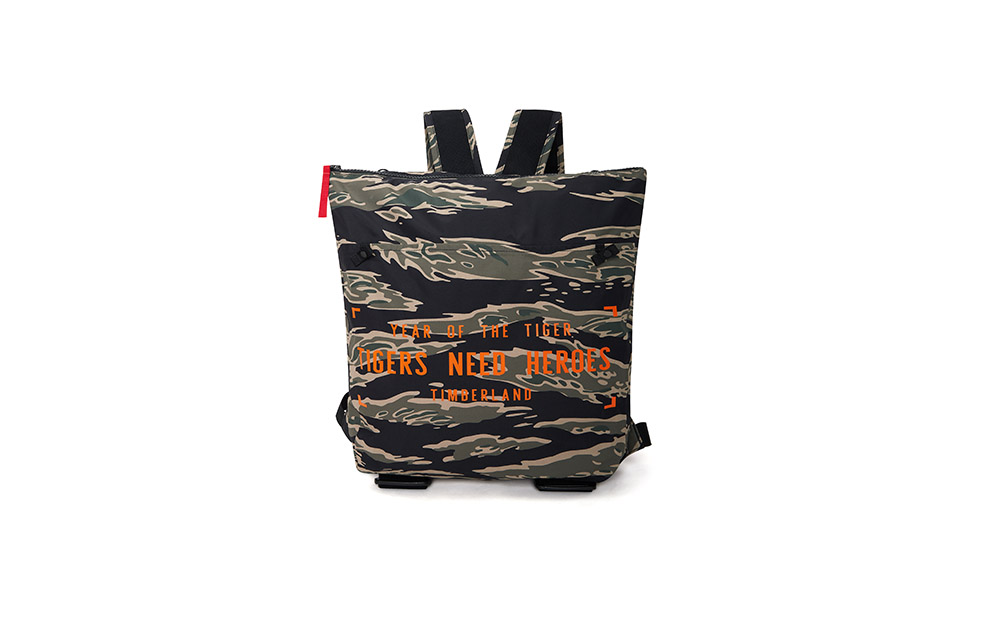 A global outdoor lifestyle brand known especially for its footwear, jackets and accessories; Timberland is a company dedicated to giving back to the planet. It has been involved in over 100 tree-planting activities in Haiti and China –with a goal to plant 50 million trees worldwide by 2025– and aims to make its products nature positive by 2030. As the winner of the Redress Design Award, at Timberland you will find an inclusive team of specialists eager to hear your ideas and help you bring them to life. During your placement, you can expect a great deal of creative liberty and extensive involvement in the process of sourcing of low-impact materials. You will also be challenged to be innovative in your choice of sustainable materials and techniques when producing your own pieces.
Written exclusively for WELL, Magazine Asia by Thomas Gomersall
Thank you for reading this article from WELL, Magazine Asia. #LifeUnfiltered.
Connect with us on social media for daily news, competitions, and more.