My journey started simply – I was looking for healthier options to satisfy my sweet-tooth! Most sweets that we reach for out of convenience at shops or bakeries are ultra-processed foods, high in sugar, salt, saturated fats and additives. Then, I discovered raw desserts – full of nutrient-rich nuts, healthy fats, free of processed ingredients, and lower sugar levels are still absolutely delicious. By making raw desserts I could have something sweet and indulgent that is whole-foods based and much better for my body.
Keep in mind that raw and vegan desserts are still desserts and can be high in calories (whether they contain low-glycemic or slow-release fructose sugars) so don't go replacing your dinners with a whole raw cake in one go! I love raw and vegan desserts because they are more balanced and are the healthiest way to still enjoy something sweet.
I've prepared a special holiday recipe below that fall exactly into the middle ground of indulgent treat while remaining a healthy choice.
So what are you waiting for!? Take desserts into your own hands and see how easy it is to incorporate plant-based options into every aspect of you and your family's diet.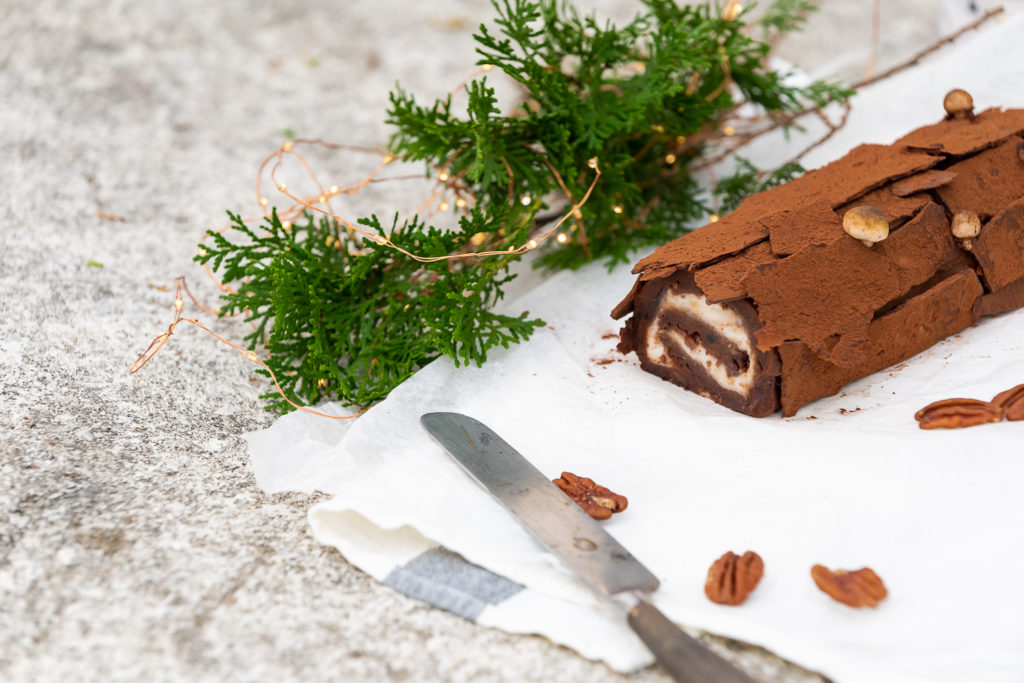 Spiced Chocolate Buche de Noel
Prep: 2 ½ hr
Yield: 8 – 10 slices
Notes of cinnamon, nutmeg and cardamom add subtle and warming spice to this chocolate swiss roll dessert. Plant-based, naturally sweetened, full of healthy fats, fibre and protein from nuts, it is still completely decadent with a balanced cardamom infused cashew cream filling. Encased in dark chocolate shavings and with no added sugar, this is a perfect choice if you like your desserts on the healthier, less sweet side but don't want to compromise on flavour.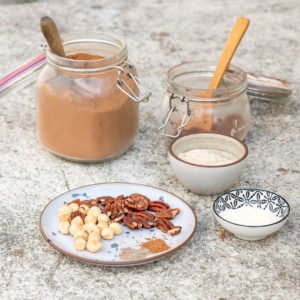 Ingredients
For the base:
1/3 cup ground pecans
2 tbsp ground almonds
2 tbsp ground oats
2 tbsp ground cashews
1 tbsp coconut flour
¼ tsp nutmeg
½ tsp cinnamon
¼ tsp cardamom
¼ tsp salt
4 tbsp unsweetened raw cacao
7-10 medjool dates
2 tbsp water
For the cardamom cream filling:
1 cup coconut cream
4 tbsp cashew cream*
5 tbsp melted cocoa butter (if you cannot find this, use 2 tbsp non-hydrogenated coconut oil but also add 2 tbsp of cornstarch)
1 tsp cardamom
½ tsp vanilla
½ tsp cream of tartar (or egg replacer)
For the chocolate ganache:
½ cup coconut cream
½ cup chopped dark chocolate (70% or higher)
For the chocolate bark:
150 g dark chocolate
Unsweetened raw cacao powder
*heat 2 tbsp of cashews combined with 2 tbsp of coconut cream until just simmering, remove from heat and let set for 10 min.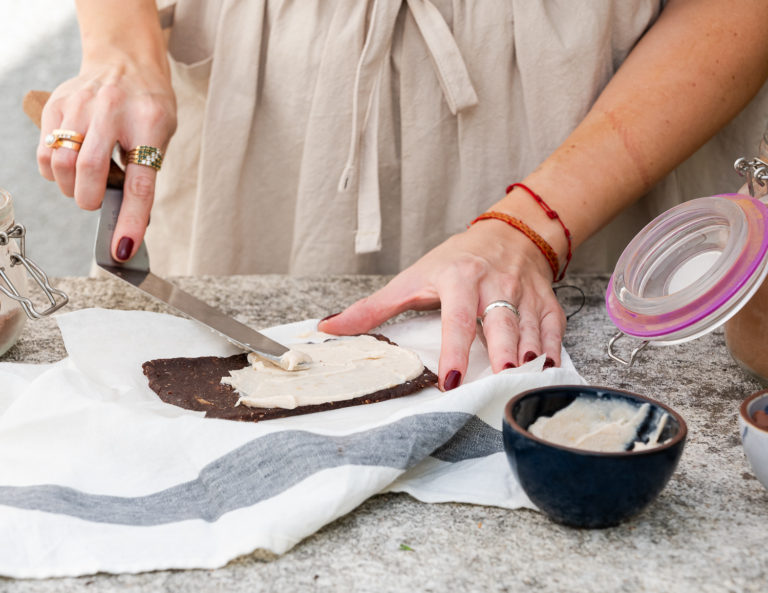 Method
For the cardamom cream:
Roughly chop cocoa butter and place in a bowl.
Heat coconut cream until it reaches boiling point, add the cashew cream and stir to combine. Pour over the cocoa butter and cover bowl. Let sit for 5 min.
Using a whisk, stir the mixture until combined. Add the cardamom, vanilla and cream of tartar.
Cover and let cool completely in the freezer.
For the chocolate bark:
Place ¾ of the chocolate into a pot and melt on medium heat stirring constantly with a spatula, removing chocolate from the bottom and sides of the pot until almost all the chocolate is melted. Remove from heat immediately when at this stage. This will only take maximum 2 min, be very careful not to leave the chocolate on the heat for too long.
With the pot off of the heat – add the remaining chocolate to the pot of melted chocolate, stir using a spatula until melted. Set aside for a minimum of 15 min.
After the chocolate has thickened slightly, use a palette knife, scraper or spatula to spread a very thin layer on parchment paper.
Let set and cool completely before using.
For the base:
Place medjool dates to soak in hot water.
Combine pecans, almonds, oats, cashews and coconut flour in a large bowl using a whisk (if nuts are not already ground, grind all finely before combining). Sift in the cacao, salt, nutmeg, cinnamon and cardamom and combine.
Peel and pit the soaked dates and add to the nut mixture, start with 5, then add more if needed for sweetness and texture.
Add water, combine using your hands, a fork or food processor until the mixture comes together and holds its shape.
Press out onto parchment paper or silicon pad into a rectangular shape. Spread cooled cardamom cream evenly over ¾ of the base.
Begin to roll carefully, using the parchment paper to help in shaping the log.
Remove parchment paper and cover with an even coat of ganache. Place into the freezer for a minimum of 30 min.
Once set, dust chocolate bark with cacao and break off pieces for decoration, cover the log in the bark.
Add any decorations as wanted and enjoy, the chocolate log will keep in the fridge for up to a week and can be frozen for up to 12 days.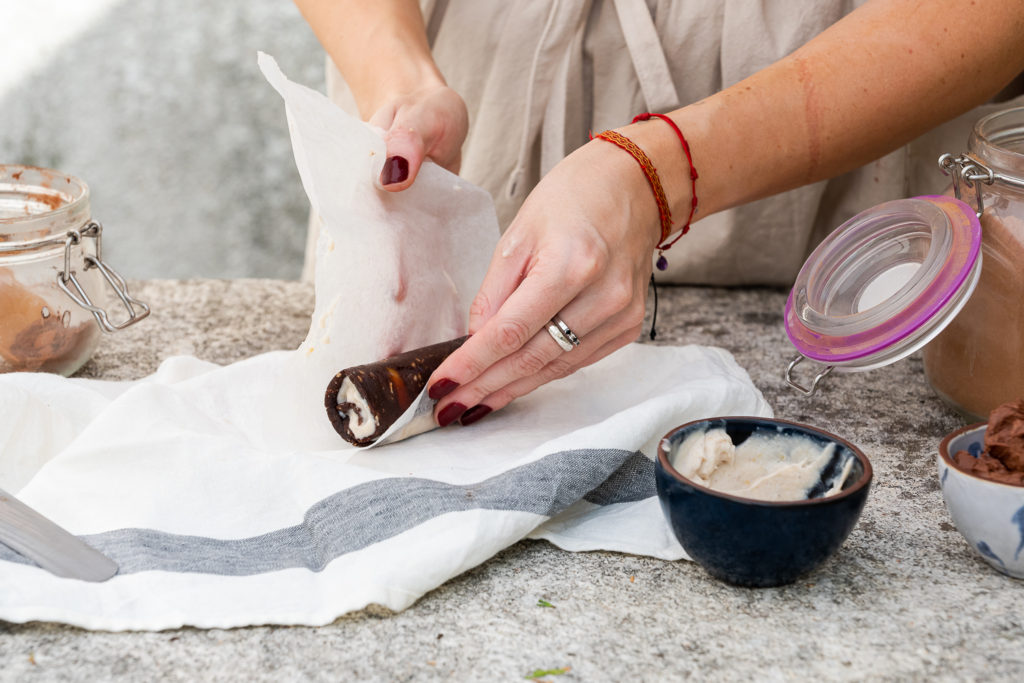 Tips
– Once the chocolate bark has been added, it is easy to customize the decorations for this dessert. Play around with some fondant to create mushrooms, or keep it minimalist by adding a sprinkling of hazelnuts.
– The cream, chocolate and ganache all need to cool completely before using, therefore it is important to start with making these rather than the base.
 Written exclusively for WELL, Magazine Asia by Xaviera Nordstrom
Watch out for more monthly recipes from Raw Bean Bites.

Thank you for reading this article from WELL, Magazine Asia. #LifeUnfiltered.
Connect with us on social for daily news, competitions, and more.