Chinese food is probably not the first thing that comes to mind for many people (or possibly even many vegans) when they think of vegan food, particularly not in Hong Kong. Typically, the foods people are more likely to think of when they think of Chinese cuisine and Cantonese cuisine in particular are sweet and sour pork, char siu or egg-fried rice, all dishes that are completely incompatible with a vegan lifestyle.
But in fact, Chinese food is actually much, much more vegan friendly than many people give it credit for. For all of the emphasis given to its meat-heavy dishes, Chinese cuisine actually includes a wide variety of plant-based ones. The fact that it uses virtually no dairy makes things even easier for vegans, as it means that finding suitable dishes to eat is just a question of knowing which ones don't use eggs. As demand for plant-based meat alternatives has grown, even fan-favourite animal dishes like deep fried squid and char siu buns have been given the vegan treatment.
Despite this, it isn't necessarily easy for the uninitiated to find good vegan Chinese food in Hong Kong, especially given how places that largely serve meat dishes are the more prevalent type of restaurant here. But fear not, in this article we've made it easy for you- with a breakdown of with 6 dish recommendations and the restaurants that serve them so the next time you get a craving for some Chinese food you can head over to these spots to enjoy a delicious (and cruelty free) culinary experience.
Braised Vegetarian Meatballs in Casserole, Kung Tak Lam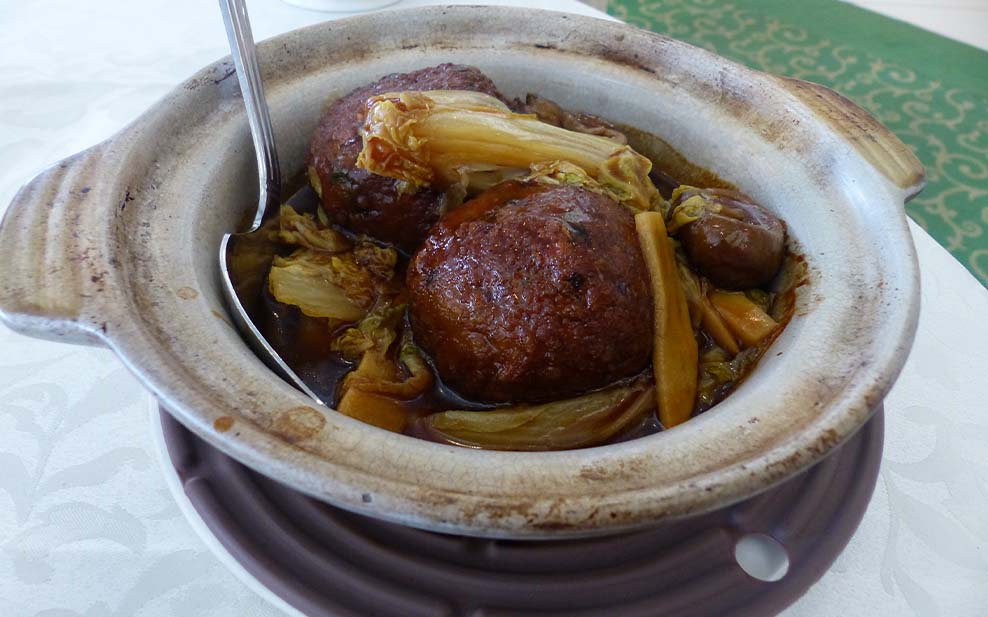 With branches in both Causeway Bay and Tsim Sha Tsui, Kung Tak Lam offers its own unique (and delicious) plant-based takes on traditional Shanghainese dishes from deep-fried crispy eel to sweet and sour fish. As an added bonus, the menu helpfully lists which dishes have egg in them, making it much easier to choose suitable dishes for vegan consumption.
Listed as one of the restaurant's signature dishes, these succulent meatballs –made from a bamboo and vegetable mixture– are stewed in a thick, rich, flavourful sauce alongside plump shiitake mushrooms, crunchy bamboo shoots and Chinese cabbage. Perfectly capturing the texture of real meatballs, these vegetarian (or rather, vegan) ones also contain the added surprise of delicate threads of vegetarian shark's fin laced throughout their insides.
Veggie Meat Siu Mai, Three Virtues Vegetarian Restaurant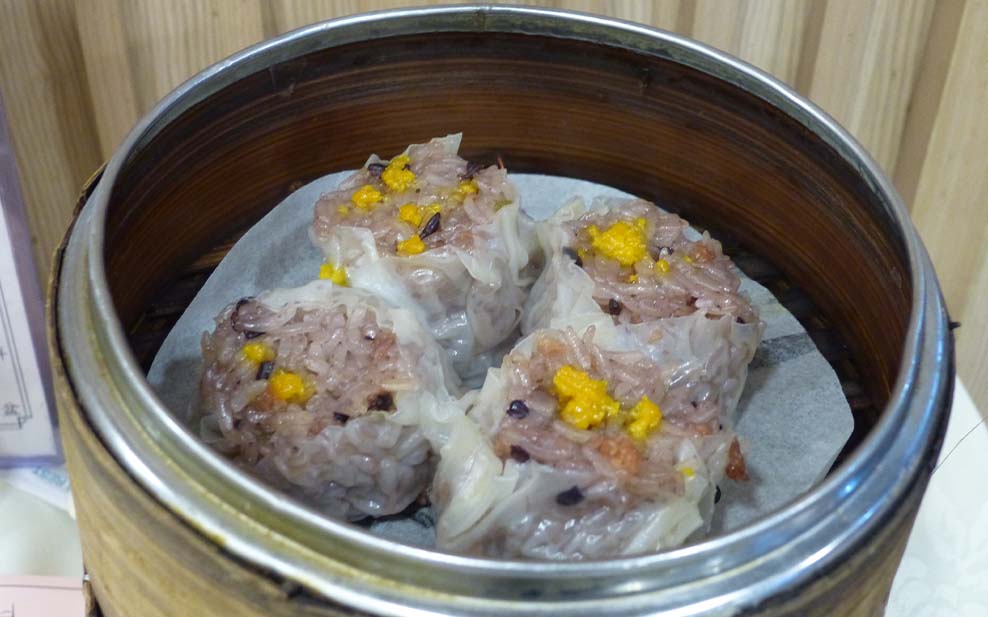 This restaurant in North Point offers a wide range of Guangdong-style dishes, including a very reasonably priced dim sum menu (prices range from HK$19-28 per item) offering many plant-based reinventions of old classics. Those in search of fast food can also grab a quick snack at the takeaway kiosk outside the restaurant's front door.
Those expecting Three Virtues' veggie siu mai to be a close replica of the real thing will unfortunately be disappointed, as veggie meat is only a tiny component of a dish whose main filling is glutinous rice.  But while it doesn't look or even taste very much like conventional siu mai, it is still perfectly decent nonetheless, with a flavour reminiscent of the lotus-leaf-wrapped rice dumplings served at other dim sum restaurants (minus the chicken wings and char siu, obviously).
Vegan Lemon Chicken, Emerald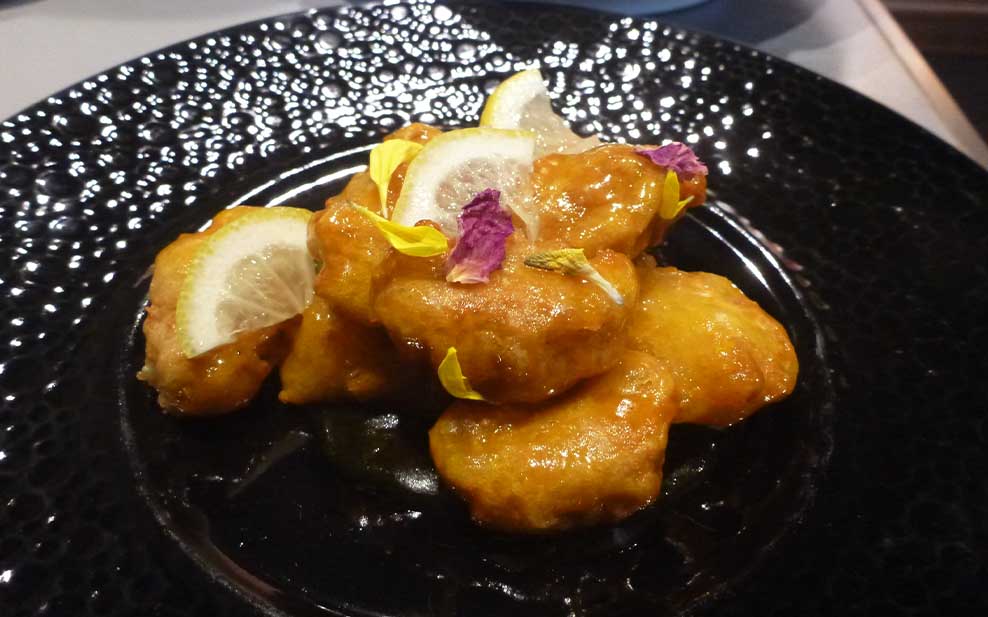 Located on Wellington Street near Exit D of Central MTR station, Emerald is more of a fusion restaurant than a pure Chinese one, offering Western dishes like vegan lamb ratatouille alongside its Chinese ones and even having décor very slightly reminiscent of an American diner. What it does not compromise on however is its plant-based food, offering absolutely nothing with animal products in it. Although it is one of the pricier restaurants on this list (main dishes on the ala-carte menu range from HK$118-148 each), one can also get a very reasonably priced, good-value-for-money meal with its set lunch or lunch-for-two menus, which charge just $128 and $398 for a whole meal, respectively.
One of the favourite Chinese dishes for expats is arguably sticky lemon chicken, and this vegan version is a near perfect replacement. Although its internal texture –made from mushroom-derived 'fake' meat– is more akin to a chicken nugget, it captures everything else about the original dish spot-on, from the crunchy coating of deep-fried batter to the thick, sweet, aromatic lemon sauce.
Barbecued Vegetarian Pork, Green Veggie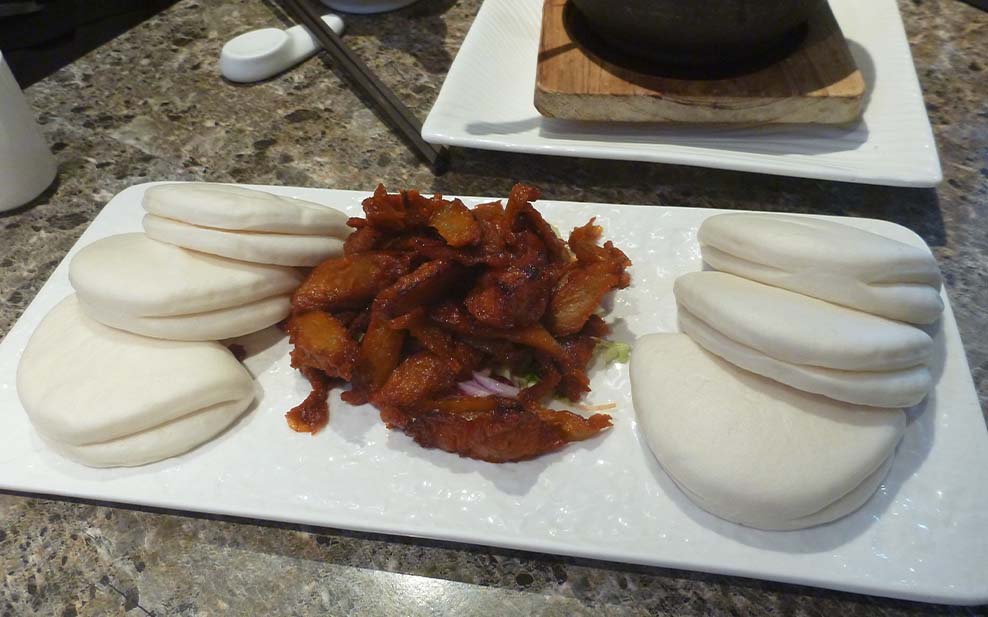 This small restaurant on Jaffe Road in Wan Chai offers plenty of Cantonese-style vegan and vegetarian food. As if their wide selection and the casual atmosphere of the restaurant weren't good enough, customers also have the option to select their food from a buffet as well as from the menu.
Any plant-based reinvention of one of Hong Kong's favourite meats has some very big shoes to fill. Luckily for all but the most fussy, this dish does at least come pretty close. It captures the appearance of real barbecued pork (more commonly known as char siu) almost perfectly, from the redness to the charred, blackened edges. The taste is similar too, though neither it nor the texture are likely to come quite close enough to pleasing devout carnivores.
Braised Beancurd Patty, Chi Lin Vegetarian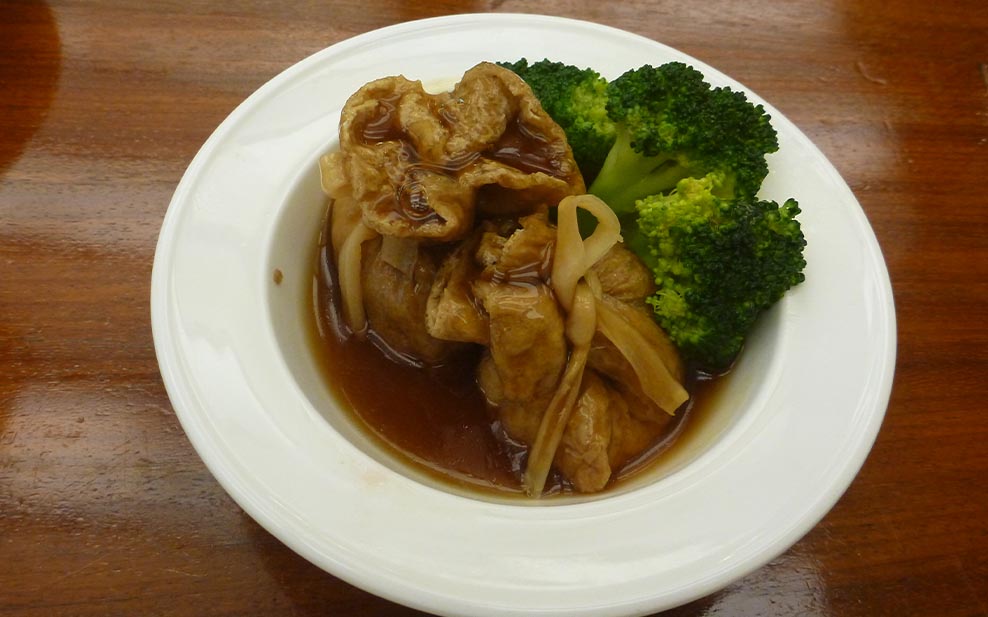 Given how central plant-based eating is to Buddhism, it should not be surprising that one of Hong Kong's best plant-based restaurants is located in the grounds of a Buddhist nunnery. With a calm, pleasant ambience matching that of the nunnery itself, this restaurant also has the unique feature of being built behind a man-made waterfall, which helps one to feel just that little more tranquil and secluded from the outside world.
Many of Chi Lin Vegetarian's dishes are mushroom based and this one is perhaps the most beautifully presented of them all. A parcel of beancurd skin stuffed with a juicy mix of finely diced enoki mushrooms and red peppers, the smoky flavour of the stuffing contrasts well with the thick savoury sauce it comes with. A few steamed broccoli florets on the side bring a welcome plainness to an otherwise very rich dish.
Needless to say, these are just a tiny fraction of the delicious Chinese vegan dishes one can find in Hong Kong. The restaurants listed here alone have so many others to choose from and there are plenty of places like them all over the city.
So next time you hear someone say that they don't know how to eat vegan in Hong Kong, make a point to direct them to your nearest veggie Chinese restaurant as soon as possible.
Do you have tips or suggestions on other great vegan Chinese dishes or restaurants in Hong Kong? Shoot us a message at info@wellmagazineasia.com
Written exclusively for WELL, Magazine Asia by Thomas Gomersall
Thank you for reading this article from WELL, Magazine Asia. #LifeUnfiltered.
Connect with us on social for daily news, competitions, and more.