Imagine this scene… Pristine blue water. Small fish swimming about colourful coral that hugs the coastline. Along the ocean floor, small sharks and crustaceans peruse for their next meal. Further from shore the bottom dips away into deeper waters. Fish of all shapes and sizes swim about. Giant grouper, schools of brightly coloured yellowfin tuna, and even the occasional sea turtle can be easily spotted. Majestic manta rays flap their giant wings, gliding through the water with an airy ease. Being in the water is a diver's dream- a chance to see a wide array of interesting species in their natural habitat.
Such a scene you may place in the Galapagos or some distant island chain untouched by human development. It may come as a surprise, however, that Hong Kong's waters looked like this not so long ago. As recently as the 1950s, the area's waters were a haven for a stunning range of biodiversity.
Unfortunately, like many places in the world, what once was is no longer. Years of commercial fishing, pollution, and human activity have rendered the territories' waters quite barren compared to its fertile past.
The situation for many marine species native to the Greater Bay Area's waters is dire. Almost all sizable species of fish have been decimated. Take, for instance, sharks. There used to be seventeen species of sharks that called Hong Kong's ocean home, ranging from hammerheads to typical reef sharks. The number of species left living today in any reasonable number stands at two. Both species are small and fast-growing; anything larger does not have a chance at survival.
The story of sharks mirrors that of most other species including fish, turtles, dolphins and smaller marine life such as shrimp and crabs. Experts around the world have been sounding the alarm for decades, warning of the dire implications of human inaction to slow the staggering speed of the loss of biodiversity and the warming of our seas. While more people are waking up to the harsh reality of climate change, many fear we aren't doing nearly enough to stave off disaster- the likes of which will cause widespread suffering unseen in modern times, and may even threaten our own survival as a species.
Despite the prevailing negativity, there are a handful of conservation warriors doing their part to focus on solutions to help move humanity in the other direction- working with, not against nature. One of these advocates calling Hong Kong home is Andy Cornish, Leader of the global shark and ray conservation programme with the World Wide Fund for Nature (WWF). Growing up playing and exploring in Hong Kong's natural world, Andy developed a passion for protecting our rich and beautiful backyard. He's seen first-hand the transformation. In over 700 dives around the territory, Andy can speak to the reality of marine life in Hong Kong perhaps better than anyone.
In this WELL, WHO? Feature we share Andy's journey, from a young student collecting snakes and swimming in the waters of Pok Fu Lam reservoir to his current work with the WWF, fighting to conserve sharks and rays around the world. His story personalizes the fight to protect our fragile home and informs us on the context and importance of nature conservation.
Andy's insights also reveal a blueprint for recovery in Hong Kong- one that can transform our waters back into a healthy environment in harmony with its human inhabitants. While the challenge cannot be understated, together Hong Kong's citizens, businesses, and government can change things for the better. Soon enough we may all realize that making a dramatic change in how we treat our waters may in fact be the only way to create long-term health and economic stability. As Andy's efforts illuminate, the task at hand is not easy. But if we commit and collectively make a concerted effort, we can begin to restore the natural balance in our seas. If you need any extra motivation, all you have to do is close your eyes and imagine our wondrous Hong Kong sea, filled with life again.
Raised in Hong Kong's outdoors
Andy Cornish arrived in Hong Kong when he was two years old. His father, an electrical engineer, had taken a position at University of Hong Kong, and the family followed. His father's job was to design and build machines for various university departments. During his tenure he produced many interesting products, including a limb lengthening contraption, a kidney dialysis machine, and an electronic wave tank meant to simulate tidal conditions for a professor studying fiddler crabs. "He did some weird and wonderful stuff," Andy reminisces.
Apart from spending time in the school community and at the church his family regularly attended (the since demolished Union Church on Kennedy Road), Andy was usually found outside exploring nature around the university-provided apartments on Pok Fu Lam road. After school each day, he would throw his stuff down and run with his friends to the neighbouring reservoir, spending countless hours searching for strange insects, overturning rocks to look for snakes, and occasionally taking a swim to cool off.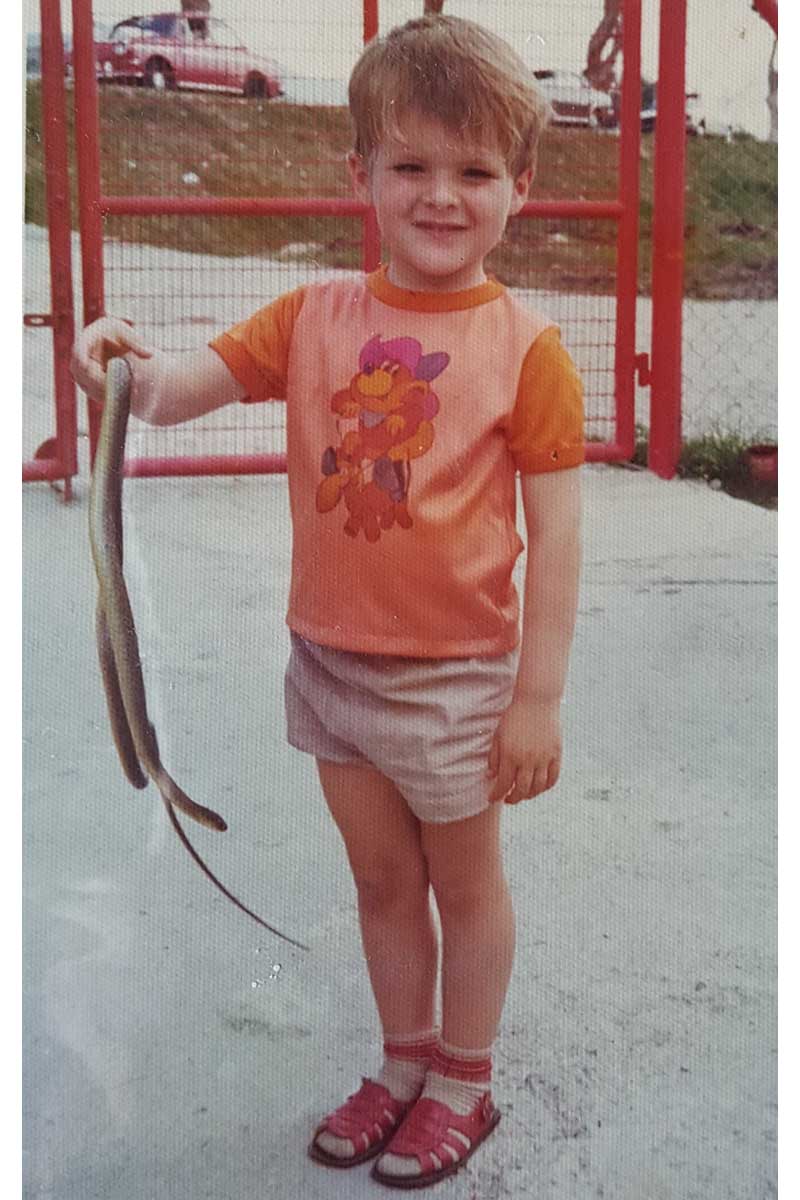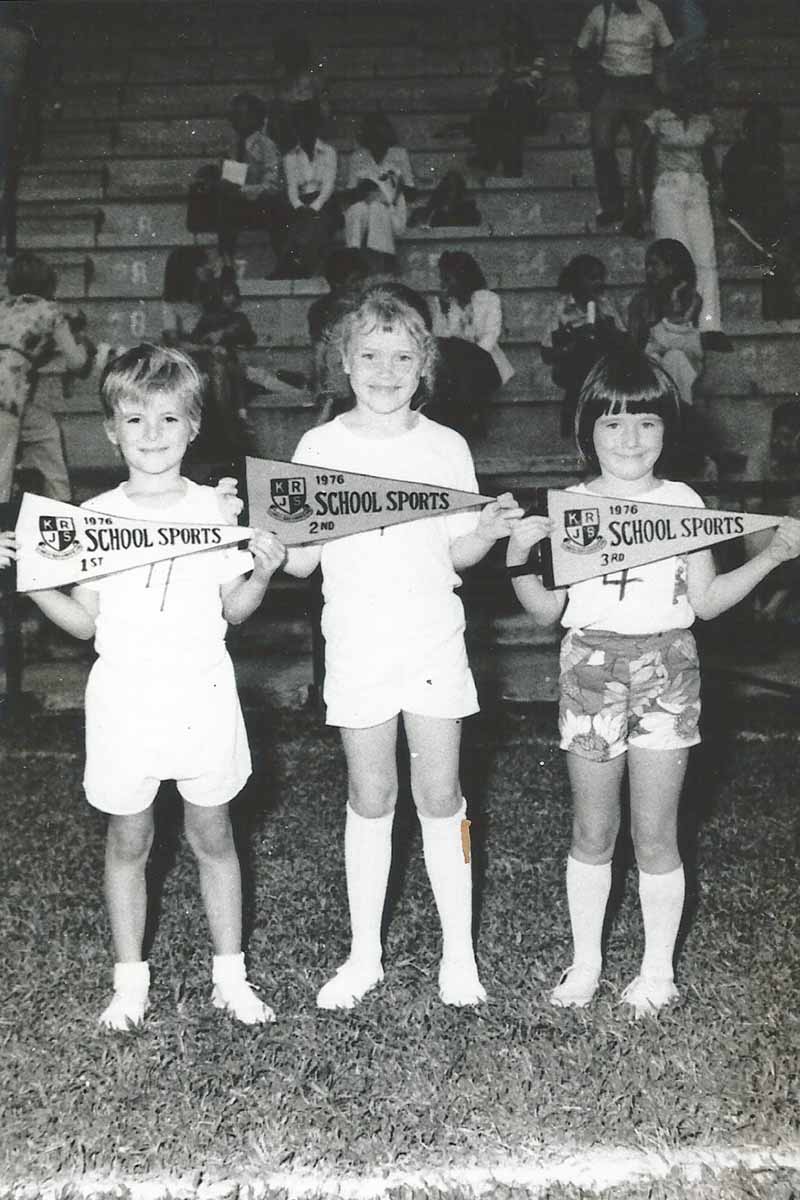 "This [Pok Fu Lam] reservoir and the surrounding country park is undoubtably the reason I became so interested in animals and eventually ended up working professionally in nature conservation."
Andy's passion for being outside continued throughout his schooling. He proved himself an adept sportsman, playing football and rugby for the school teams. Upon graduation Andy knew he wanted to live an active lifestyle and discover more in nature.
For that reason, prior to attending university in the UK, Andy decided to apply to a program called Operation Raleigh, a social and scientific initiative in partnership with the UK government, established to conduct research and build infrastructure projects in underdeveloped nations.
Andy joined students from around the world in Cameroon, spending three months "roughing it" and working with the local communities. "People had very simple lives, to a certain extent-living off the land," Andy remembers. "It was amazing. We spent most of the time in Korup National Park, which is one of the oldest bits of rainforest in the world." In addition to helping the community by building a 100-meter-long suspension bridge over a raging river, Andy and his cohorts spent their time conducting research on the local wildlife. "We would do surveys up Mount Cameroon. I remember we would get the generator fired up and put lights up at night. Moths would be attracted to the light and fly over, we would collect them all and catalogue them to send back to London for studying," he recalls.
Upon completion of the program, Andy attended school at the University of Nottingham in the UK, focusing on zoology. "At the time they didn't have the specialities in natural sciences that they do today."  While he loved the coursework, the problem was finding a useful way to apply his passion to make a living. "I managed to finish my degree in a recession, in a country with more nature lovers per capita than any others." Andy remembers.
To save money while figuring out what was next, Andy worked at a local UK supermarket. After about a year of working and saving money, he had the urge to get back out into nature. He and a friend pooled their resources and organized a trip to see wildlife in Central America.
The trip further opened his eyes to the beauty of the natural world. "Costa Rica has phenomenal wildlife. You look around and you're like oh my god there's a sloth, there's a parrot, there's a boa constrictor," comments Andy. Among other experiences, such as sailing the Panama Canal, perhaps the most fateful part of the trip was hearing from fellow travellers about their amazing (and cheap) experience diving off the coast of Honduras.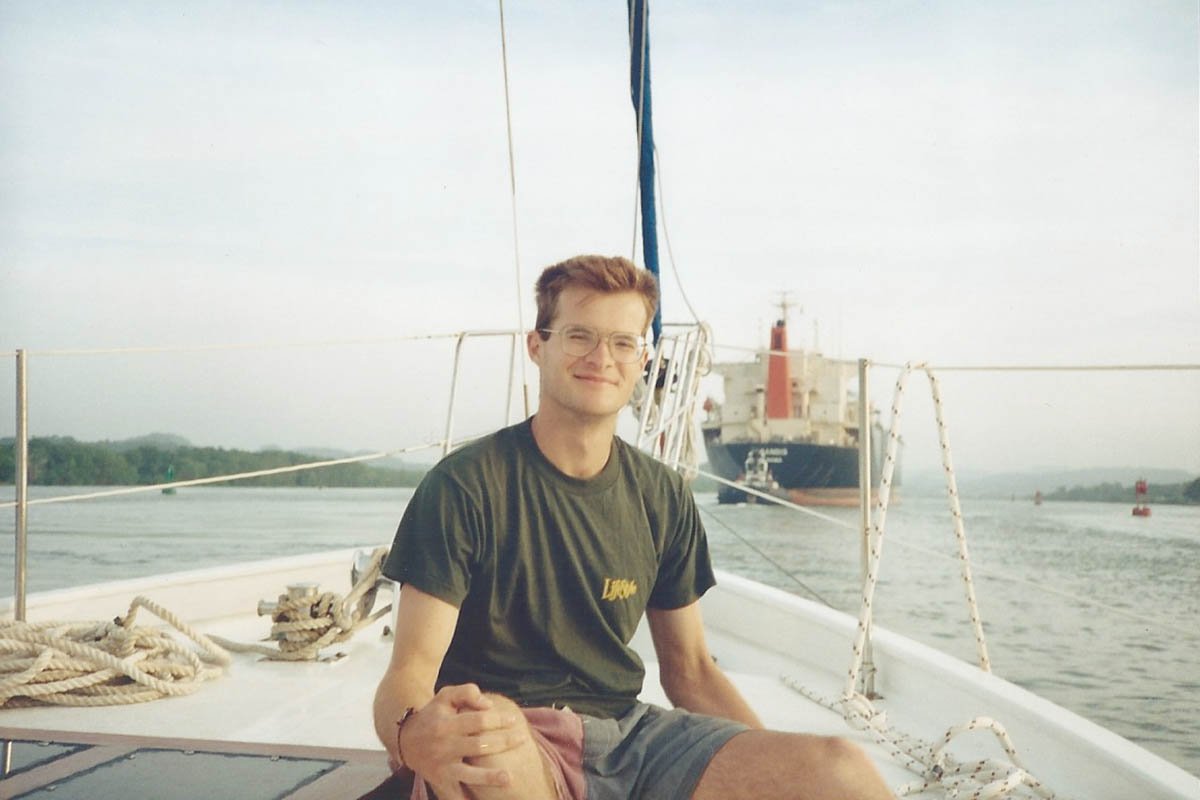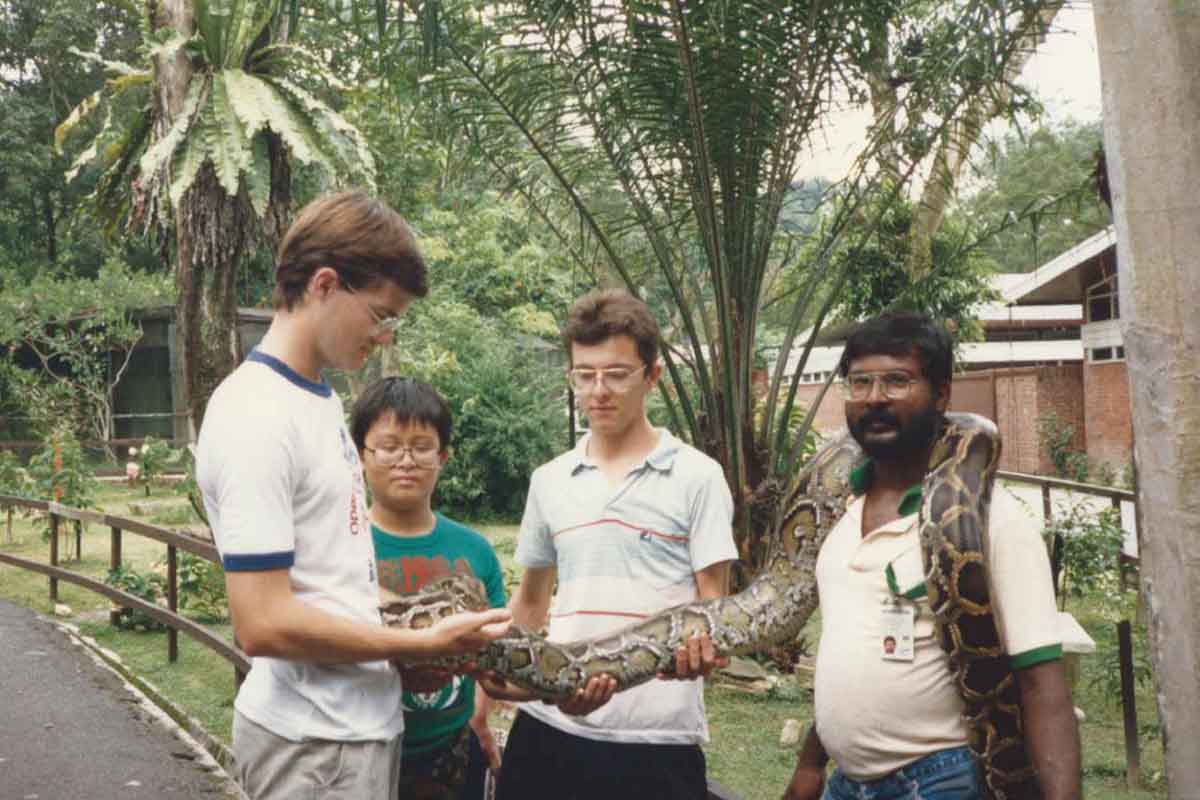 "The reason why that trip really influenced my career is learning how to dive. I totally fell hook, line, and sinker in love with being in the water."
Upon completion of his trip and return to bagging groceries in the UK, Andy saved up enough money to move back to Hong Kong and search for an opportunity in nature conservation. Shortly after arriving back in the city he came across the type of opportunity that was in perfect alignment with his passions and skillset.
"Somebody faxed me an ad for two fully-funded PhDs to study the corals and fish in Hong Kong. I never would have applied if I didn't know how to dive."
Andy was accepted to the program and tasked with cataloguing Hong Kong's reef fishes. As fate would have it, Andy's research began after the summer of 1995, when a few rogue tiger sharks wandered into Hong Kong's waters and attacked three unsuspecting swimmers. Despite the rare occurrence of the attacks, Andy and his crew admitted to being a bit spooked to get in the water just a stone's throw away from where attacks had taken place. One time in particular was especially harrowing. While diving just offshore, Andy heard the alarm underwater alerting his team of a nearby shark. After a furious swim to the shore, Andy looked back at the boat. "I remember the captain yelling to me 'just testing!' …If I we were close, I would have punched him," Andy remembers with a laugh.
It is telling that in over 700 dives in Hong Kong, only once has Andy come across a shark of any size – a lone, small bamboo shark nestled on the ocean floor. While he encountered a number of beautiful and rare fish, especially during the warm summer months when tropical fish venture temporarily into Hong Kong waters, most of the large fish and sharks usually present in healthy waters were nowhere to be found.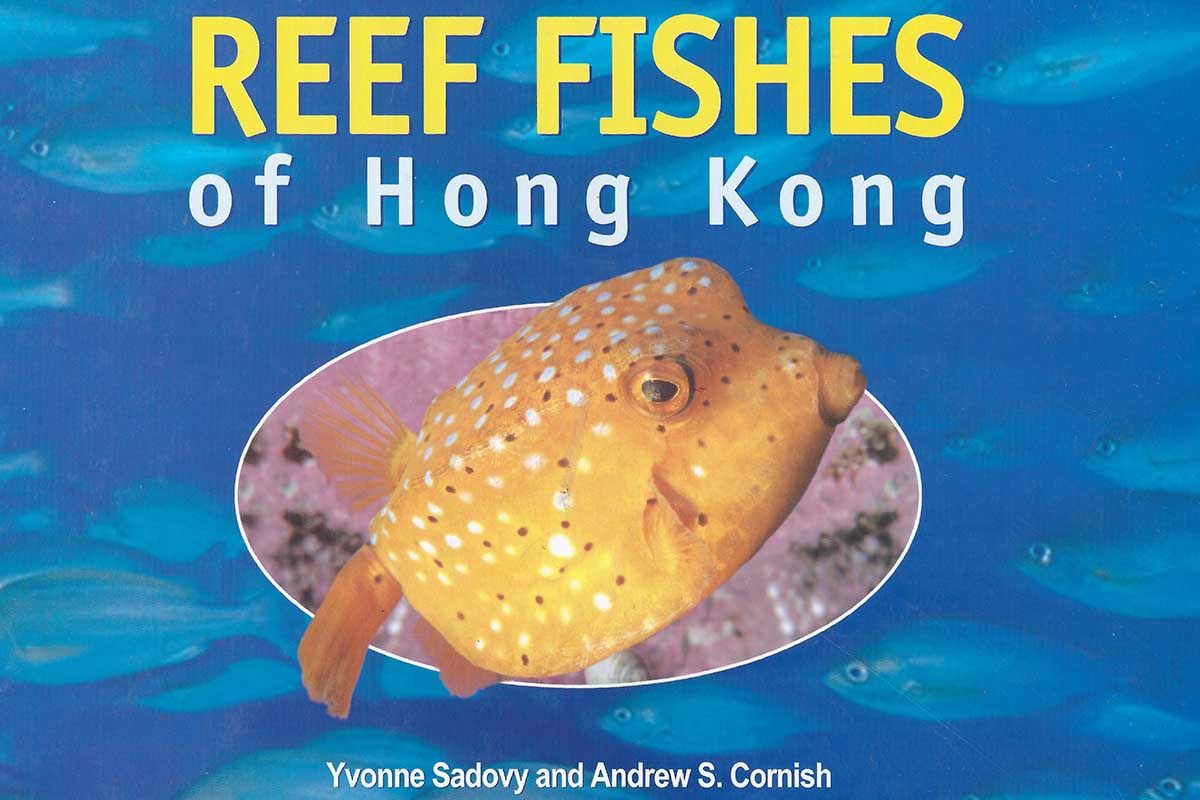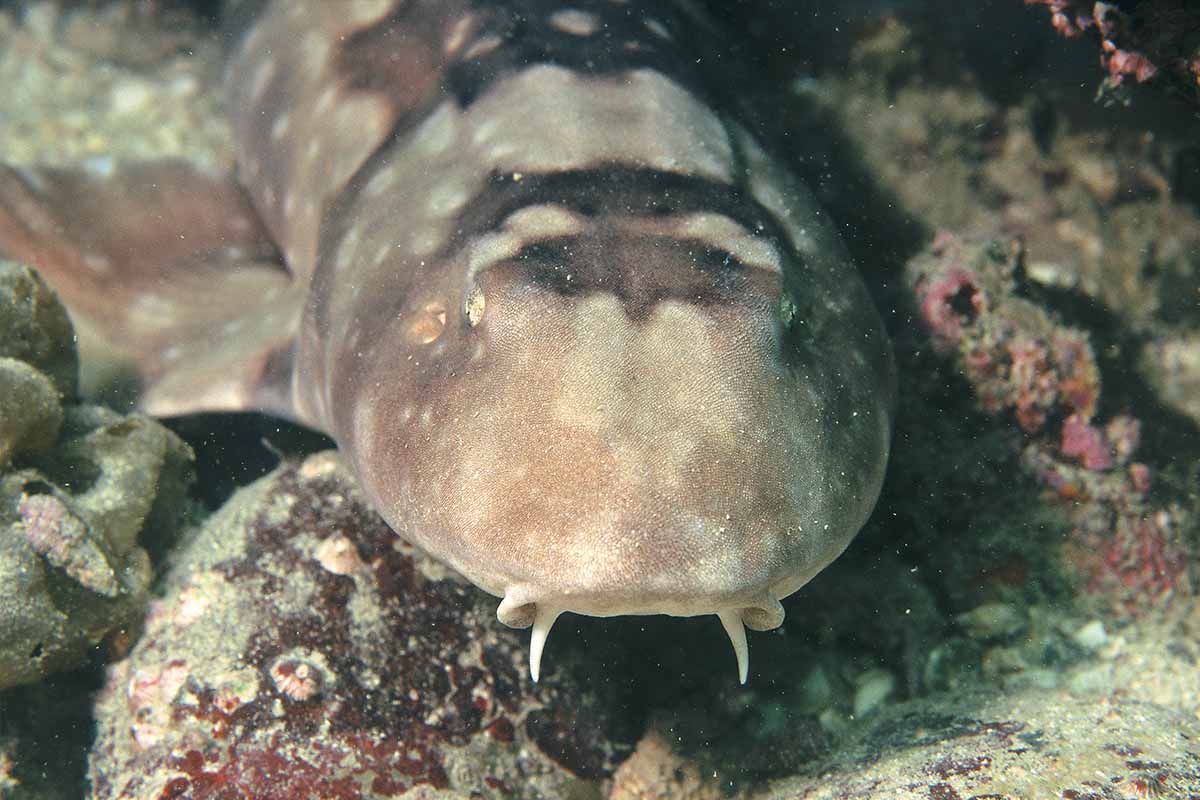 After two years of intensive research, Andy produced a field guide to the reef fishes he surveyed- a publication that is still widely used for researchers and ocean enthusiasts today. While many scientists often venture into more lucrative career paths after obtaining their PhD, Andy's passion was protecting the amazing marine life he now had an even deeper understanding of. "I was determined to stay in the field," Andy remembers.
After a stint spent in American Samoa working for the government on coral reef management, Andy returned to Hong Kong to take a teaching role at his alma mater. Over the four years he spent lecturing, Andy established himself in the marine biology and conservation community. He was invited to join a scientific advisory committee regularly hosted by WWF. During these talks, WWF was impressed with Andy's technical understanding of marine ecology. "I was quite vocal in the meetings about some things that needed changing. Later on, I was invited by the CEO to join full time," Andy quips.
Upon joining the non-profit Andy immediately filled the open position of Conservation Director of WWF-Hong Kong, a post which he would hold for seven years. In that role, his remit spanned management of the Mai Po Nature Reserve, terrestrial and marine conservation, and climate change. Andy was heavily involved in quite a few notable achievements – the most impactful to marine conservation being the ban on trawling within Hong Kong's waters in 2012. The team size in Hong Kong and southern China doubled under his steady watch.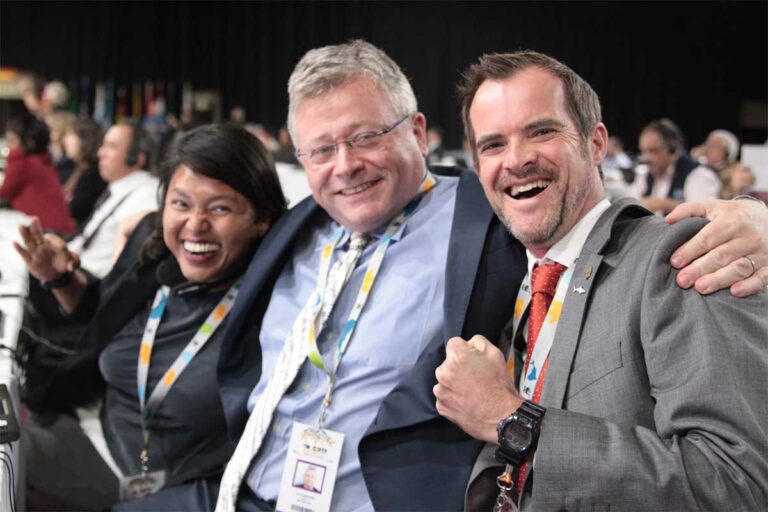 After seven years at the helm, Andy was compelled to diversify his reach within the conservation field and stepped down to become an independent environmental consultant. The decision allowed him to engage in interesting projects across Asia. It also allowed him more time to travel on his own and to pursue his growing affinity for underwater photography- especially the thrilling experience of capturing images of sharks. "Swimming with sharks is one of the best thrills you can get. They are great fun to photograph." His favourite experience was diving with oceanic whitetip sharks in the Red Sea. "They are super curious, come right up to you…fantastic for photographing and they are a proper shark."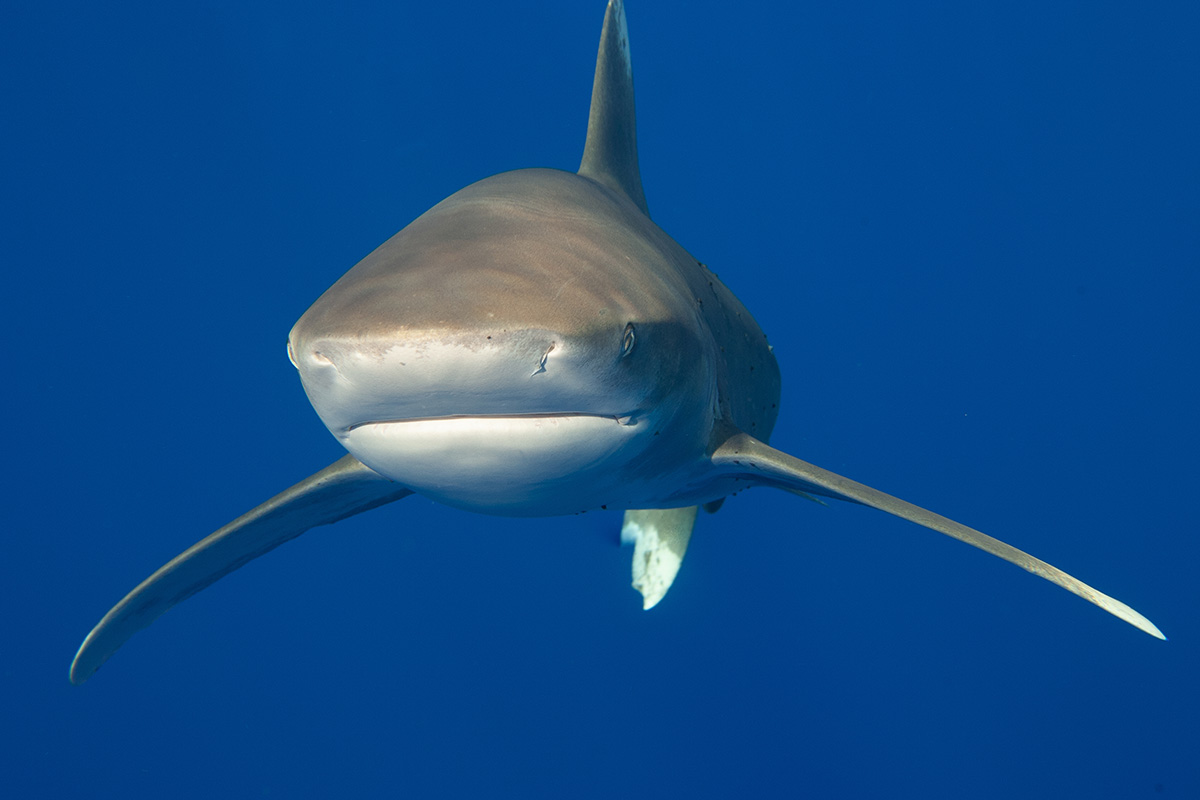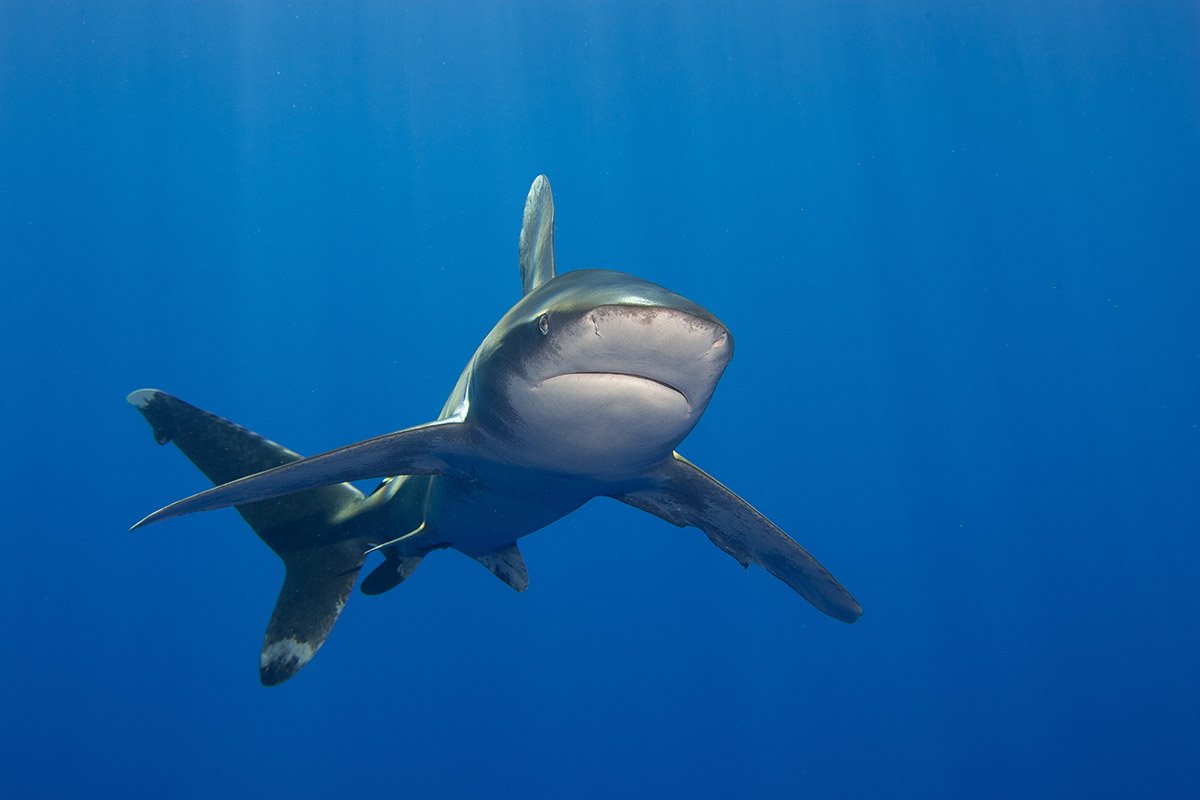 After a short time working on a variety of freelance projects, he was drawn to a new position at WWF. The job offered the chance to run a program specific to shark and ray conservation on a global scale. "I went from conservation director with a small territory but a very wide remit to a very focused area (of sharks and rays), but global in scale. That was a very good juxtaposition."
The new position gave Andy a chance to integrate his passion for sharks with his day-to-day work. Getting a chance to make a difference was especially important given the dire circumstances of shark and ray populations around the world.
"There are around 1,200 species of sharks and rays. Of those, 165 are endangered, including 68 that are critically endangered – just one step away from extinction. We need to be very, very careful," Andy warns.
Sharks are under tremendous pressure for a variety of reasons. The biggest culprit is the catastrophic scale of industrial fishing, where mile-long nets catch sharks at a staggering rate. It's estimated that every year humans are killing up to 100 million sharks. There is an indifference to sharks due to the popularized fear of attacks. "It's ridiculous. There are more than 500 species of sharks, and fewer than ten are dangerous to humans. The average shark is no more dangerous than a domestic dog." In fact, while humans destroy an ungodly number of sharks a year, the annual number of humans killed by sharks globally averages around four. "The reputation they have is undoubtedly a big hindrance to conservation," Andy comments.  
Despite the misconceptions about sharks, these animals play a vital role in a healthy eco-system. Without sharks and other larger fish, other species can overpopulate, which can cause imbalances throughout the food chain. Andy points out the imbalance is evident in Hong Kong's environment. "In Hong Kong we have an infestation of sea urchins because none of their natural predators exist." When sea urchins overpopulate, they can end up killing corals crucial to the survival of other fish species. Their natural predators, the Blackspot tuskfish, have been decimated by overfishing. The high price a tuskfish fetches at any local fish market or restaurant does not help their cause.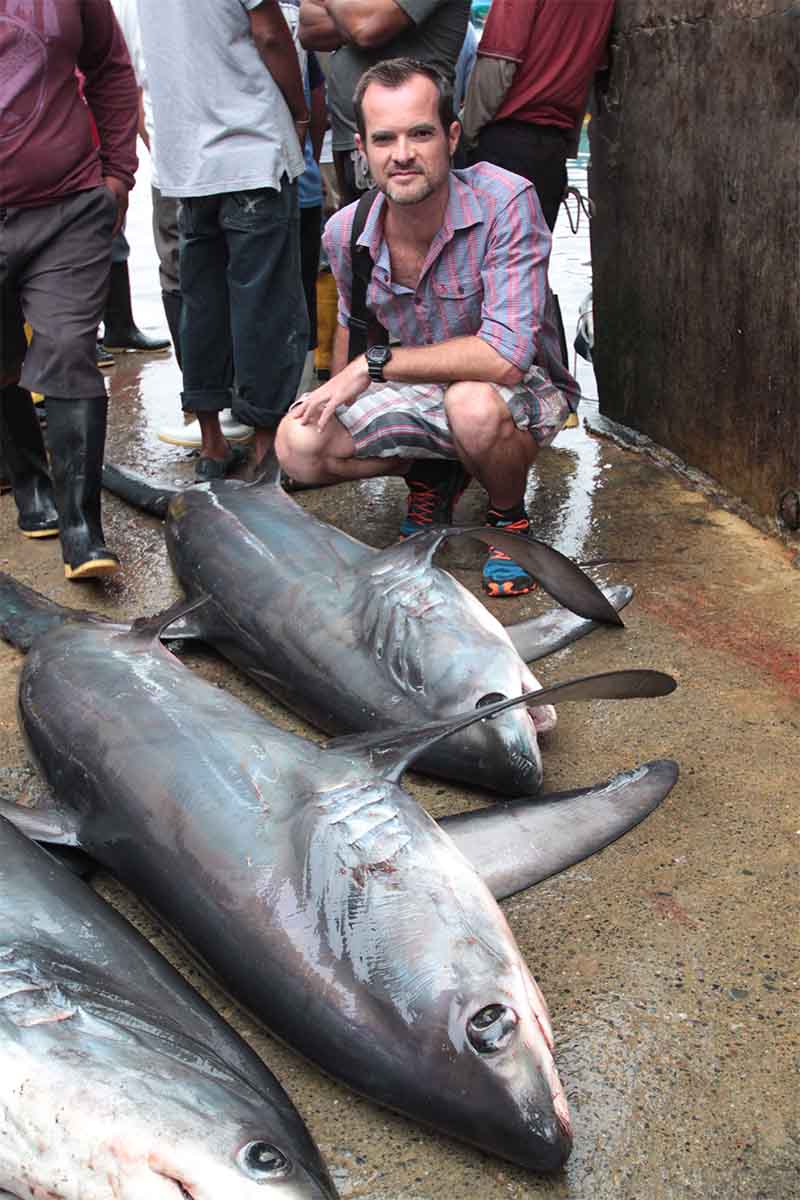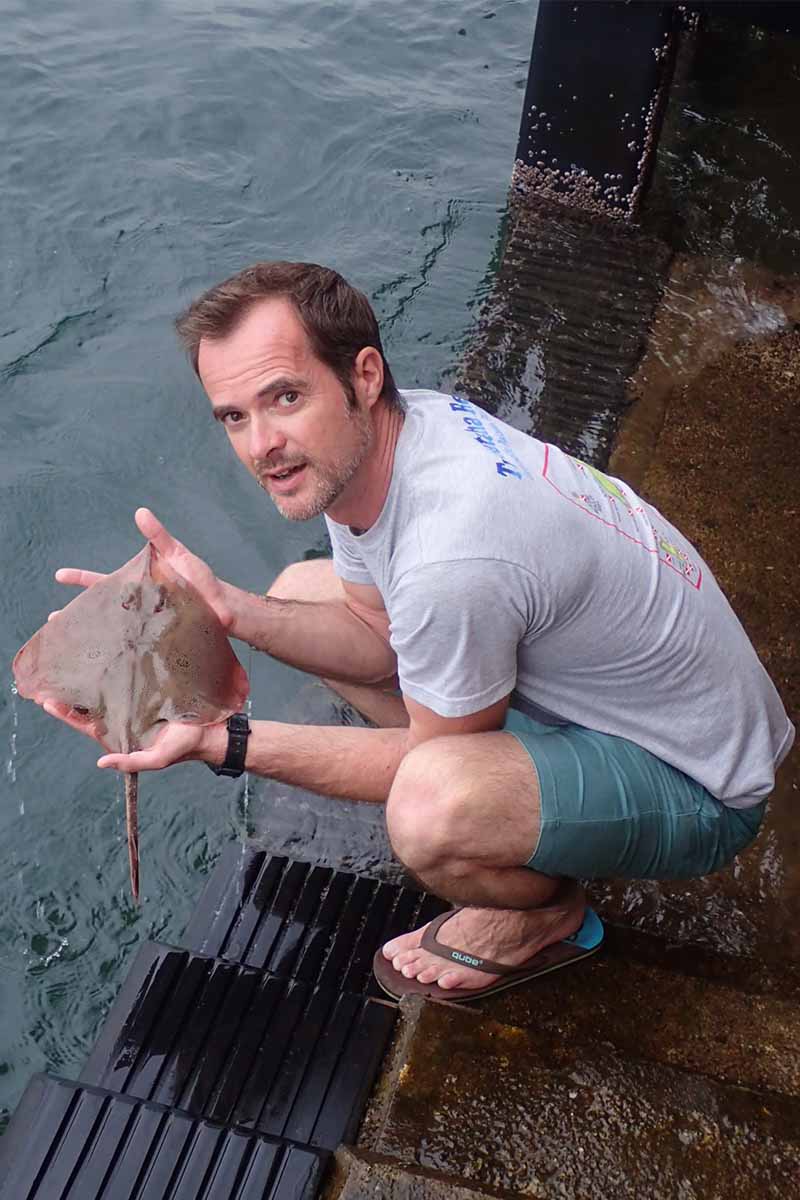 Given the interconnected nature of the ecosystem, making any reasonable progress to restore balance in our oceans is a tall task. To the naked eye, Hong Kong's marine life today may look relatively healthy, but people only think as much because they have not personally witnessed how rich the past was. The shifting standards of what is "normal" causes humans to accept less-than-ideal conditions and overlook warning signs until it's too late. In addition, unlike on land, most of the tragic changes in the ocean cannot be seen. "In a number of ways, we are losing the war. You have to have pretty thick skin. But when you get some wins there is nothing more satisfying."
Two "wins" that Andy and other likeminded conservationists have achieved over the years show how, with coordinated effort, it is possible to slowly move the needle in the other direction. The aforementioned ban on trawling in Hong Kong has resulted in a slow but steady recovery of marine life in Hong Kong's waters. "Generally, due to that change in policy, Hong Kong's waters are improving," Andy says hopefully. Since the policy's enactment, over 400 trawling boats have either stopped operations or moved into other waters. The second, more recent, achievement is the inclusion of more than 30 sharks and rays in the Convention on International Trade in Endangered Species of Wild Fauna and Flora (CITES) in which countries around the world have agreed on controls in the international trade for many shark and ray species not previously protected.
Andy emphasizes that global communication is crucial for making any significant steps in conservation. Take for instance the shark fin trade – one of the major demands driving the overfishing of sharks. "Hong Kong is the largest trading centre for shark fin; 40% of the global supply of shark fin passes through or is consumed here. By looking at Hong Kong you can get a good snapshot for who is exporting shark fin," Andy points out. On one occasion one of the WWF team realised that Hong Kong was still importing fins from India, which had an export ban in place – valuable information on illegal trade that was shared with the Indian authorities. 
Even with global coordination efforts to prevent overfishing and limit the shark fin trade, the situation is still perilous. But there are indicators of hope for Hong Kong.
"The primary use of Hong Kong waters is shifting from fishing (and shipping of course) to recreation…. For the first time in our lives, you could make an economic argument for not fishing."
Traditional fishing businesses are struggling- there simply are not enough fish left in the sea to turn a profit. To combat going out of business, many fishing outfits have shifted to providing recreation experiences. With virus restrictions limiting indoor activities, Hong Kongers have flocked to the city's nature parks in record numbers. "That's one of the things that makes Hong Kong a world city. You can be in the Central business district and get to a nice beach within thirty minutes," Andy points out.
Building on the momentum for nature appreciation in Hong Kong is crucial aspect of conservation. Andy points out the success of the Geoparks as a prime example of the economy shifting towards eco-tourism. "One of the amazing things we can look to is the Geoparks… If you go to Sai Kung town now you see a lot of mom-and-pop tourist places popping up all over the place… they even have names for the rock formations around the area."
Places like Sai Kung give hope that eco-tourism can continue to grow and replace traditional fishing and shipping businesses. An essential next step, however, is for the government to establish more marine sanctuaries. Even though there are several marine parks, designated "protected" areas, commercial fishing is still permitted by license holders, hindering any meaningful recovery of fish populations. "There are essentially no limits on non-trawling types of fishing, throughout the territory. It's far too easy to overfish in Hong Kong," Andy explains.
We can all do our part to help apply more pressure on the government and businesses to be more responsible. In order for the eco-tourism and water sports markets (such as kitesurfing, wakeboarding, paddle boarding, diving, etc.) to continue to grow, we must have clean waters and more marine life to see.
On an individual level, marine conservation is a bit trickier than work on land. Getting involved in beach clean-ups is of course an easy way to make a small difference. Even more impactful is supporting initiatives that focus on the clean-up of "ghost nets." In a horror-inducing statistic, it is estimated that discarded fishing gear makes up a majority of the plastic pollution in the ocean and contributes the most harm to marine habitats. Removing nets that marine life gets tangled up in around Hong Kong can make a big difference.
Another solution, which for many is perhaps a harder pill to swallow, is to reduce eating seafood. Luckily, there are a number of plant-based seafood alternatives in stores around Hong Kong where people can get their seafood fix without hurting the environment (check out Green Common). Given alarming reports of toxin levels in seafood, abstaining from seafood could also limit your exposure to harmful pollutants. 
As it relates to sharks in particular, curbing demand for shark fin is critical. In addition to combating the prevalence of shark fin soup, we must also think more broadly about what we can do to help shark populations. Andy points out that many of the cheap tuna fish you find in supermarkets in Hong Kong is not sourced sustainably, and results in the highest incidence of shark bycatch. That's why Andy, like many other experts, suggest studying WWF's sustainable fishing guide prior to purchasing fish from a supermarket or restaurant. It's important that each of us researches credible scientific publications (if the research is funded by industrial fishing you can put it aside).
Adding conservation into the curriculum of school children goes a long way to help educate the city's future business and government leaders. "I'm amazed at the level of environmental education in Hong Kong compared to when I was growing up, which was zero," says Andy.
Andy and his global team at WWF are hopeful that through education, and by shifting policy and business practices, larger fish including species of sharks and rays can start to return to Hong Kong waters within the next five to ten years. The recent sightings of dolphins and whale sharks in Sai Kung give many enthusiasts hope that perhaps we are slowly turning the tide.
But without more concerted efforts, such sightings will remain aberrations. It is certainly compelling that Hong Kong can further boosts its brand by embracing water recreation and marine conservation. But perhaps even more compelling is to think of what the city will look like if things don't change…
It's a frightful scenario indeed- one where future generations live less healthy and happy lives. One thing is for sure: Hong Kong needs to embrace leaders like Andy Cornish and get behind efforts to transform the way we live together with our surrounding waters. There is no doubt his passion will continue forward regardless of outside factors. It's up to each and every one of us to join Andy and be the wave of change to propel our city forward into a more sustainable future. The survival of sharks, rays (and yes, even humans) depend on it.
Finally, here are a few quickfire questions and answers to help you get to know Andy better. We asked him to say the first thing that came to mind when we said the following words. His Reponses are in italics.
WWF                      Panda
Success                  Fatherhood
Diving                    Photography
Passion                  Nissa (my wife)
Hope                     Benjamin (my son)
Future                   Mars (with the recent landing)
Purpose                Saving the planet
HK                        Change
Panama Canal      Awesome
Snakes                  Burmese Python
Fatherhood          Amazing journey
Home                   Mui Wo
Favourite Shark    Oceanic Whitetip
To read more WHO? Exclusives with inspiring leaders click here.
Written exclusively for WELL, Magazine Asia by Jackson Kelleher
Thank you for reading this article from WELL, Magazine Asia. #LifeUnfiltered.
Connect with us on social for daily news, competitions, and more.