If you haven't heard of David Yeung, it's about time you have. David's meteoric rise in the food industry has been supercharged by two recent announcements- his company's inclusion in the "Change the World List" curated by Fortune, and the successful raising of 70 million USD in funding led by financial giants TPG's The Rise Fund and Swire. Just eight years ago, David co-founded Green Monday, a company with a mission to create a movement around vegetarianism in Hong Kong by encouraging people to skip eating meat on Mondays. A once a fledgling start-up, Green Monday is now a juggernaut with multiple business lines, including a retail outlet chain and distribution platform, Green Common, an investment arm, Green Monday Ventures, and an innovative product of its own, OmniFoods.
In this WELL, WHO profile we dive deeper into David's personal journey; from his upbringing in Hong Kong and education in the US, to his inspirations and goals for the future. His inspiring story stands in stark contrast to tales of cooperate greed and maleficence crippling our economies and damaging the world in the process. David, with his steadfast positivity and forward-thinking philosophy, may hold the key for re-calibrating what it means to be a successful business leader of the future- not just working for personal interests, but instead working for the interests of each other and our planet.
The roots of David's empathetic and altruistic spirit run deep into his upbringing in Hong Kong. From a young age David was influenced by his family's adherence to Buddhist tradition. In particular, he discovered early on that he was deeply affected by Buddhism's principle teaching of compassion.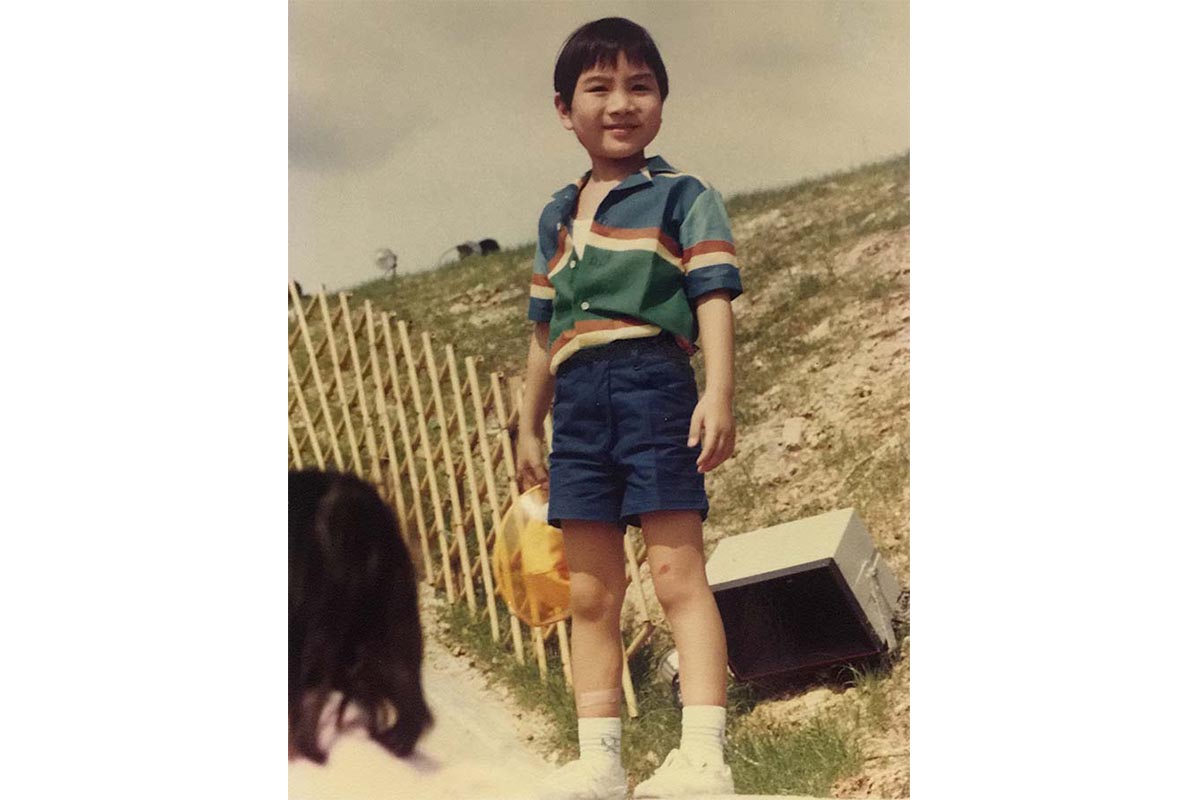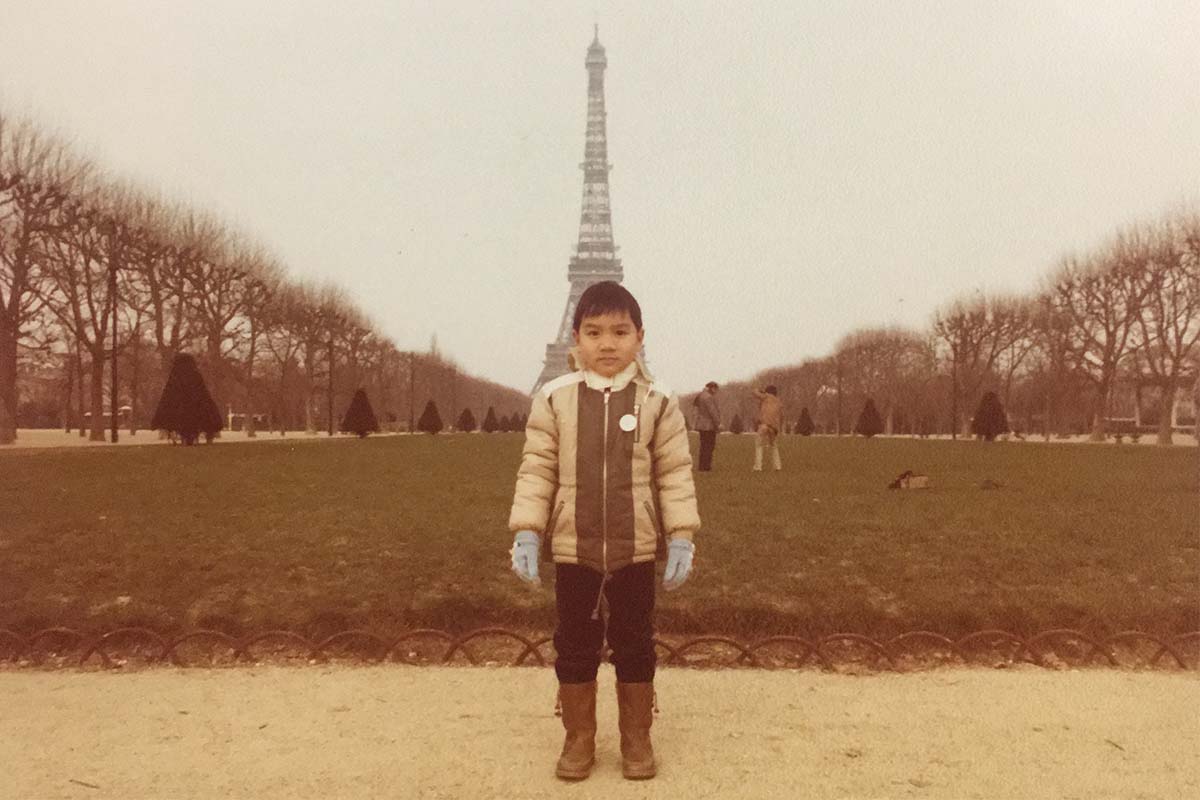 At the age of six or seven, and after joining his mother on one of her frequent trips to the wet market, images of fresh fish dying slowly in their tanks and meat hung from hooks around butcher stalls burned into his conscience. So much so, he resolved to never set foot in a wet market again. At the age of eleven, David remembered he had a traumatic experience when his family would pressure him to have dim sum made out of meats..
"I was never good with fish or meat, particularly when it comes to meat with a lot of bones. I have zero talent for picking out the bones."
During one family dining occasion meal, a family member coerced  young David into eating a "fung zaau," the well-known dim sum delicacy of chicken feet. After succumbing to the pressure, he popped the foot into his mouth. Overwhelmed with disgust he promptly spat it out and ran to the bathroom to throw up. His family never asked him to try food he didn't want to eat again…
At the age of sixteen David ventured to the US to complete his schooling and join his father, a successful businessman in the fashion industry. After graduating from high school, David attended Columbia University in New York. Upon graduation, David found a job working for PWC consulting and later tried his hand with a software start-up.
In his free time David dove into Zen Buddhism, intrigued to learn more about the subtle pull in the background of his childhood. Reading on the subject helped to crystalize his views on life and his obligation to strive to make the world a better place.
Inspired by his progressively developed view on moral obligation, and strengthened by the idea of his father's lead, David committed to vegetarianism full-time.
"If you want to live a joyful life you don't want to cause harm or suffering for other beings. So, you give joy to others and others give joy to you…"
To David, not eating animals became about respecting the interconnected nature of all living beings on earth.
"This is not [just] about our relationship with food, it's about our relationship with everything- animals, the environment, other human beings and the whole universe. We don't live in a silo. Our life, good or bad, is influenced by other people. When you look at it from a much bigger picture, you look at things with a more win-win mindset. It's not just me me me."
Guiding Green Monday from social start-up to quickly growing powerhouse
David returned to Hong Kong in 2003 and endeavoured to use his skill set to make a positive difference in society. After coming across the concept of "Meatless Mondays" in the US, he felt that a similar movement in Hong Kong was long overdue.
With the encouragement and mentorship of friend and fellow co-founder of Green Monday Francis Ngai, David committed fully to making the "meat free" Monday a success. Rebranding the concept as "Green Monday," the company started as a social movement to encourage Hong Kongers to eat plant-based foods once a week. The initial goal was to raise awareness and make "green" eating more widespread.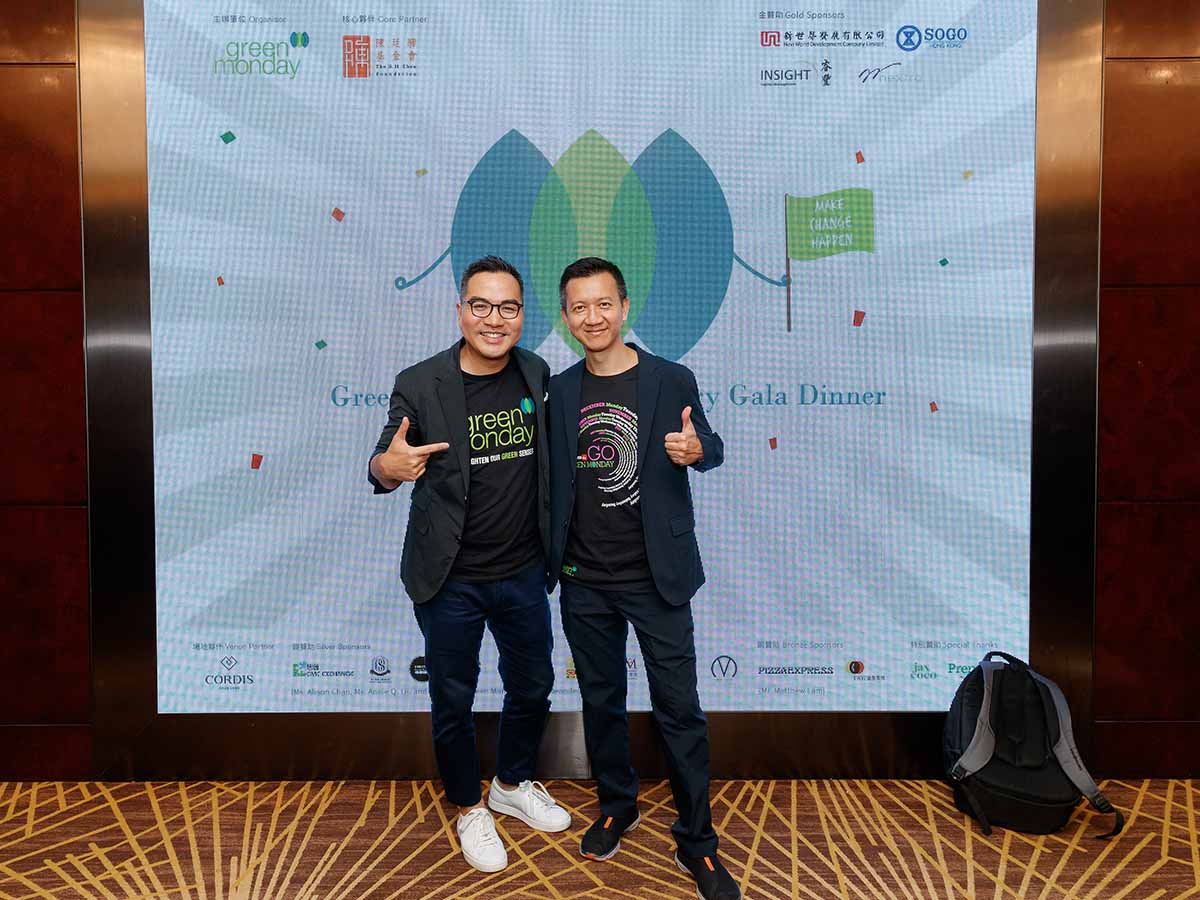 From there David and his team constructed a business plan to channel the distribution of meat-free products (plant-based milks, alternative meats, etc.) into Hong Kong and a retail space to showcase them: "Green Common". David also integrated a non-profit arm into the business, as well as an investment fund called "Green Monday Ventures" dedicated to making impact investments in start-ups in the eco-innovation space. His multi-pronged approach was a clever way to create multiple revenue streams while also making the maximum impact on a society in need of more plant-based options.
Green Common's early history didn't immediately indicate that the company would be a roaring success. David and the team at Green Monday experienced constant rejection. "The door was slammed in our faces by buyers," says David bemoaning the first few years of the company.  People just weren't used to the idea of alternative meats and milks.
Through consistent effort and genius marketing, however, the movement began to catch a hold. Hong Kong went from a place where only a small community of people were open to meatless alternatives, to today, where over 34% of Hong Kongers define themselves as "flexitarian" or plant-based eaters. That's over 2.5 million people. And the numbers continue to grow…
In addition to the movement's success, other areas of the business have taken off as well. Green Common has now opened ten locations in Hong Kong alone, with the goal of entering China and the rest of Asia in 2021.
Perhaps the most exciting news is the recent (May 2020) release of two new products of OmniFoods – OmniPork Strips and OmniPork Luncheon. The new products have been a hit. So much so, McDonalds executives bought into the concept and the global chain now offers dishes with OmniPork Luncheon across 283 McDonald's and 121 McCafes in Hong Kong and Macau! The partnership marks an enormous step towards offering plant-based alternatives to the masses.
Hard Work- A formula for success
It's one thing to be a caring person and want to make a difference. It's another to be productive as well. David's skills in marketing, creativity, and sales are on display daily.
David's co-founder Francis believes that David's skillset and work ethic is the most important part of what makes him a good leader for Green Common.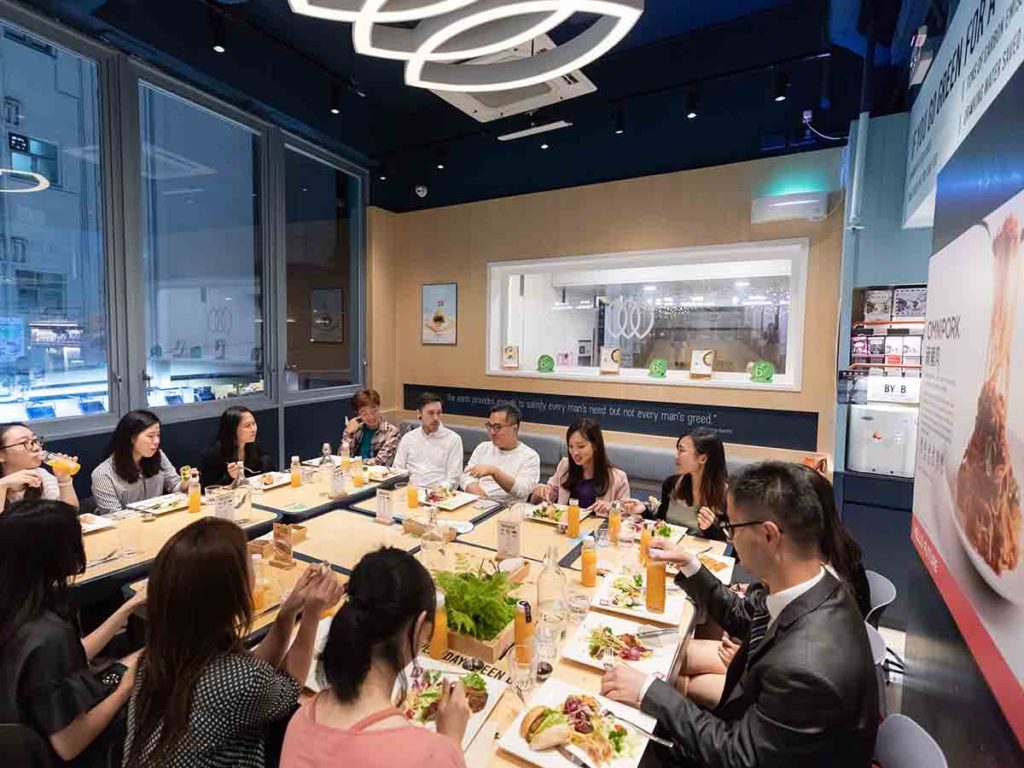 "David is well equipped to be a good leader. He has a special talent for doing the creative work himself. It's not just his capacity for compassion that makes him great- it's also all of his other skills."
David handles an ultra-busy schedule of calls and meetings- often at weird hours to accommodate conversations between the growing eco-system of partners, customers, and internal co-workers stationed around the world.
From naming of new dishes, interviewing of job seekers, all the way to answering to his top investors and clients, David is committed to making Green Monday a success.
On top of work obligations, David, a father of two girls, values his quality time with his family. That's why David makes sure to create time during the weekends to unplug and recharge with his family. Whether it's hiking, working out, or just chilling with his family, David knows well that in order to keep the company healthy and growing, he has to make himself a priority as well. 
"I'm extremely protective of my time. On one hand it's family time. As a person you need time to recover, particularly [the] weekend… We are in [the] business of talking about sustainability, so I got to make sure I'm sustainable."
The Future is bright (if we make it so)
David must stay sustainable as the road ahead is a long one. While the tremendous success is certainly something to be proud of, David is intended on making sure this is just the beginning.
To David, his company's success isn't just measured by numbers. Instead, a key metric of success is the company's positive impact on the planet.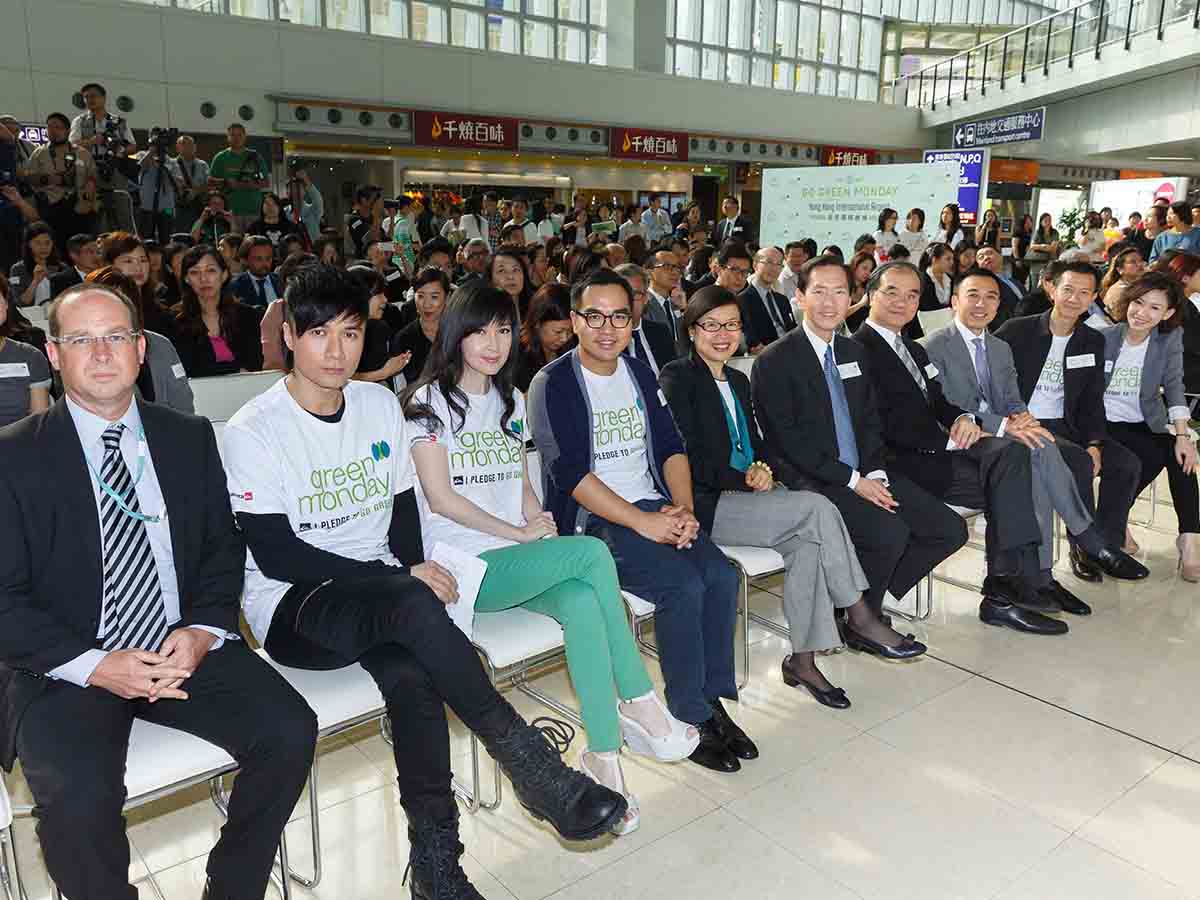 "3, 5, 10, 20 years. This is a lifelong mission. The crisis we are facing is at an all-time worse- climate change, pandemic, food system…things are not looking good at all. Our work isn't just to grow our business however many fold...the number I care most about is how many people are opening to a new lifestyle. Those are the benchmarks I care about."
While there is still work to be done, the future looks bright for David and his team of dedicated employees. Watching the growth of a company like Green Monday gives hope that there are changes we can all make to reverse humanity's current course. It's imperative that companies learn from Green Monday's success and build more responsible and purpose-driven organizations. If David Yeung's story, and the last 8 years of growth his company is any indication, it may be the only way for companies to survive and thrive in the coming years.
Biggest Piece of Advice: Look for purpose
David is passionate about building a better world through hiring employees who share the same goals of the company.
He encourages people wanting to be more satisfied with their work to look into working for a company with a positive purpose.
"Once you get a taste of working at a purpose-driven company, it's like air… It's a good addiction."
When you work for a company like Green Monday, keeping your bosses or share-holders happy isn't the be-all and end-all for your day to day work. It's about fulfilling your promise(purpose?) , through the company, to make the world a better place.
 "No matter how tired you are you are still driven because you are motivated by something bigger than your personal interest and what your boss tells you to do."
As John Wood, an investor in Green Monday and friend of David Yeung, attests in his book Purpose, Incorporated the key to attracting talent, keeping talent, and even staying profitable, is for companies to pivot and integrate greater purpose and meaning into their company ethos.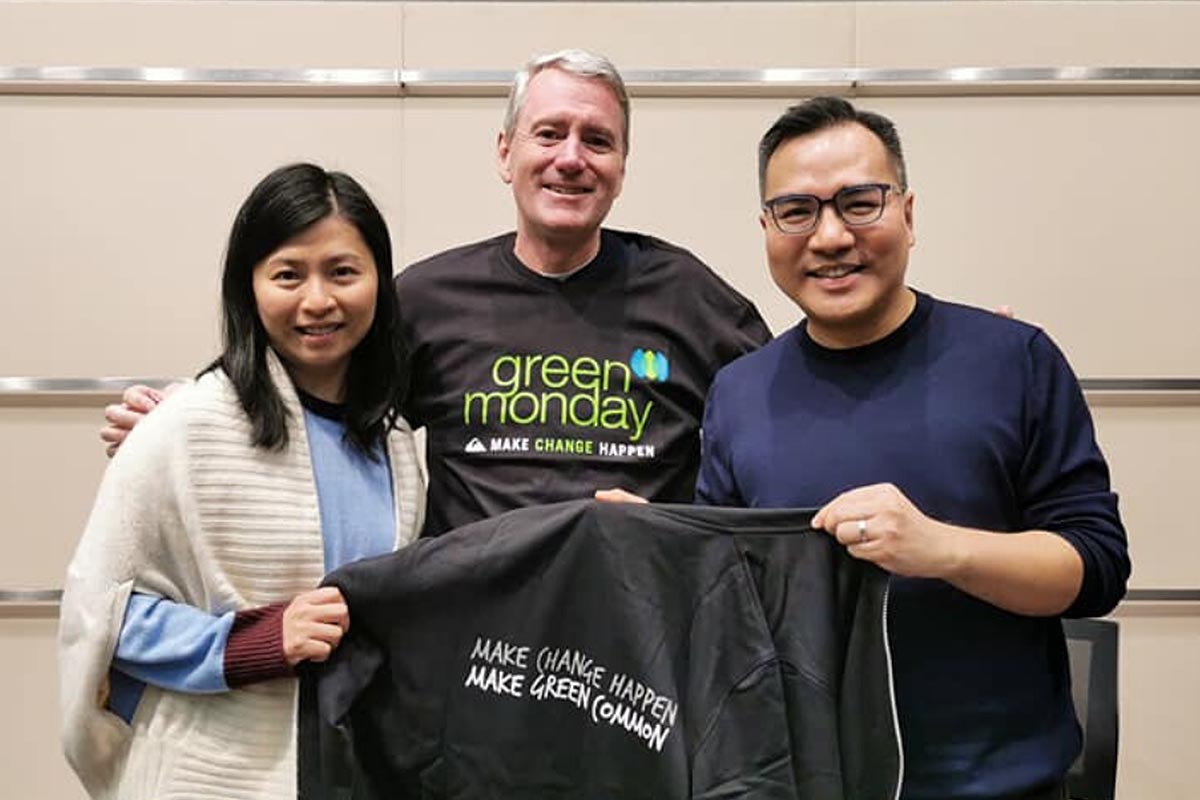 "In today's business environment, there are no guarantees… As Edwards Lifesciences CEO told me when I asked him about retaining a fired-up work force, 'Having purpose does not guarantee you'll have a great company. But a lack of purpose is enough to guarantee that you won't be great."
Luckily for David, purpose isn't an issue. If his life up until this point is any indication, purpose and caring are baked into David's DNA. Regardless of the future challenges Green Monday will face, they have a leader equipped to create and sustain a positive culture and profitable company. His company's core mission is perhaps the most pressing issue facing the world today- the challenge of making "green" common again.
Here are a few quickfire questions and answers to help you get to know David better. We asked David to say the first thing that came to mind when we said the following words. His Reponses are in italics.
Pork- OmniPork
Vegetarian- Awakening
McDonald's- Change
Coronavirus- Urgent Change
Climate Change- Not fake news
Motivation- Impact
Spam Noodles- Childhood memory
HK- Home
Ramen- Hopeless addiction
Columbia- Alma-mater. Sweet memory
For more on David Yeung's story check out friend of the magazine's John Wood's recent interview: https://www.youtube.com/watch?v=SQDL0ScUzQw&feature=youtu.be
Written exclusively for WELL, Magazine Asia by Jackson Kelleher
Thank you for reading this article from WELL, Magazine Asia. #LifeUnfiltered.
Connect with us on social for daily news, competitions, and more.