At last, the wait is almost over for Hong Kong's birdwatchers. Soon, the much-missed migratory birds will return here en-masse to grace the wetlands and forests once more. As the countdown to their arrival draws to a close, there is an aura of excitement amongst the birdwatching community as they eagerly wait for the good times to begin again.
Perhaps the best thing about migration season is its variety, both in the types of birds that come here and in the times that they come. A large, multi-species migration like this happens in waves and alongside the mainstays like cormorants and black-faced spoonbills will come plenty of more time sensitive birds. Species that either won't arrive in Hong Kong until a certain month or will only stop here for a certain month or two before moving on to their true destination. Such a scenario creates an exciting challenge for birdwatchers to get out and spot their 'bird(s)-of-the-month'.
WELL, for those of you who aren't already in the know, here is a month-by-month account of some the special birds you might find in each month of the migration season: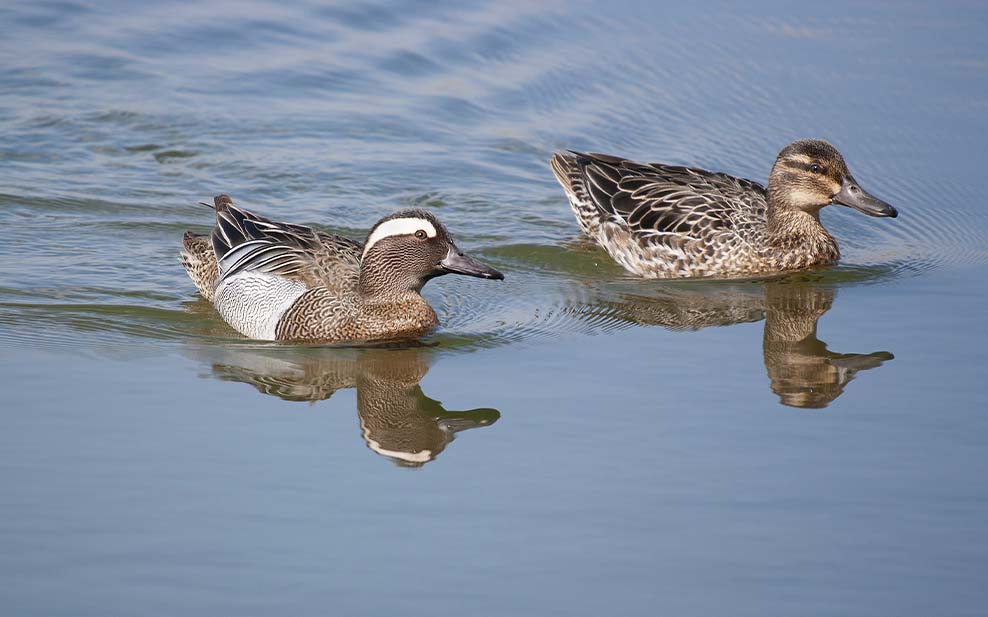 Being only the very beginning of the migration season, September tends not to see the large flocks of birds that grace Hong Kong later on. But one of the early passage migrants here is the garganey, whose numbers peak during this month before the flocks move on (though a few individuals will stay for the whole winter). While not as colourful as some of the other duck species in Hong Kong, the garganey is still fairly noticeable thanks to the large white stripe on the male's head. Its preferred habitats are freshwater ponds with plentiful vegetation –including those at Mai Po Nature Reserve– and it is usually seen in greater numbers after periods of heavy rainfall.
Best place to see them: Hong Kong Wetland Park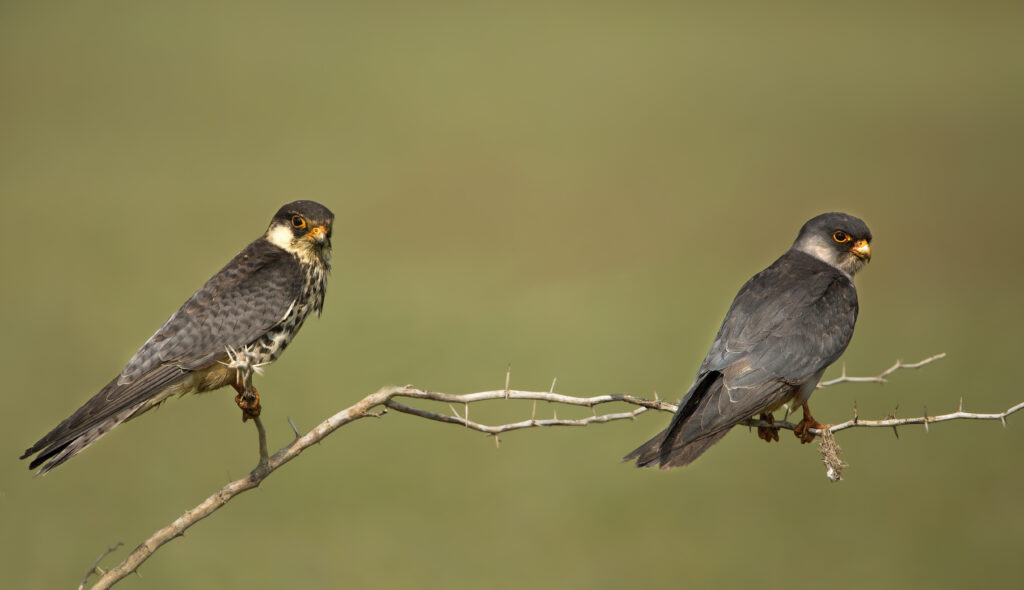 A passage migrant to Hong Kong, the Amur falcon is distinctive not only for its small size (25-30 cm long), but also for having the longest migration route of any bird of prey. Each winter, it leaves its breeding grounds in Northeast China and Southeast Russia, travels south to India and finally over the Arabian Sea and down to southern Africa: a distance of 14,500 km. In Hong Kong, flocks of Amur falcons can usually be found in open environments in Deep Bay, sitting on wires above fishponds or chasing after flying insects at dusk. Strangely, anecdotal observations suggest that most Amur falcons that pass through Hong Kong are females or juveniles, with relatively few adult males occurring here.
Best place to see them: Lung Kwu Tan
November: Eurasian Woodcock
For the really dedicated birdwatchers, one species to look out for in November is the Eurasian woodcock. This bird can be found mainly in and around woodlands, particularly in damp areas where it can probe for earthworms. However, it is not found easily, as it is a very shy, secretive, largely nocturnal species that prefers to stay hidden in the undergrowth, relying on its dappled brown plumage for camouflage. Occasionally however, it can be seen flying at dawn or dusk.
Best place to see them: Pak Sha O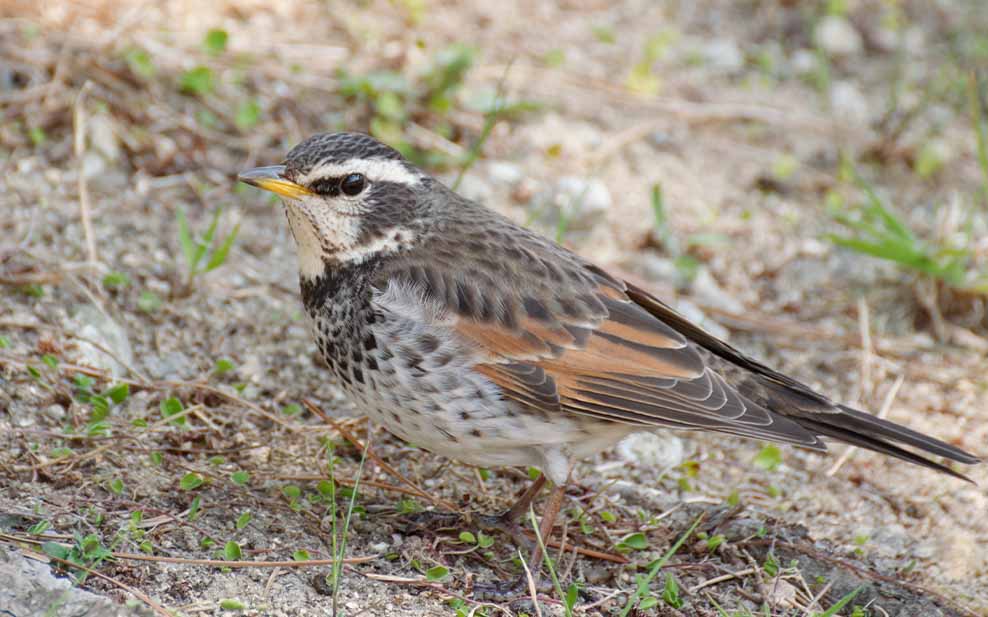 The dusky thrush is an unusual migrant. Not because of its behaviour or appearance, but because of its migration pattern. Though typically a rarity in Hong Kong, in a phenomenon called irruption (when a normally short-distance migrant migrates over long distances), it occasionally migrates here from its Northern Asian breeding grounds in much larger numbers than usual. It prefers open habitats such as grasslands and playing fields and so is one of the easier thrush species to see in Hong Kong.
Best place to see them: Tai Lam Country Park
January: Red-flanked Bluetail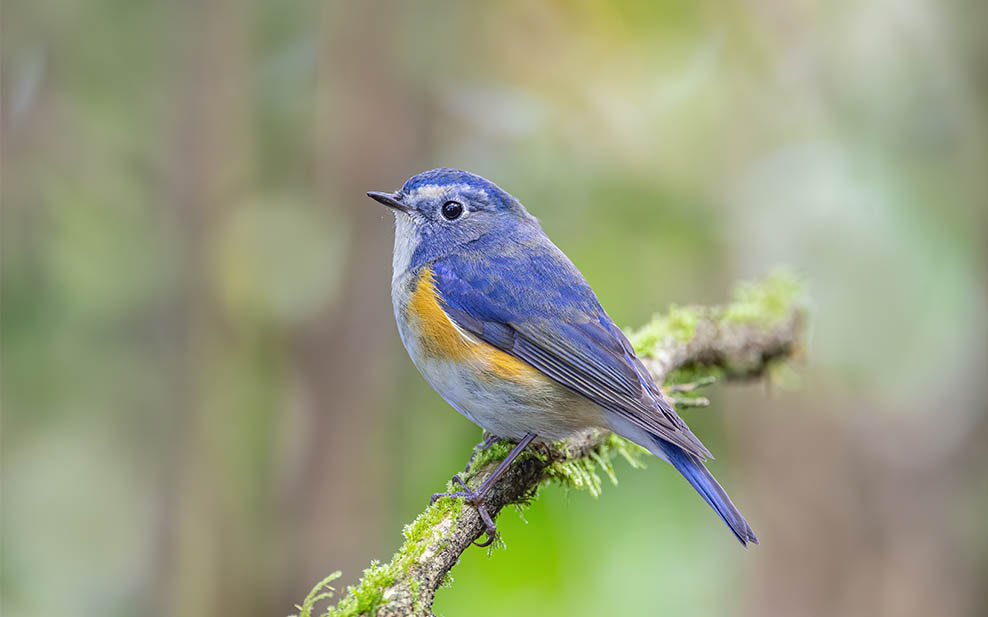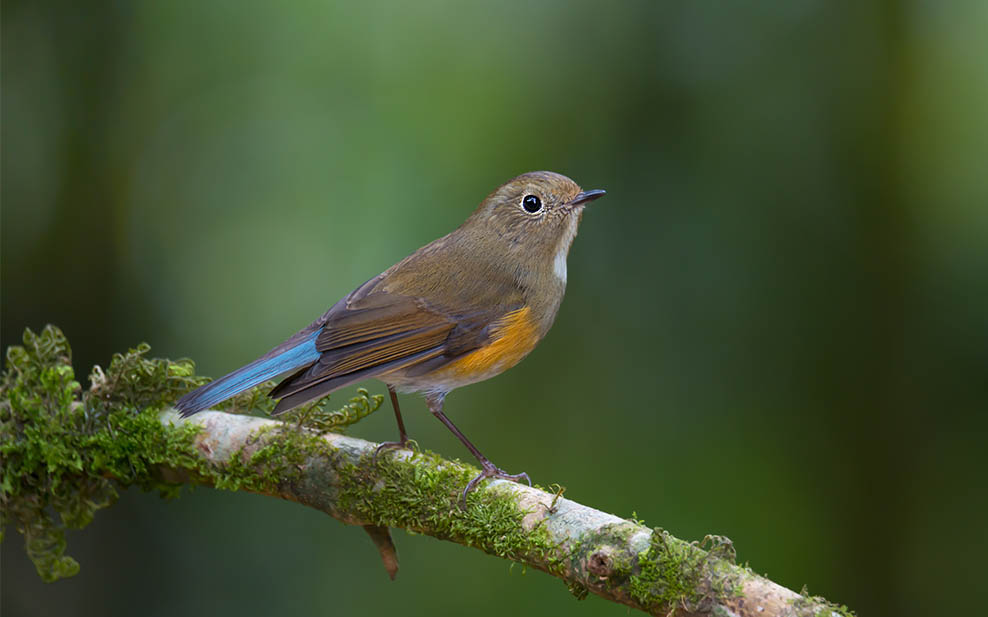 The red-flanked bluetail is another challenging species for birdwatchers. While it is a fairly regular winter visitor to Hong Kong, its numbers are highly variable and dependent on environmental conditions (generally, more birds come in colder winters). Like the Amur falcon, most of the bluetails that come to Hong Kong are females, while the bright blue males tend to winter further north. Lightly wooded areas are this species' preferred habitat.
Best place to see them: Mount Davis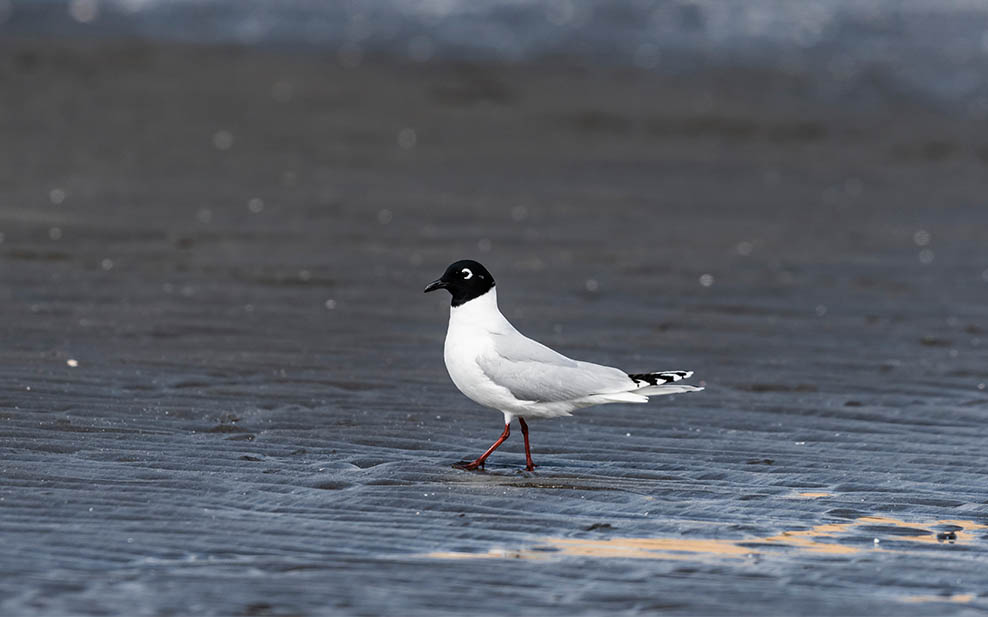 Though similar to the black-headed gull in appearance, the Saunders' gull can be distinguished from that species by its shorter, black bill. Found exclusively on the mudflats of Deep Bay, this species reaches its peak abundance in Hong Kong in February, which is also when it develops its distinctive bluish-black hood. When foraging, it will fly along the tide edge and drop down on crabs (its favoured prey) from above.
Best place to see them: Mai Po mudflats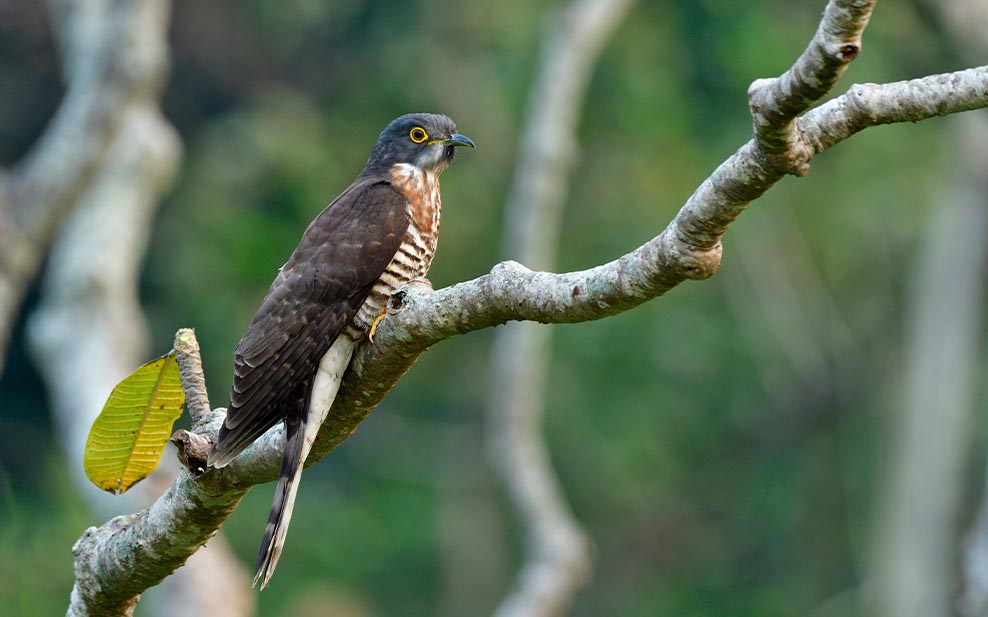 March is the beginning of the Spring migration, when a whole new cast of birds will start arriving in Hong Kong, one of which is the large hawk cuckoo. Despite its large size, it is still difficult to see due to its preference for closed woodland habitats. The best way to tell if one is around is to listen out for its distinctive, monotonous call, which bizarrely is said to sound like the words 'brain fever.' Like many cuckoos, this species is a brood parasite that lays its eggs in the nests of other birds, such as the white-browed laughingthrush.
Best place to see them: Kowloon Reservoir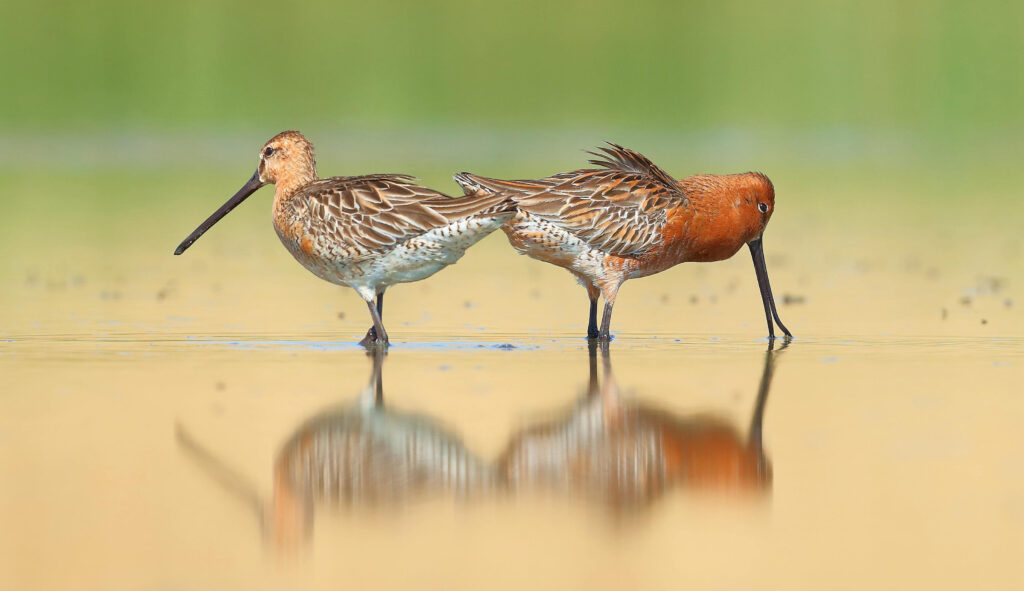 One of the last migrants to arrive in Hong Kong, the Asian dowitcher typically shows up at around April and is also one of the most numerous of the Spring migrants. By May, its numbers here can reach around 350 birds. Notable for its attractive reddish-brown breeding plumage, it occurs only on the mudflats of Deep Bay and feeds by rapidly stabbing for worms in the mud, unlike other similar waders that adopt more of a 'picking and probing' method of feeding.
Best place to see them: Mai Po mudflats
Written exclusively for WELL, Magazine Asia by Thomas Gomersall
Thank you for reading this article from WELL, Magazine Asia. #LifeUnfiltered.
Connect with us on social for daily news, competitions, and more.