While 2020 has been the year of many things, one positive to come from it is the rise of the 'at home workout'.
With Covid-19 showing us that health is always a priority, more and more people have been finding ways to exercise effectively within the comfort of their own home. Home workouts can be just as effective as those that are in the gym and can actually be pretty challenging depending on how you adjust the reps, sets and rest periods.
Bodyweight exercises can target those important muscles in the body that we ALL want to strengthen and 'perk up'. Not only can bodyweight exercises increase your strength, but also your fitness. We do this by including some cardio exercises that will ramp up that intensity quite quickly!
There are so many workout variations out there – YouTube is full of them! But many are not tailored for women. Here, I have put together up a few of my favourites to give you a 28-minute total body, strength and conditioning session, right in the comfort of your own home! (PJ's welcome, but not recommended!)
– A mat or a non-slip surface
– A water bottle
– Appropriate sportswear (a good sports bra included)
– A chair / sofa / bench / window ledge
Repeat each exercise continuously for 45 seconds.
Rest for 15 seconds before moving onto the next exercise.
Rest for 1 minute after you have completed 1 set of all 6 exercises, then repeat again three times (so four sets in total).
Dive Bombers
Hip Thrust
Shoulder Taps
Froggy Squat Pulses
Dead Bugs
Triceps Dips
To make this more difficult you can do the four rounds non-stop, removing the 1-minute rest period. Or perhaps add an additional fifth set if you really want to test yourself!
Instructions for each exercise:
1) Begin with your hands and feet shoulder-width apart, and your hips raised so that your
body forms an inverted V.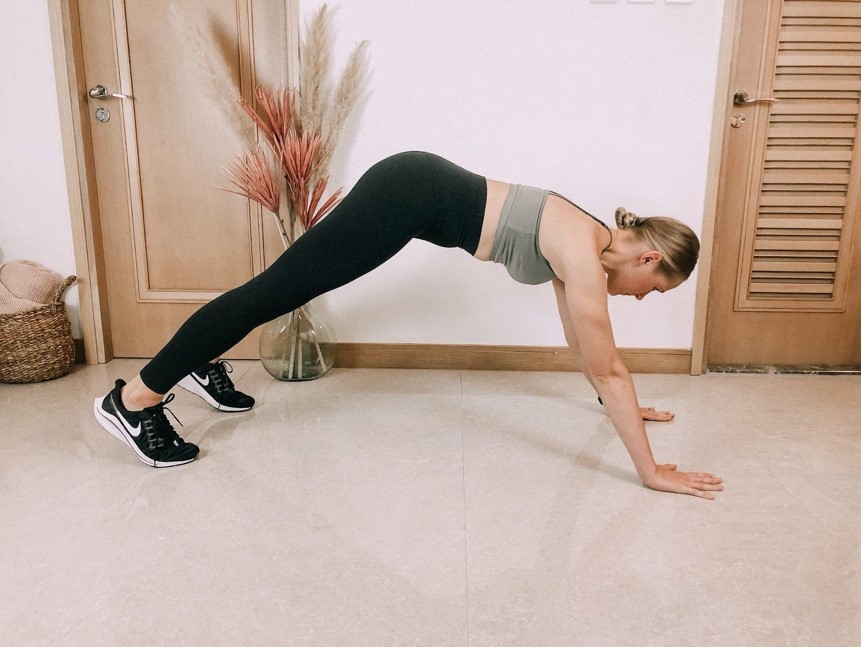 2) Keeping your shoulder lowered away from your ears, bring your chest forward between
your hands as you bend your arms.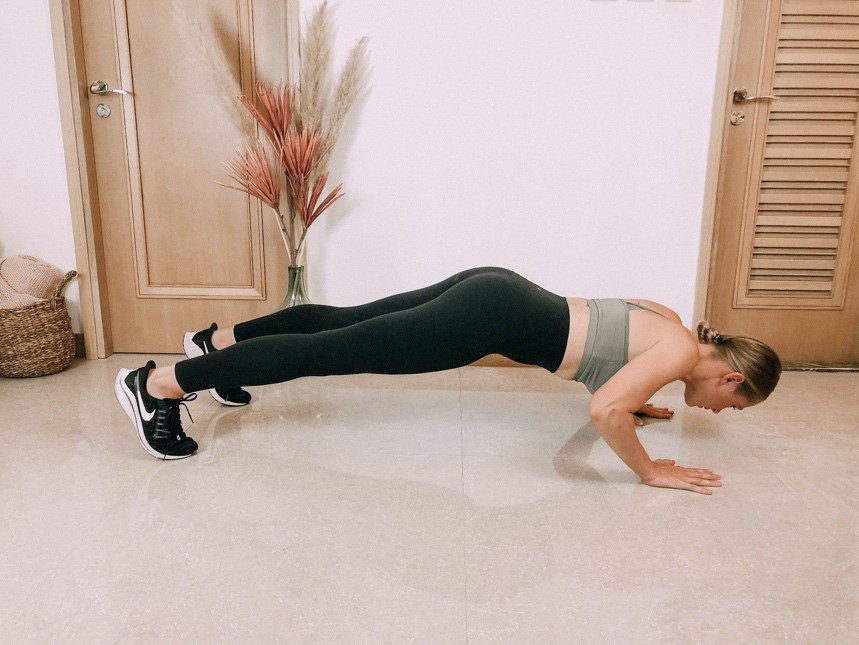 3) Continue to glide through as you straighten your arms and bring your chest up. Your
hips will now be hovering just above the floor. To finish the push-up, reverse the glide,
raising your hips back up.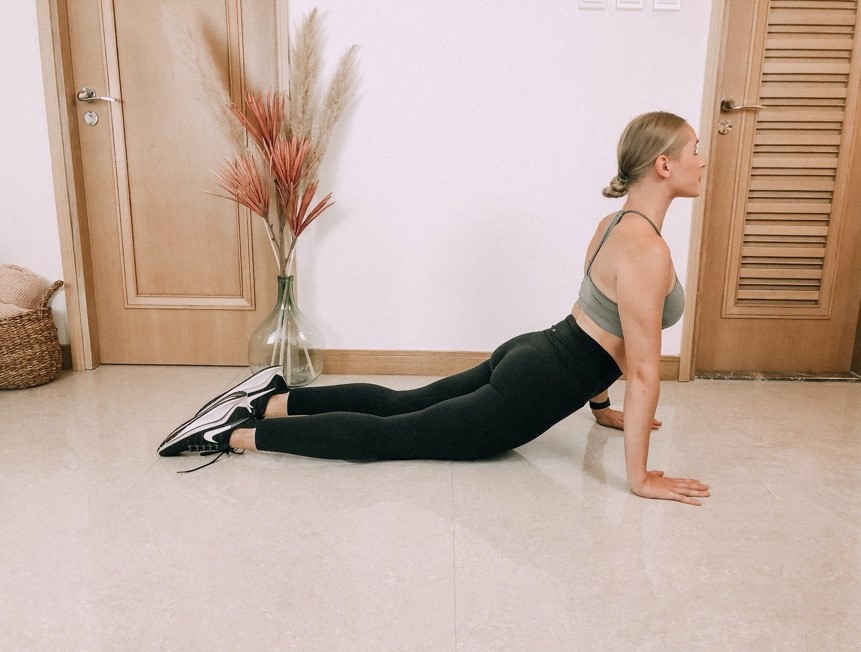 Hip Thrust: (Back elevated Glute Bridge)
1) Start with your shoulder blades against a bench/chair/sofa. If your shoulders don't reach
the bench, you may need to start with your butt slightly off the floor. Bend your knees to
about 45 degrees, and make sure your feet are flat on the floor.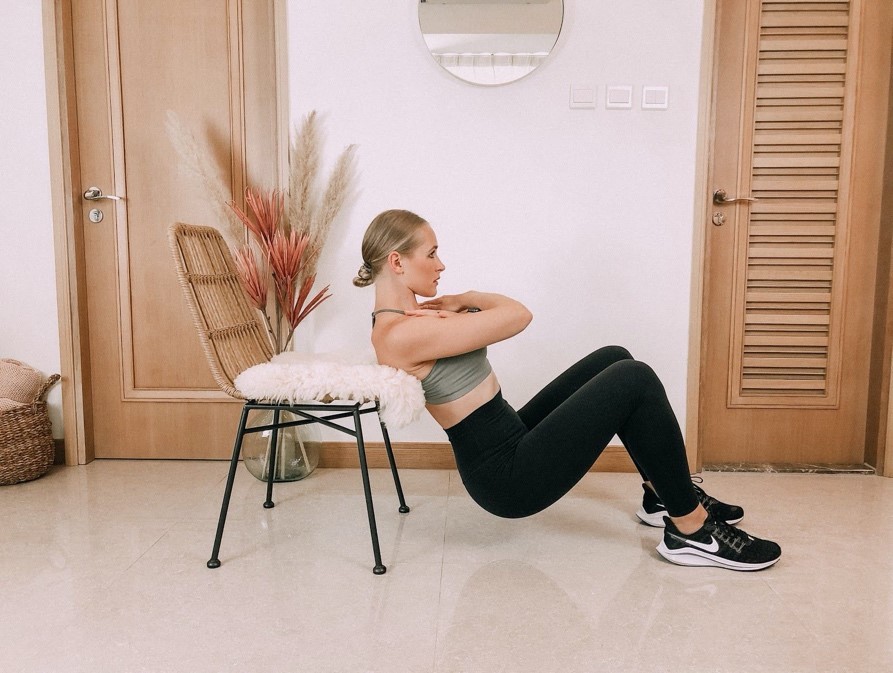 2) Take a big breath in, blow your air out fully, and brace your core.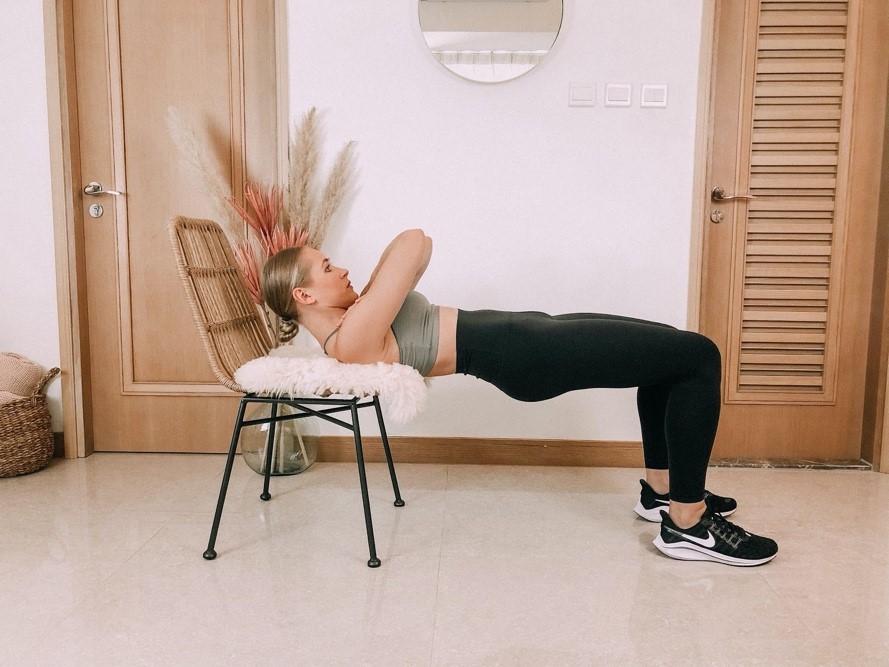 3) Squeeze your glutes, lift up your hips, and hold a second or two. It's very important that you don't hyperextend your lower back at the top.
1) Start in a plank position ensure your shoulders are stacked under your wrists and your legs hip-width apart. Your body should be forming one straight line from your ankles through to the crown of your head.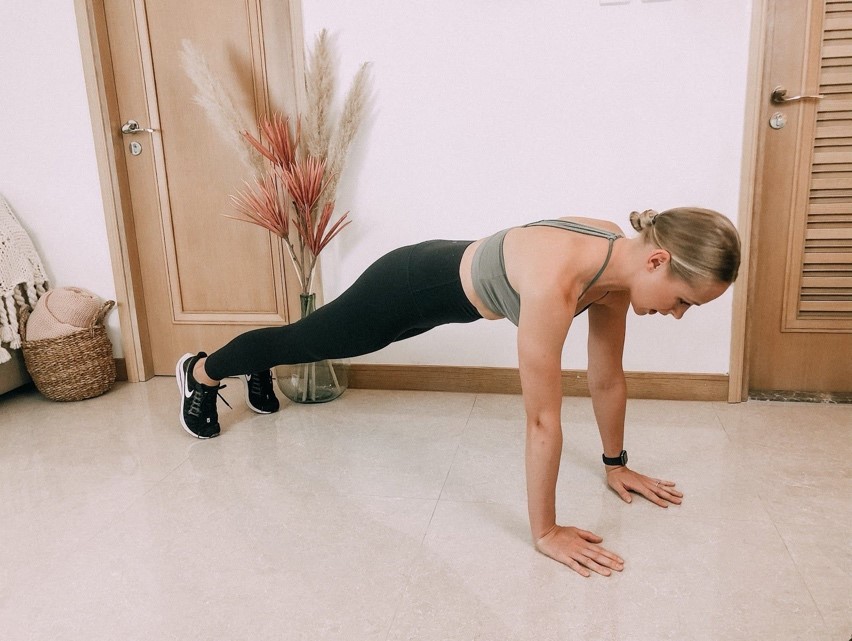 2) With control, while maintaining a neutral spine and keeping your hips squared lift one palm to the opposite shoulder and pause for one second.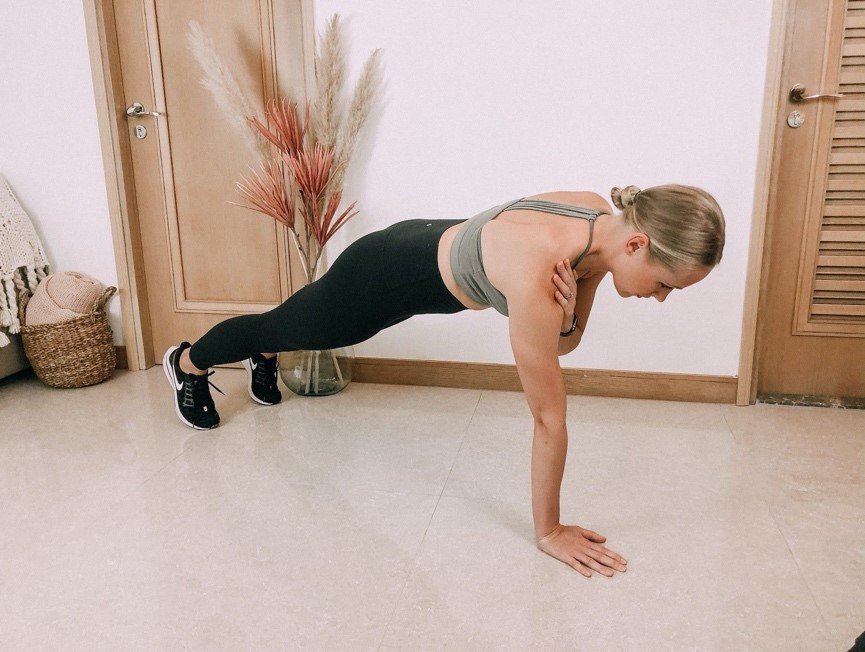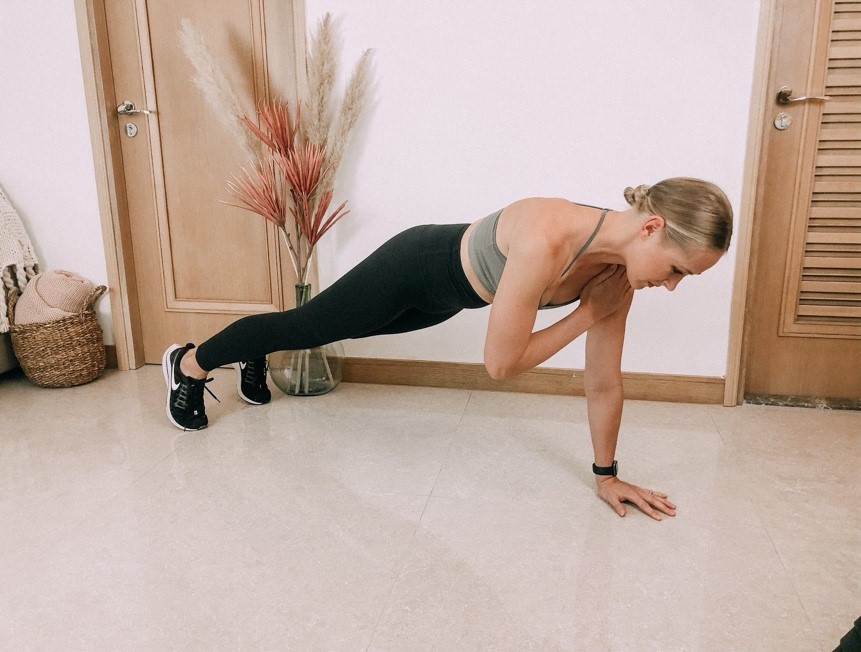 3) Alternate until you have completed the allocated reps or time.
1) Place your feet in a wide stance position and lower your hips until you can place your
elbows just inside your knees.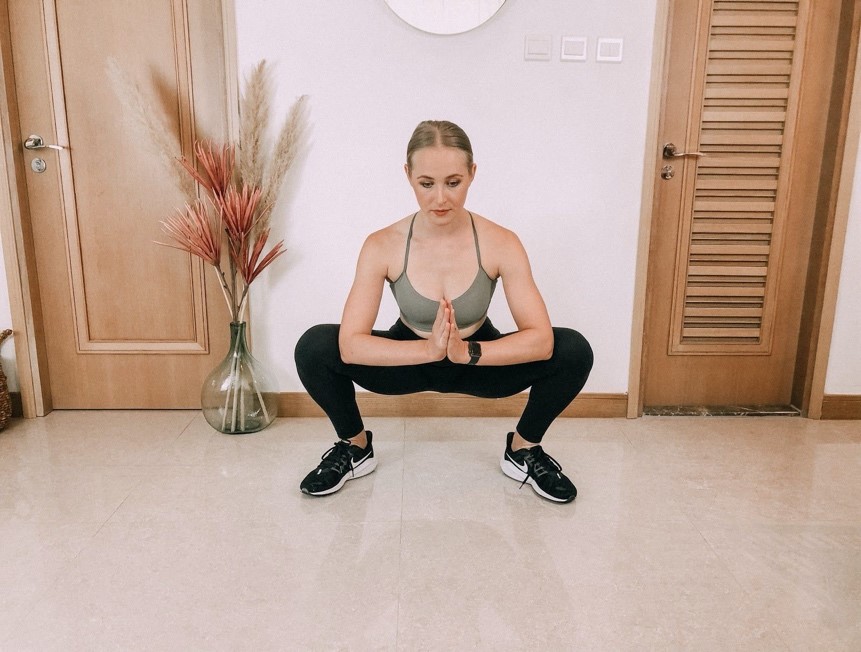 2) Clasp your hands in front of you
3) Keeping your elbows where they are and your knees bent, slowly push your knees into the air and then back down.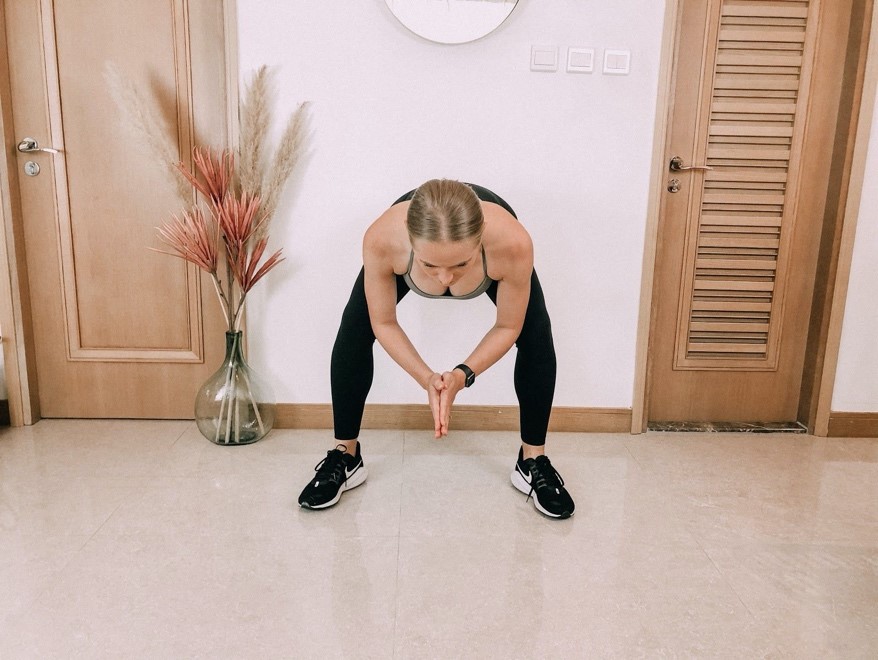 4) Speed this up to make it more difficult.
1) Lie faceup on the floor with your arms and legs in the air, knees bent 90 degrees.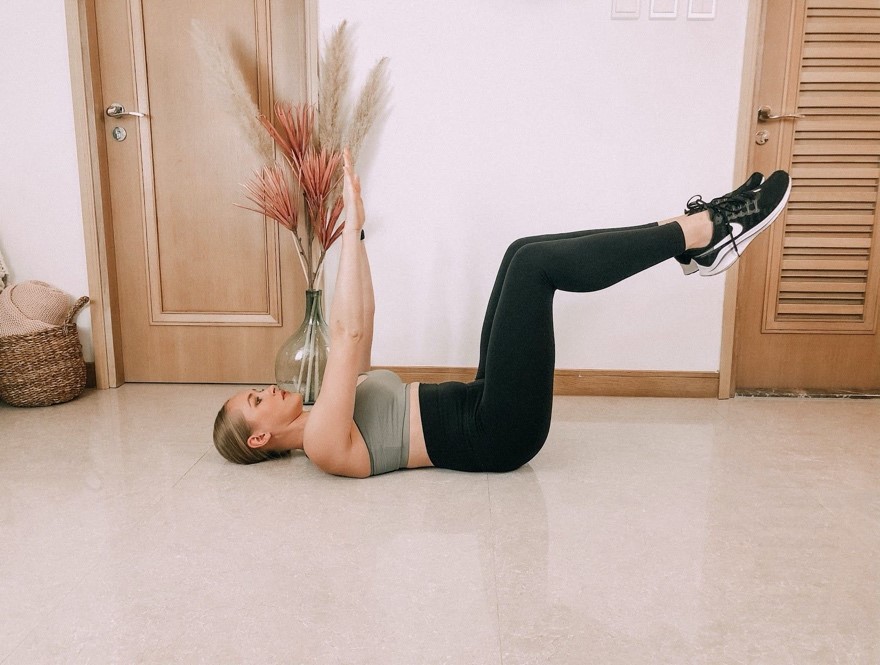 2) Maintain contact between your lower back and floor, brace your core, then on an exhale slowly and simultaneously lower your right leg until your heel nearly touches the floor and your left arm until your hand nearly touches floor overhead.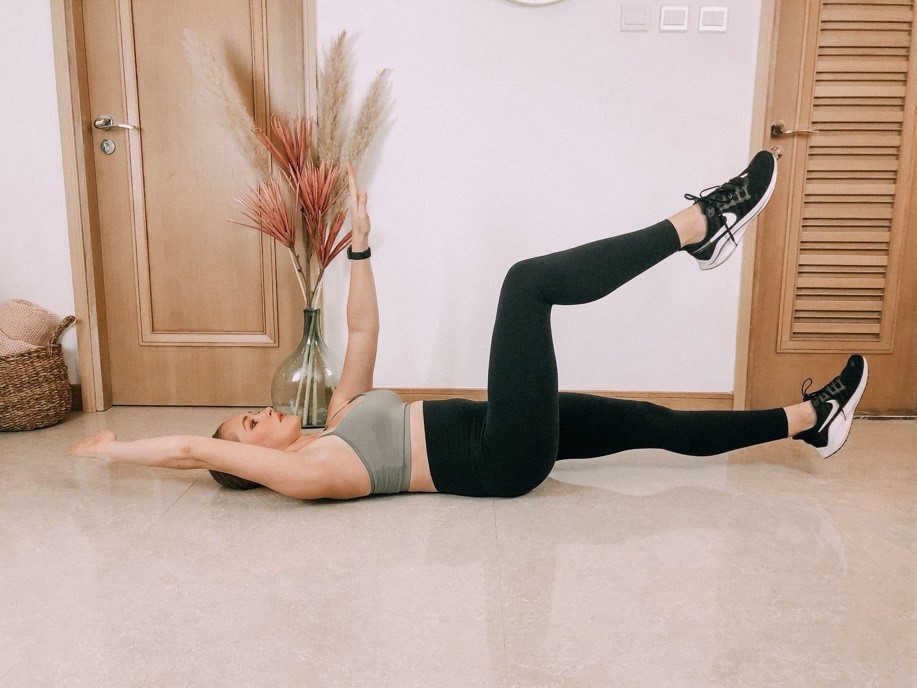 3) Ensure your back stays flat to the floor throughout the movement.
4) Pause, then return to start and repeat on the opposite side. That's one rep.
1) Sit on your chair or bench with your arms at your side and your feet flat on the floor, hip distance apart.
2) Position your hands so that your palms are down beside your hips. Your fingers should grip the front of the chair seat.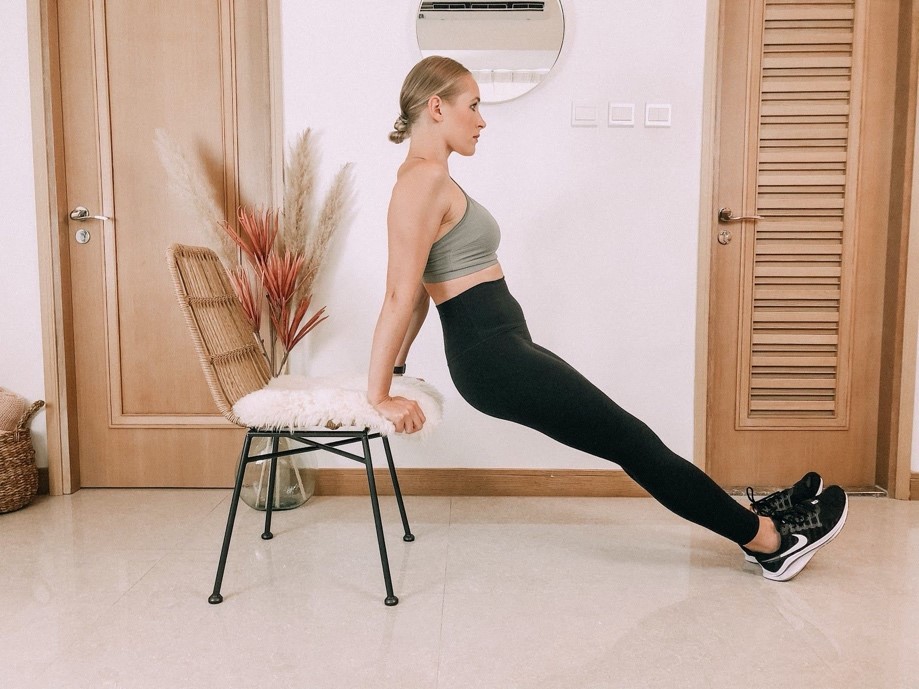 3) Move your torso forward off the chair with your arms extended. Your butt should hover over the floor and your knees should be slightly bent. Your heels should touch the floor a few inches in front of your knees.
4) Breathe in as you slowly lower your body, hinging at the elbows until each forms a 90-degree angle.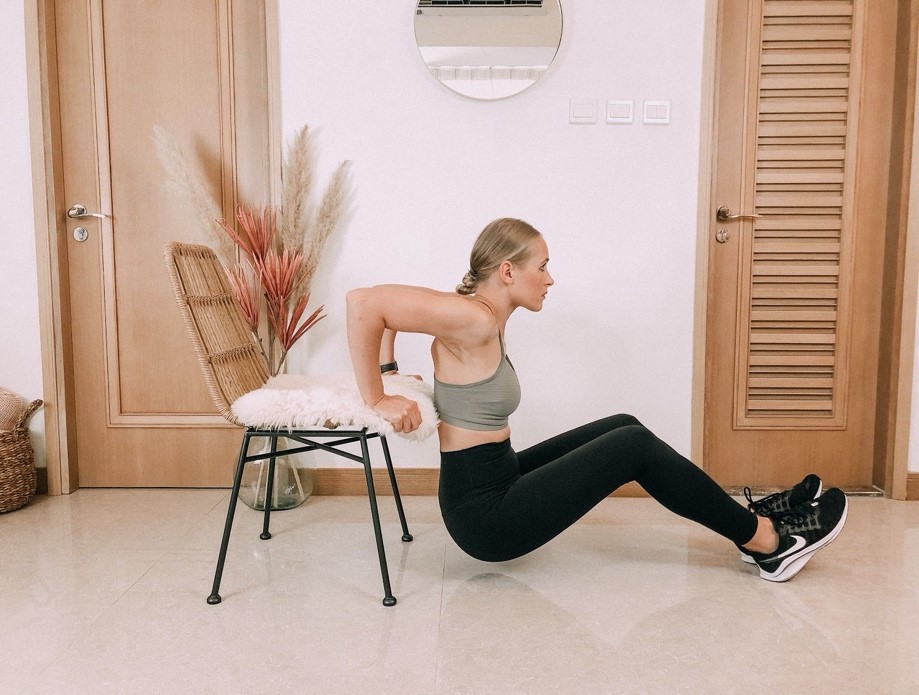 5) Breathe out as you push up to your starting position with your arms fully extended and your shoulders away from your ears.
Written exclusively for WELL, Magazine Asia by Ashleigh Sewell
Ashleigh is a Pre/Post Natal and Female Fitness Online Coach.
She is on a mission to empower and motivate women to become the healthiest and fittest version of themselves. Ashleigh is very excited to announce the launch of her business rebrand and new online coaching platform 'The Push'.
Under 'The Push', Ashleigh has created The Push Programme, a 12-week postpartum return to exercise eBook, and also The Push Project a 1-2-1 online coaching platform.
If you want to learn more about The Push Project you can find her on Instagram @ashleigh_elizabeth_fitness  Ashleigh has also put together a story highlight on Instagram with video demonstrations for the workout above!
To help you time your intervals and reps, you can download a Tabata, HIIT or Interval timer onto your smartphone or tablet device. There are both free and paid-for options of these available on the Apple App and Google Play stores.
Thank you for reading this article from WELL, Magazine Asia. #LifeUnfiltered.
Connect with us on social for daily news, competitions, and more.